1. What are you currently up to?
Currently, I am in the midst of a worldwide Y&T tour, while simultaneously performing with my solo band to support the release of my second solo CD "Meniketti." In 2003, I will also be writing for my next solo CD, and will be assembling previously unreleased Y&T material to release this year.
2. What has been the highlight(s) and lowpoints(s) of your career to date?
Highlights: First record deal; playing on American Bandstand; playing for 66,000 people in my hometown at the Oakland coliseum; and present day - the fun we are having playing for incredibly enthusiastic audiences again; and, being able to stretch my chops and creativity with my solo band.
Low points: Dealing with the record industry; dealing with the entertainment industry; dealing with the music industry; having the unfortunate insight as to what goes on in the business and why.
3. Who have been your main influences through the years?
Jimi Hendrix, Allman Brothers, Led Zeppelin, Marvin Gaye, Stevie Wonder, James Brown, Gary Moore, Leslie West, Grand Funk, Alan Holdsworth, Pat Metheny, and so many more that I can't recall at the moment.
4. How did Y&T get their first break? What do you think made Y&T so successful?
All of our breaks came with a lot of hard work on our part, paying off in small increments along the way. Our intensity, the genuineness of our songwriting and playing, and our devoted fans are all contributed to the success of Y&T.
5. Y&T are playing the UK for the first time in a long while. What sort of setlist can the fans expect and who is in the band now? Are Y&T purely a touring band now or could there be some new material in the future?
Fans can expect to hear as many fan favorites as we can squeeze into a set. Me (Dave Meniketti) on lead vocals and lead guitar, Phil Kennemore on bass, Leonard Haze on drums, and either John Nymman or Stef Burns on second guitar. As I mentioned above, we are putting together a new CD of previously unreleased Y&T material. We are taking it a step at a time.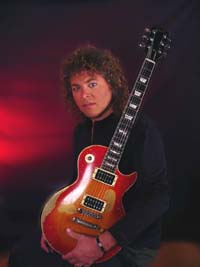 Photo: Bill Frates
6. You also tour with your own band. Have you plans for more solo albums in the future?
Absolutely! Being one of my biggest creative outlets, I will continue to further my solo career. I'll be writing for my 3rd solo record in 2003.
7. What has been the best career move you have made and why?
Making the Black Tiger record in England. Because of that move we were able to take that opportunity to play big shows which led to large tours and the opportunity to make a name for ourselves in the UK and Europe, which furthered our career.
8. Which song(s) give you the most pleasure to perform live and why?
In Y&T, I Believe In You, and Winds Of Change.
In Meniketti (my solo band), Take It Like A Man, Until The Next Time, and Lay Me Down.
Each one of these songs takes me somewhere emotionally, many times to the closest thing to an out-of-body experience. I'm a sucker for ballads. Every night when we play these songs it's a different performance.
9. What do you do in your spare time outside of music?
Watch movies, hike, mess with computers.
10. Message to your fans...
Thank you for decades of loyalty and incredible passion for the band. That's what keeps us going. Please drop by meniketti.com and join in with fans from around the world in the discussion forum. I drop in to answer questions and chat with fans as often as I can. It's a great big family atmosphere.