Danny Vaughn - one of the great voices in rock IMHO. Started off in Waysted (get 'Strength in Numbers - top quality melodic hard rock); then Tyketto - a shining light of rock in the grunge deluge during the early 90's; Flesh & Blood - a bluesy side project with Drive She Said's Mark Mangold and now in Vaughn - two albums so far and a live CD just out.
1. What are you currently up to?
Actually, we are currently on a break. We finished up our tour in the UK with a wonderful acoustic show at Cafe Nirvana in Wigan (I highly recommend the venue to anyone wanting to do this sort of intimate acoustic show) and had a fantastic night. Very personal. The next step will be to write another group of songs.
2. Who was/is your biggest influence on your career?
It's really hard to say as there were so many. The first true "rockstars" I ever met were the guys in Blackfoot and they were so larger than life and so very personable that I kept thinking, "what do I have to do to be as cool as these guys"?
But also, working with the guys in Iron Maiden can only have a great impact as well. They taught me so much about live performance.
3. Which band would you like to see reform?
None really. When most bands do reform it always seems to be under the guise of squeezing more money out of the old name and it almost always is a disappointment.
4. Vaughn are buliding a very good reputation as a live act. Have you gained any new fans or are most fans from the Tyketto days? Do you have any bands you like touring with and who would you like to tour with in the future?
Yes, I think we have gained a lot of new fans and that is being done the only way you can, which is being relentless about playing live and putting on the best show possible. There are a lot of bands that I would love to tour with. All the obvious big names like Bon Jovi and Def Leppard come to mind. Know any of their phone numbers?
5. 'Fearless' was one of my top 10 albums of 2001. How did you come up with the song ideas? How has the CD done? Which countries have been the most receptive?
When it comes to writing songs and where they come from, it's never the same explanation twice. I tend to pull from all sorts of experiences and fantasies. The CDwas recorded at our old haunts in Millbrook sound studios in upstate New York. England is, by far, our home away from home.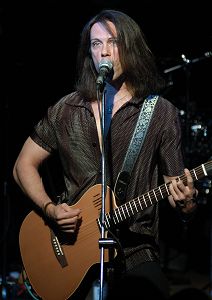 Photography by Martin Kessel
6. Tyketto's debut album is rightly regarded as a classic. Was it hard to live-up to expectations on the second CD? Would you ever consider a one-off reunion tour?
Definitely no on the reunion thing. As I've said, I think in a lot of ways it cheats the audience and says that you have little that's new to offer, which I feel that Vaughn does. Living up to the classic reputation of "Don't Come Easy" has never been a problem. I'm just pleased that the album is still so well regarded after all this time.
7. Waysted 'Save Your Prayers' is a criminally overlooked album. What were the Waysted days like? The band got a lot of coverage in Kerrang! at the time but never seemed to translate the interest into sales.
Waysted was my introduction in the "big leagues" for better and for worse. The days with the band covered the spectrum of highs and lows. I go to tour the world, do a video, open up for Iron Maiden, make my first record, all that stuff that leaves you feeling high as a kite. I also got cheated and swindled out of money and writing credit, which will bring you right back down again!
8. What has been the highlight(s) and lowlight(s) of your career so far?
The highlight is that I can still get out there and sing and people will come to hear it. It's extremely gratifying to have longevity at any level. The lowlight? Having to go back to working in a factory after I left Tyketto. It damn near crushed my spirit entirely.
9.What was the last thing you read?
I'm always reading. It's one of the benefits of traveling a lot. Just finished "Travels With Charley" by John Steinbeck and am currently flying through "The Streets Of Laredo" by Larry McMurtry.
10. Message for your fans...
Know that you are appreciated. Every time I see you or meet you, shake a hand, or sign something, it means the world to me and is never taken for granted. See you again next year!