CARMINE APPICE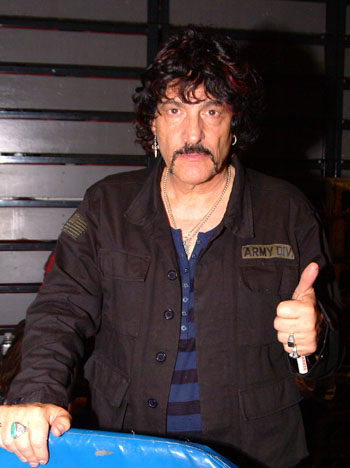 Photo by Noel Buckley
Drumming legend Carmine Appice is currently drumming in his own drum show Slamm! And with Vanilla Fudge and Cactus. Plus a compilation of the three Guitar Zeus albums has been released.

What are you currently up to?
I've been doing gigs with my drum show slamm!
http://www.slammusa.com plus doing clinics and worldwide appearances for DDRUM drum company...also doing some shows with cactus...

How did the whole Guitar Zeus idea come about? How did you decide which guitarists to approach and how much freedom were they allowed in the song for their own ideas/soloing?

I got the idea because drummers never got to do solo albums ..always the guitar players and singers...so I thought it would be cool to do a guitar album by a drummer...it worked..only the guitarists were used to bring attention to great songs, playing and ear candy as well as great solos.

I had guitarists I liked and asked if they would do it. Then as word got around about the album. It got easier. Some people called me. Each guitarist played what they wanted to...

The compilation is out now but will there be any future Guitar Zeus albums at some stage in the future?

Don't know as these albums both cost over $100,000 dollars each. I would need a big budget for it. Labels don't have that kind of money anymore unless your a pop idol or rapper !!

Turning to Blue Murder...is there any chance this band will get back together especially now John Sykes has left Thin Lizzy? Why did the band call it a day?

We called it a day because the first album didn't sell through in the USA as it should have and it took awhile to recover even though it became a metal classic...so we weren't prepared for that.. by the time we figured it out, grunge was in and all metal was out...yes we've been talking about doing it again but nothing concrete. It would be awesome though...

What have been the most memorable live shows form you and why?

Actually there are too many.. 6 nights at the Forum with Rod, Central Park with Vanilla Fudge, BBA in NYC ...each one is special...but luckily I've been fortunate to still have memorable shows even with slamm !!!

Could you tell us a little more about your work with Little Kids Rock?

Well, I enjoy working with these kids because they get so lit up at my sessions with them.. they really have no clue about the world outside their nieghborhood..it is a great feeling giving them drum sets and entertaining them and watching them light up... I really enjoy it and they are learning the art form of rock music.

LKR gives them instruments and teachers after school in the inner city schools to keep the kids off the street...it is great!!

How did you get your first break into the music business? What piece of advice would you pass onto budding musicians?

Times are different now... my usual advice would be get a band, create a following, record an album...sell thousands of records, then a major would pick you up...that's what Vanilla Fudge did...and many bands after that...but today I really don't know what to do as the labels are so different... Internet has changed everything..I don't know how bands today make it without radio...it use to be radio sold your records. Today it's not that way...

Cactus - how was the 'V' album received given the last studio album was released back in the 70's? Has the band attracted a younger set of fans to the shows now?

Well unfortunately, when V came out, the label went out of business...we got great reviews ..but don't know how many CDs we sold. I do know the younger fans have embraced Cactus. The Rhino double CDs have sold out. And the Cactus live dvd sold thousands. I think if we had a better label, it would have sold well. But we are remixing it and releasing a 2 disc package Cactus V plus bonus tracks with a live DVD coast to coast ...together the package will be called "cactus music" released on Fuel 2000 Records also [like guitar zeus].

Who have been the biggest musical influences on you and do you hear your influence on any modern drummers?

My influences were Buddy Rich, Gene Krupa, Joe Morello and Max Roach..these were jazz drummers. Yes, I see my influence around in rock drumming and know famous guys like Joey from Slipnot and others like that who went through my drum book Realistic Rock !!

Message for your fans?

Always make a goal for yourself and strive to reach that goal. That is about anything in life you try to do....... And practice your instrument as much as you can...practice does make perfect...

Thanks for the interview, Jason
---
Interview © August 2009 Jason Ritchie.
All rights reserved.
---