Buddahead was responsible for one of 2004's best albums, which received a ***** in GRTR! 'Crossing The Invisible Line' has received some excellent reviews and was produced by Don Gilmore (Good Charlotte, Linkin Park).
1. What are you currently up to?
We just finished two days of rehearsals for the upcoming tour which starts this week and will be spending the next couple of days just getting ready for being on the road for a month.
2. Could you take us through some personal highlights of your excellent debut album?
Well, first of all thank you for the compliment, it is much appreciated. When I fall? - the single - is a highlight in itself. It went through some many stages before it became what it is today that when we wrapped up work on it, it was like a huge weight lifted. Also, since it was the first song I wrote for this album it gave me a huge confidence boost as a writer; it made me feel as if after years of apprenticeship I was finally ready to make my statement.
3. How do you approach composing a song and where do the ideas come from?
There really is no hard and strong rule, no methodology, so to speak. Holding me back?, for example, began as a totally different song; one that I had written based on the acoustic guitar riff I came up with sitting on the sofa in a London studio before a session began. However, my producer Don Gilmore felt I could take the whole song in a different direction if I wrote a ?two-step? style melody. So I sat at the piano at NRG studios in LA some six months later and made the changes. This is just an example. Every song has its own unique story.
4. How did your experiences in Iran shape your music and outlook?
I think those experiences shaped my character more than my music. Having seen times that bad I think my outlook on life is more positive in the sense that I think through hard work, courage, conviction and positive thinking we can find the strength to do anything. The memories of those events and having been a child of war myself have affected other areas of my life. I am a supporter of Warchild ? the organization that helps benefit the children who are growing up during a war.
5. The album uses lost of lush string arrangements. How did you hook- up with David Campbell?
The demos already had a huge amount of string arrangement on them. Mostly these were sample based arrangements but in the case of When I Fall, due to quite odd circumstances, I had the opportunity to have a full string ensemble in the studio. Anyway, when Don Gilmore and I first started discussing how to go about doing these demo string arrangements on the actual album he mentioned to me that he had worked with David and that he was absolutely fantastic. So I trusted my producer and hired David to do the job.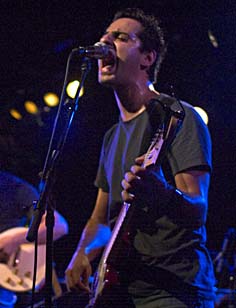 Photograph © 2004 Schrubin Photography.
All rights reserved.
www.buddaheadmusic.com
6. What have been the most memorable live shows for you and why?
Opening up for Glen Philips the first time ever was memorable because it was my first US tour date and first live performance in such a long time ? I was so anxious. Playing the Bonnaroo festival was memorable because it was the first time we were trying to make 40 minutes of music stretch into a two hour set. Now we play four hour sets sometimes but back then the jamming side of music was new for us. Playing the House of Blues in Chicago this summer was also memorable because it is simply such an amazing venue to play, as was the Bowery Ballroom in NYC because I remember seeing Coldplay play there not too long ago and it had been on my wish list of places to play. Now of course I am aiming higher. Just saw Tears for Fears play at the Beacon Theater, which was incidentally an amazing show, so I am aiming to get there soon.
7. Who have been the main influences on your sound/style and why?
This is a very hard question. The true answer would be to allow you into my house and let you have a look at every record I have ever bought. Honestly speaking I think maybe the records that you wouldn? t have thought influences me such as the soul, dance, and techno stuff are just as important as are the singer-songwriters and rock bands that make the obvious choices as influences.
8. Anyone you'd like to work with in the future in an ideal world?
Oh my God! Where do I start? So many?Elton John, Dave Matthews, his drummer Carter Beauford, James Taylor, Paul Simon? I should just stop before I spill out a hundred names.
9. Do you think music has the power to influence everyday life and events, particularly politics?
I think music has the power to influence everyday life. A great song can bring a roomful of people on to their feet and make them dance, a great song can also make them cry. Music affects all the emotions in the spectrum and this is why there is music everywhere. I am not sure if music can affect politics but musicians can affect politicians. Just look at how effective Bono has been.
10. What do you enjoy doing in your spare time?
Spare time? Ha Ha! Very funny. What exactly is it?
11. Message to your fans?
Be yourself. Stand up for what you believe and go after your dreams. You are so much more important than you think.