1. What are you currently up to?
I just finished touring with UNION, 10 shows in Europe, and then did two shows with Eric Singer in Mexico City. Busy winter for me. I did a session for a band called Lordi from Finland just before I left for that tour.
2. How did the recent Union European tour dates go? What were the highlights?
I really enjoy Europe, and the fans are so passionate about their rock music. For sure Spain was a highlight as well as Germany and London of course. Got to visit the vault at the Hard Rock, so that was awesome.
3. The live DVD has recently come out. How did you go about putting htis release together and have you been pleased with the reviews and fans reactions so far?
Well we filmed some warm up shows for Argentina back in 2001, and it took some time to get mixed and edited, but I made the absolute most of it. Plenty of bonus material and the band is raw but powerful in concert. The reactions and reviews has been awesome.
4. Will there be more new material recorded by Grand Funk Railroad at some point or is the band mainly a touring band only now? What was it like hooking-up with Loverboy's Mike Reno for a few songs on stage?
I would say mainly a touring band although we do new songs. One I co-wrote that goes over great. Mike is a great singer, so it was amazing to hear him sing along with us.
5. From your career to date what would you change in hindsight if you could and why?
I remember once when I was young, having to go to Hebrew School, so I couldn't play in the high school band. They wanted me to play stand up bass. It would of been a good thing. Oh well...good Jewish boy what can I say.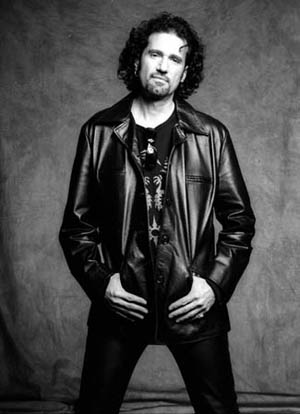 © 2005 www.kulick.net
6. What made you want to play guitar and are there any up & coming guitarists out there where you can hear your influence and/or admire?
I have fans tell me that I am a big influence etc, but I can't quote a name that would mean something. For me the British invasion lead by Hendrix, The Beatles and Led Zeppelin was all it took for me.
7. Did you get offers to join other bands after you left Kiss? Any band you would love to join/work with in an ideal world?
I wanted to do my own band, and that became UNION. I would love to be with Paul McCartney. He has amazing songs and his bandmates are top notch.
8. Where do you get your songwriting ideas from and who musically is an influence on you?
I don't know where they come from, but I am just glad they come to me. Influence wise, any great songs out there, and all the great bands and artists I meaned before. (I should add The Who, Cream, Jeff Beck, Van Halen, AC/DC.Cheap Trick etc)
9. What do you do in your spare time outside of music?
I love movies, and fun friends, and dinner. Shopping is fun for me as well.
10. Message to your fans...
Thank you for your support and please visit my site...www.kulick.net