BILL MENCHEN
In 1989, Christian metal guitarist Bill Menchen formed Final Axe, and then in the mid-1990s Titanic.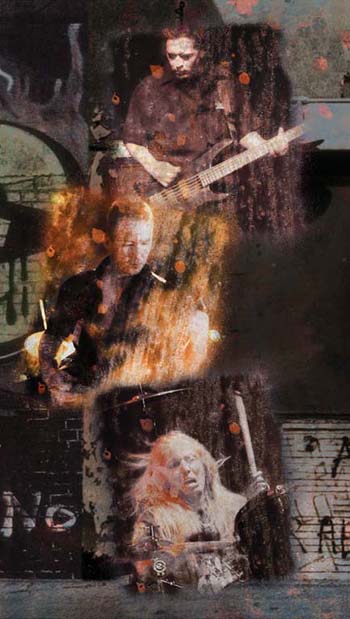 Wow Bill, you have been extremely busy recently with the release of a 'Titanic's' best of album "Full Steam Ahead", the forthcoming release of the new 'Final Axe' album "The Axe of the Apostles" and the new forthcoming release of Seventh Power; where on earth did you find the time to start a new Group "Menchen", tell be about "Menchen", how did it come about? (Good name for a band by the way!)
Bill: I've been working almost non stop since last year. Retroactive Records asked me to do several albums, including an instrumental album with Robert Sweet. So we did. I was trying to think of another good musician we could have on it to spice things up a bit.
Then I remembered that I had become acquainted with Tony Franklin a fews years previous, so I asked him if he wanted to do bass tracks it, and he said yes. So, I played one demo song for Retroactive and they wanted to get a singer for it because it sounded better than they expected. So we got a singer, and it is very close to completion. Retroactive actually decided the name for the group.
I noticed that the tracks written for "Axe of the Apostles" were actually written back in 1990, why did it take you so long to release the album?
Bill: The group actually broke up in 1991. A second album had been recorded, but only had drum machine drums. When I casually mentioned it to Retroactive around 2005, they wanted to hire Robert Sweet to put drums on it and finish it. So we did.
If you could record just one track with any person, dead or alive, who would you choose and why?
Bill: Thats a hard one. I don't know, maybe Tiny Tim. He had great charisma. I'll get back to you on this one.
Okay, so you play Guitar, Keyboards and Sing on the Seventh Power album, does this not cause a problem when playing live, how do manage it? Also, are we going to see you live here in the UK at all any time soon?
Bill: We play material that we can pull off live. I have talked about the possibility of going across the pond to play with various members of the groups I have. It could happen.
What happened to "Redeemer" and do you foresee any further releases as "Redeemer" and what about 'Rev Seven' are we to expect any new material?
Bill: Redeemer ran it's course. It was good experience. In 1989 I met Keith Miles and we formed Final Axe. 6.
When you are not so busy and hopefully you find time to relax; what do you like to do to relax and do you have any fanatical hobbies or collections?
Bill: I used to do a lot of Off Road motorcycle desert racing. It's not convienient to race and play music. I have been very consumed with recording projects for a while now and haven't been doing anything else
Lyrically; Jesus Christ must be an inspiration to you? Do you have any other inspirations and if so; do they affect your music?
Bill: The Lord is an inspiration, for sure. But even more so, he is life itself. I don't think about anything else when I write music these days because I feel a sense of urgency to convey the most important message there is. I do pick a variety of topics that I find in the bible, though.
What really gets on your nerves and really annoys you at the moment?
Bill: I think the irritating chatter of the world gets on my nerves the most. I am pretty unplugged from it. I watch virtually no news, it's the same old junk repackaged. I'm just very focused right now on what I need to do.
Do you come up against or experience any negativity as a Christian Metaller and if so, how do you deal with it?
Bill: There has always been mockers, so I guess I'm used to it.
You must have a mighty huge collection of Guitars, do you have a favourite and how do you select which guitar to use for your different side projects?
Bill: I own all flying V's. I've got 2 that I switch between. A 1984 white Gibson, and a Korina Gibson. As I go from project to project I just use which ever one that strikes my fancy. I'm not even sure, actually. Thank you so much for your time Bill, I wish you all my luck with your future plans and success and I very much look forward to seeing you play live here soon! Bill: Thanks so much!

---
Interview by Fluffmeister, May 2008.
All rights reserved.