AYREON define all the best in progressive metal and the new album, 'The Human Equation' is bound to be a top 10 album of the year for many people (it will be in mine!). Dutch multi-instrumentalist Arjen Lucassen also fronts STAR ONE who released a very impressive live album last year.
1. What are you currently up to?
I have recorded Doing promotion for the album. I have many phoners, face-to-face and radio interviews every weekday for another couple of weeks and about 30 (fan)mails a day to answer ;-)
The album climbed the CD top 100 here in Holland at # 7, and #50 in the German charts! So things are really taking off at the moment.
2. What has been the highlight(s) and low point(s) of your career to date?
The low point was in 1993, when my band Vengeance couldn't get a deal and split up, my girlfriend left me and my solo album flopped hopelessly.
However, this low point led to the highlight of my career: my decision to start the Ayreon project in the same year, all on my own without compromising to anyone, be it bandmembers, record companies, fashion or even the fans. To my (and everyone elses) surprise it worked!
3. Could you give us some background to the excellent new album, 'The Human Equation' please?
Thanks for the compliment! It's about a ruthless businessman who has a bizarre car accident (broad daylight, no other car in sight) and slips into a coma.
The story is set in two different locations; the hospital where his wife and best friend are sitting beside his bed, and a strange realm inside his head, where in his dreamstate he's being confronted by his emotions (portrayed by the singers) which take him back to his past.
Slowly we learn more about this man and why he became the man he is and had the accident, and about the role of his wife and best friend in this drama.
4. How did you decide which vocalists to use on the new album and why?
This time I wanted to work with vocalists who have never been on Ayreon before, to keep things fresh for myself as well as for the fans. Because the main theme of this album is 'emotions', I was looking for very emotional singers. The criteria were simple, I had to get goosebumps.
5. The whole concept and musical scope of 'Human Equation' lends itself to a stage production. Will you be touring this album at all or possibly plan to get it onto a theatre stage?
Touring won't be possible with the 11 guest singers who are all very busy with their own bands. A theatre production would be interesting. There are certainly possibilities in this direction, but no definite plans.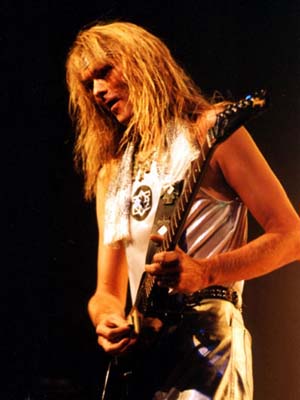 Photograph © 2004 Website
6. Anymore plans for further material with the Star One project? How did you view the fans and music reviewers' reception to the live album?
I definitely would like to do another Star One album some day, because the reactions of both fans and journalists alike was overwhelming. I also like working on this project, because I've been playing metal for 15 years in various bands from 1978 til 1993 so it's in my blood.
7. The Ayreon backlist is being re-released by Inside Out. Why has it been so hard (certainly in the UK) to track down Ayreon albums?
They were released by a small Dutch label who didn't have such an extensive distribution net outside of Holland. It's a great feeling that my music is now available all over the world. I'm already starting to notice this from the high sales of the new album and of course the Star One albums. My aim is to share my music with as many people as possible.
8. What have been your favourate vocal performances across the Ayreon/Star One albums?
It's obviously an honour to work with singers that I grew up listening to like Bruce Dickinson, Fish, Barry Hay (Golden Earring) or Dave Brock (Hawkwind). But I really don't want to favour any singer over the others.
I'm extremely proud of them all, whether they are famous or unknown, technical or limited.
9. What do you enjoy doing in your spare time?
I used to jog a lot, but due to serious back problems I switched to cycling which I also enjoy. I also love watching DVDs in the privacy of my own home cinema and listening to music.
10. Message for your fans...
This album looks like it will be my best-selling album. I would like to thank all the (open-minded) people who actually bought my album, instead of just downloading it as most people do nowadays. I think I have the best and most loyal audience I could wish for!