ROGER STAFFELBACH (Angel of Eden)
Angel of Eden - formed by Artension guitarist Roger Staffelbach and featuring Carsten Schulz (Evidence One) on vocals, Angel Of Eden are a new progressive metal band well worth checking out! Fellow Artension and former Royal Hunt vocalist John West also guests on one song.

What are you currently up to? (E.g. recording, gigs etc.)

Besides doing the promo for the AOE Record, I'm busy writing the music for the second Angel of Eden album. I really would love to tour in support of this record but nothing is lined up yet, anyway we want to play live, so if someone is interested having us play live, give us a shout.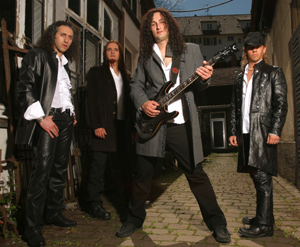 How did Angel of Eden come together and how did you hook-up with Carsten Schulz? Were you tempted to maybe go with John West (who does guest on one song on the album) or did you want a different vocal style for this new band?

I first planned to do sort of a solo abum, however the whole thing developed step by step more into a band thing. I was approached by Carsten Schulz and I liked very much what he's done before so I wanted him to be the singer of this record. Carsten also recommended to me Rami (Ali) and Ferdy (Doernberg).
I checked some of their works they've done and again I was convinced that these were the guys I wanted to work with. Ferdy then recorded the tracks for the 4 track demo I recorded and I just used these tracks on the final record and they're great.
As for the main keyboardist I wanted someone really over the top and the cooperation with the guy after Ferdy just didn't work out (this is no keyboard player I had worked with before), so Mistheria was the man I thought would fit best, and as it shows he does.
He did an outstanding job on this one. It's a pleasure for me working with him. And as for the Bass Player I always admired Steve's (Di Georgio) playing, and we have known each other for almost 10 years already in addition to having worked with him on the last Artension record "Future World". I just wanted him to be part of it and he agreed. So I'm really happy to see how everything has worked out so far.

Having John singing on Battle of 1386 was because I wanted him as a guest singer on 1 track and this was the track that demanded John's voice, and he did an great job on this on, as one would expect.


Could you take us through the excellent new album 'The End Of Never' e.g. ideas behind the songs, song writing process

The song writing and the finalizing of the songs took me 1 Year. I always liked some of the heavier tracks we did with Artension, for example, "Into the Blue" from the "Phoenix Rising" album, and songs like "Let it Ride" and the melodic stuff like "Into the Eye of the Storm" from our debut album.
I wanted to go somewhat in that direction. For some of the tracks I had the ideas for the riffs etc. for a few years already, but putting them together to songs was the hard part, but I think it worked out great in the end.

The instrumental "Towards the Light" I had written in the honour of Shawn Lane and it had already been released 3 years ago on the Shawn Lane Tribute from Lion Music, I re-recorded this one as I really think it displays my abilities best.
"The Battle of 1386" was inspired by a historic battle and I wanted it to sound somewhat like a movie soundtrack and I think we got pretty close. Mistheria did an awesome job on this one with the intro and the whole orchestration of the track, as he has done on all the other tracks.

"Keys to Avalon" was a track I wrote for a hard rock act I was meant to get involved with, this band did not work out, so I used it for this album and I knew Carsten would do a killer job on this one, as he has this Hard Rock background much more than I have.

Do you view Angel of Eden as a new band or will the future of the band depend on how the album is received by fans and reviews?

I look at it as a band. Of course it's very important to sell records and build a certain fan base in order to continue and grow as a band. It's just difficult to sell a decent amount of records nowadays in a market that is heavily over saturated regarding the number of releases and the illegal downloading issue. However, so far the reviews and the response in general has been great. Let's see what happens.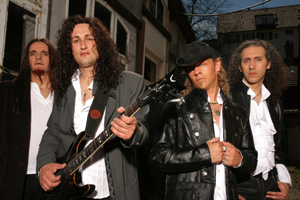 How do you view the current music scene? Does the internet and downloads help bands and artists get their music known about and heard?
The Internet is a good and a bad thing. As for a musician and band there are many more possibilities to expose yourself, to be visible. You get to know Artists you would have never come across without the Internet and that's a great thing.
But you know, years ago when I was starting listening and discovering bands, I would just check out every record shop that would cross my way and I would find anything, with one little difference, I would have to move my ass and go out and search for it.
Furthermore there existed more a, I call it, Record Shop Culture, where you would hang with friends and discuss bands etc. It's somewhat similar today, with one difference that this just happens in a chat and online.

I think that the illegal downloads harm the bands big time. Even when we started out with Artension, with our first Record in '96 it was much easier to sell records than it is nowadays. I really think people are not aware enough of this. Maybe the Industry also should think about lowering the prices of CD's.

Who are your musical heroes and why?

There are many musicians I adore for what they've done musically, but especially I appreciate Yngwie Malmsteen, he created a whole new genre, this guy is a legend, it's as simple as that.


What made you first want to start the playing guitar and how has your style of playing developed through the years?

After listening to Yngwie Malmsteen's "Trilogy" record, I was 14 years old, and nothing would be the same as it used to be, it changed my life, my whole perspective of life. I wanted to and started playing the Guitar soon after that, and I keep loving it. I think I've developed and progressed steadily over the last couple of years. I kept and keep working on my playing constantly, which is very important in order to grow as musician.

Artension - what were the highlights with the band and has the band finished now or could there possibly be another Artension album sometime in the future?

I hope that there will be another Artension Record, but I don't know yet. The highlights for me personally were the success we had with 'Into the Eye of the Storm' and 'Phoenix Rising' especially in Japan. Some good times were had with the band, and I really hope we get together again one day and make another one.

What do you do in your spare time outside of music?
I'm kind of a nature freak, and I'm out there as much as I can, biking, skiing and whatnot. Besides this I like Reading, am into medieval history, I like to do sightseeing around castles, museums etc. I like watching movies and try not to forget socialising with my buddies and have a beer or two in the local pub once in a while.

Message for your fans...

I hope you give the record a listen and I hope you have as much fun listening to it as we had making it.
---
Interview © 2007 Jason Ritchie.
All rights reserved.