ANDY FRASER
Andy Fraser was the bass player with Free and left that band finally in June 1972 forming Sharks.
He formed his own band and released two albums in 1975 before concentrating on songwriting. His best-known composition is Free's 'Alright Now', a staple on classic rock radio since its release in 1970.
Although suffering from ill health since the nineties his current album 'Naked And Finally Free' was released in 2005 to critical acclaim.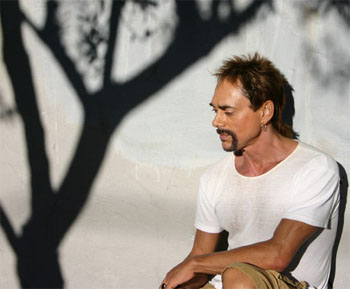 Photo: www.andyfraser.com
1. What are you currently up to? (E.g. touring/studio, etc.)
Right now, am helping put together a new album for Frankie Miller, who as you may know has been paralyzed since suffering a brain aneurysm some years ago. Some fantastic vocal performances of his have been discovered, some real treasures, and I am putting tracks around them. Also some songs that we co-wrote together, I will completely re-do with a new vocal. Maybe 3 but at least one. Ray Minhinnett, and Henry McCollough are the main instigators, with their history of "Full House". So far the tracks sound great!
Photo: www.jonamor.com
2. Were you pleased with the reaction to your last solo album 'Naked and Finally Free'? Do you take much notice of reviews or are you more focussed on what fans think of your music?
I try not to be too swayed by reviews, either saying I am Christ reborn, or an idiot who should have stayed gone, but from what I saw the feedback was all of a positive nature, so I have nothing to be concerned about.
Fans or reviews, it's all other peoples opinions, which they are entitled too, but come from their perspective, without really knowing mine. Some people would like to see me playing bass again with Free. "Hey" and we would all like to be teenagers again... and be able to raise the dead. ain't gonna happen. Gotta live in the present.
3. How did you get your first break into music and what made you want to play the bass?
Alexis Korner hooking me up with John Mayall's bluesbreakers when I was 15, and I actually started playing bass because all my school mates wanted to be the singer, or drummer, or guitarist... anything but the bass player. So I was the diplomat who tuned my strings down an octave, until I got a real bass.
4. You appeared with Paul Rodgers back in 1994. Have you kept in contact with Paul Rodgers and Simon Kirke down through the years? Would there ever be a chance of the three of you reuniting as Free for a special one-off event similar to what Led Zeppelin are planning?
Contact is sporadic, and with Rodgers very tense. It's OK with Simon. In fact for the release of the "Free Forever" DVD last year, Simon and I had a great time together in UK promoting it and attending the DVD release party in London. Rodgers declined to attend, actually much to everyone's relief.
I had in fact asked both Paul and Simon what about doing a concert at that time, recording it for DVD, and putting our differences aside for a day, just for the fans. Simon was into it, Paul wasn't. I doubt if another opportunity will present itself.
5. What have been the live highlights during your time with Free and as a solo artist?
I am tempted to say Free's Isle of Wight concert as it was so big, but I remember a little gig in Aberwrystwyth, Wales somewhere in a small pub with only about a dozen people where we were so good, that us, the roadie's and the 12 people were simply in disbelief. Or the spliff was really extra strong that night!!
6. You have had more than your fair share of setbacks health wise. How have you dealt with these and how important has family support been for you?
I have, but I am doing fantastic right now. Better than most 55 year olds. I am very disciplined when it comes to nutrition, sleep, work scheduling, (by not working 18 days like I used to, no non-prescription drugs, and exercise 3 hours every day).
Plus I am very closely monitored by excellent medical teams. So life has never been so good. The support of my daughters, Hannah and Jasmine is the most valuable thing in my life. They also have used their talents to be all thing's visual for Andy Fraser, including CD/DVD artwork photography and design, video concept and directing, back screen motion graphics for LIVE performances, Website design, and even telling me to lose the pants, when I pick the wrong pair. So we have a fun, close, intimate, very adult business relationship which is so fulfilling. Check out - http://www.andyfraser.com/alive/alive.html
7. How do you view the current music scene? Does the internet and downloads help bands and artists get their music known about and heard?
There are plenty of very talented people around today, as well as the usual share of the boring. I love John Mayer. Christine Aguilara when she doesn't get too plastic. "The Voice within" is a great one, even Fergie who is plastic most of the time did a great one recently with "Big girls don't cry".
Generally the current music scene has everyone running scared, because of the downloading situation. I think the internet is great, but more of my stuff is bootlegged than sold. We are in a state of evolution, and I am sure everything will sort itself out.
8. Who are your musical heroes and why?
In the past Stevie Wonder during his Music of my Mind period, Aretha Franklin, back in the day. Marvin Gaye still stands up.
Beatles are still the all 'round best band, because of their songs. The Stones have written a lot of great songs over the years. Hendrix would have to be the best guitarist.
9. What do you enjoy doing in your spare time?
I have no spare time. 8 hours a day is gone with sleeping. I spend 8 hours focused on music, 3 hours exercising, and rest rest is taken up with the little things, eating, answering your questions, and the daily activities that we all have keeping our lives together.
10. Message for your fans?
Thanx for such support over the years, for what I am doing now, standing by me through all that I have been through, and the letters of encouragement that are too numerous to respond to, which makes me feel guilty, but it's impossible. Love you too!!
Andy.
---
Interview © 2007 Jason Ritchie. All rights reserved.
Artist website
---
| | |
| --- | --- |
| | Print this page in printer-friendly format |
| | Tell a friend about this page |