WIN FABULOUS YES LIVE BOXED SET!
Thanks to Rhino, we have a copy of the new Yes 3-CD box set to giveaway. Closing date is Friday October 10.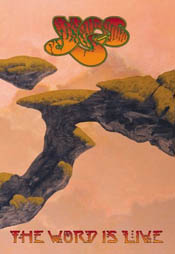 GRTR! Reviews Editor Jason Ritchie wrote: 'The words essential are often bandied about without thinking but this live set really is an essential for fans of the band due to the sheer wealth of unreleased live material, much of it sourced from Steve Howe's collection. Glorious!'
The most successful, influential, and enduring progressive rock group ever, Yes - still powered by founding members - has expanded the frontiers of musical consciousness for over 30 years.
Revered for instrumental virtuosity and bravura vocals in a signature sound fusing rock, classical, pop, folk, metal, and more, their artistically adventurous albums are matched in renown by the brilliance of their live concert spectacles.
The Word Is Live presents three sonically stellar discs spotlighting some of their most memorable shows, capturing their exciting stylistic evolutions, and highlighting several of the band's legendary lineups.
30-tracks taken from throughout the band's career including previously unreleased BBC sessions, and concert performances recorded 1971-1988
Just answer the following question:
Who played guitar with Yes on the 90125 album?
(a) Steve Howe
(b) Trevor Rabin
(c) Pete Banks
Now complete the form below: