YES 'The Word Is Live' 3 CD-Set, Rhino (2005)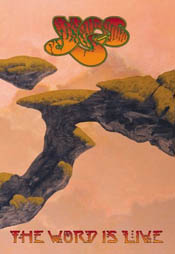 Wow! This 3-CD live set features all previously unreleased live tracks bar two previously released BBC tracks 'Then' and 'For Everyone' from 1970. It covers the bands live shows from 1970 up 1986's Big Generator' tour. First the package itself… A lovely book format with copious sleeve notes including Yes fans live show recollections plus an introduction from Greg Lake.
Lots to enjoy including 'Hold On' and 'Owner Of A Lonely Heart' (I am a big fan of the Trevor Rabin years!) through to 'Roundabout', a tune that still sounds fresh all these years later (the track on here dates from 1979). It's interesting to track the changes in the band's live performance none more so than Jon Anderson's stage banter that gets much more confident down the line. The band's cover of Paul Simon's 'America' stands out on disc one whilst the medley on disc two sees the band switching from tunes and time changes with ease.
The words essential are often bandied about without thinking but this live set really is an essential for fans of the band due to the sheer wealth of unreleased live material, much of it sourced from Steve Howe's collection. Glorious!
****½
Review by Jason Ritchie
***** Out of this world | **** Pretty damn fine |
*** OK, approach with caution unless you are a fan |
** Instant bargain bin fodder | * Ugly. Just ugly