The legendary bassist, famed for his bald head and mammoth beard, has played with Gillan, Mammoth, Samson and Zzebra to name but a few. He has a new project underway and is overseeing the release of more live Gillan material and the late Paul Samsonís last album.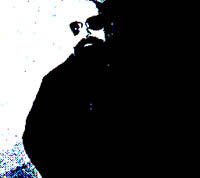 How did the current project with (former Gillan guitarist) Bernie Torme and drummer Robin Guy come together?
I was writing songs with Bernie and we were jamming occasionally and we were asked if we fancied helping out by playing at a charity gig for Clive Burrís M.S, weíve both known Clive a long long time so of course we said yes...
Robin Guy was working with Bernie and Alex Kane (Antiproduct) and knew some of Bernieís stuff so seemed the obvious choice...we had a quick rehearsal and jammed our way through the gig, which went down very well and we were asked if we would play at a festival in Cambridgeshire the next month, we had another rehearsal and played to a few thousand bikers between Wishbone Ash and Saxon, it went really well again and we collectively realised we had something very special.
Playing with Bernie and Robin is the most (musical) fun Iíve had in years...so we began recording some of the songs and itís grown into an album which is nearing completion.
Being incredibly inventive the band is called G.M.T. and hopefully we will be doing a few more gigs in the near future. Iím really happy to be enjoying playing so much. Thereís a sense of freedom about it, weíre just doing what comes naturally.I íve always loved Bernieís playing and writing with him again has surprised us both in the diversity of influences weíre able to draw on but it is really the same racket weíve always made!
Added to that weíve got Robin Guy and those of you that know him know what an amazing player he is...heís given us the kick up the arse we needed, Iíve worked with some of the best drummers in the world...hereís another! Our material is allowing him room to express himself, not just keep time.. a truly great player and an asset to the band.
What are your next recording plans?
The next recording plans are to finish the G.M.T album and Iím also compiling an anthology of my work for release on Angel Air records. Itís an epic project...the earliest track is from 1969! I think it will be a double CD of over thirty tracks including obvious things like Gillan, Samson, Mammoth, Zzebra, but also a few rarities and things people may not have realised I was involved in. Iíll keep you posted on progress...Iím also producing a band called Skintight Jaguars when we get our schedules sorted....you might have heard them on Bruce Dickinsonís show, he played a couple of tracks already, (obviously got good taste!) This is one great band fronted by singer Kip Legend...Iím going to get them the support slot on any of our gigs I can ...watch out for them.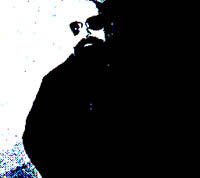 When Paul Samson died he left you his last album to finish off. That must have been difficult? How is that album coming on?
Ah yes Paulís album. I have now finished it and yes that was bloody difficult. Itís taken me two years off and on, I couldnít even start for a few months......just too painful. I had to replace a few bits of guitar here and there and play bass on some of it but itís mostly all Paulís work with vocals from Mr. Nicky Moore, whose done his usual excellent job. I felt on a few occasions that Paul was there with me during the last two years and through all the sadness and tears, itís a great record and testament to the man and his talent. Deals are being discussed as I write. So yes, Iíve got a few things going on.
Gillan had phenomenal success and a great sound .What was the secret?
Thank you. Itís a little clearer why we were so successful in retrospect...We had the best singer to start with, he just needed a push back to the right direction and I was just the man to push him!
We had great times throughout all the Gillan line-ups but it wasnít until Ian agreed to record "New Orleans" that we began breaking through to a much wider audience...the commercial singles opened people ears to our more "serious" work and converted a lot of people to hard rock...the timing of Ianís return to heavier, more accessible material could not have been better.
In the mark 2 lineup with Bernie we really were an incredibly volatile bunch and I think that helped in some way to the music and the success...we had great musicianship and great songwriters...the band were always one step away from contemporaries creatively but we never took ourselves too seriously.
Image, too, of course was/is important and we certainly didnít look like any other band...but who knows why it was so successful.
Luck? The right chemistry? Or was it just sheer hard work and belief in ourselves and each other ???
As for having a great sound...it could have been a lot better but considering the constraints and circumstances, with that equipment in that studio...it was ok...we are talking about a long time ago, the time before samplers!
Do you ever see your former Gillan bandmates Mick Underwood or Colin Towns?
I see Mick from time to time, and we got together with Bernie a few times last year for a jam...The last time I saw Colin was sadly at Paul Samsonís funeral...but weíve asked him to play keys on a couple of tracks on the G.M.T album which might cheer him up.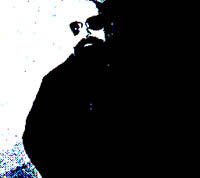 There seems to be a cloud over how Gillan broke up. In your words what happened? Would you ever work with Ian, Colin or Mick again?
I think Iím going to be asked this in every interview forever perhaps because Iím the only one who ever really says anything!
The way in which we the band, were treated was abysmal....after so much success, Top Ten albums and singles, headlining sellout world tours, all the trappings and awards, gold discs etc etc it would have been good to see some of the financial rewards but sadly the pot of gold was already in someone elseís bank account and back pocket...if Ian had said to us that Purple were reforming we would have understood and wished him all the best, but to blatantly lie to us all, his only real friends, for whatever reasons, was very very wrong.
Bernie learned of the problems and thatís why he left, but myself being a trusting (stupid?) soul stayed to the very bitter end, defending Ian almost to the last. As for working together again I have already worked with Colin Mick and Bernie and nothing is impossible, but itís not up to us, only one person could ever make that happen...but I wouldnít hold your breath for a reunion album and tour...
The Mammoth project with Nicky Moore never took off like it should have done. What happened?
Mammoth lost their way somewhere between the curry house and McDonalds! The heart of the band were the songs but the music became overshadowed (!) by the fun side and the commercial singles race it all went a bit belly up when, with massive M.T.V and radio play on the "Fatman" single and video in America the obvious step was to tour the U.S. but the money was gone and "They" wouldnít agree to even a promo trip.
Result: management, record company, publishing company, and the band at Loggerheads. By the time the album was released the initial buzz had gone, so had guitarist Kenny Cox, and with no money left, no management, I couldnít keep it together...but we had a great time and the album was excellent if a tad thin and a lot too expensive....ahhh donít you just love the music biz?
Iím glad to say that G.M.T. is fuelled by a desire to play music first and foremost, the way it should be...I take my share of the blame for what happened to Mammoth though, we all just got carried away.
Youíve put out some great live Gillan material through Angel Air, any more material in the vaults?
Thanks. Yes I have loads more stuff, out this week is a live album featuring the mark 3 lineup recorded at the Glasgow Apollo about a week or so before the end of the band itís called "Mutually Assured Destruction" Glasgow, and yes thereís more, as long as people want it....the difference in the Angel Air releases is that everyone gets paid!.
The original Gillan studio material was reissued appallingly by Virgin. Would you like to do it yourself properly?
Yes, I agree. Iíd like to release all the Gillan albums with original artwork and give them the exposure they still deserve but in my opinion Ian and his management are trying to bury Gillan instead of repromoting it and the legal complications still exist, once again only one man can sort it out
What have been your highs and lows over your career?
So many its hard to pinpoint. Life is highs and lows isnt it? Iíve had more than my share of both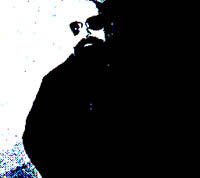 A press cutting on the inside of (I think) the Future Shock LP says you played on a Beach Boys album. Is this true?
Yes I remember that press cutting, I think it said Iíd played cello on some Beach Boys tracks......I do play cello but can't remember that particular session!
Any message for your fans?
Hello. Youíre all slightly mad but with impeccable taste in music, please check out G.M.T. either live or when the album comes out, I think youíll like it! And thanks for your continued support. Well thatís about it. Cheers John
---
Interview © 2005 Joe Geesin