GILLAN 'Mutually Assured Destruction'
Angel Air SJPCD184 (2005)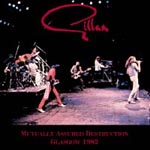 Recorded on the band's 1982 tour with the Gillan-Gers-McCoy-Towns-Underwood line-up. The only drawback I'd say with this album is the sound quality as the bass is way too high (could be, as bassist John McCoy did the mastering!) and Gillan's vocals are hard to pick out on a couple of songs. That said if you're a fan of Gillan this is a fine snapshot of the band in what would be their last tour as Gillan went onto the reformed Deep Purple.
All the tracks are here you'd expect including 'Trouble', 'M.A.D.', 'Smoke On The Water' and one of my personal fave Gillan songs 'No Laughing In Heaven'. Two bonus tracks as well - 'No Easy Way' and 'If You Believe Me'. As with any Angel Air release you get very informative sleeve notes (why can't all re-issues/rarities releases be this good?) from Jerry Bloom, editor of 'More Black Than Purple'.
****
Review by Jason Ritchie


£12.99
Bluesy Blue Sea
© 2005 Angel Air Records. All rights reserved.
Related>> Album review
Related>> Interview (John McCoy)