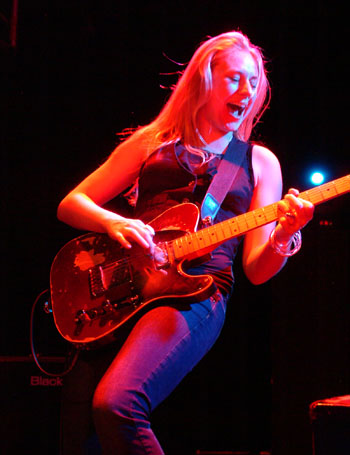 With a well received album 'Diamonds in the Dirt' on Ruf records crashing on to the Billboard charts and armed with an award for Best British female vocalist of the Year and a successful May 2011 tour under her belt, exciting rock/blues guitarist Joanne Shaw Taylor hits the road again for a 10 date UK tour starting on November 15.
Pete Feenstra caught up with Joanne to ask her about her early career, her current album and living and recording in the USA.

You've said that the first album you bought was Albert Collins 'Ice Pickin', what drew you to that?

Actually I got that from reading about Jonny Lang talking about Albert Collins. That was some 10/12 years ago. We didn't have the internet back then and I was reliant on guitar magazines and people talking about other players etc.
So I checked that out and a few other things. But the real important thing for me at the time (I was only about 13) was that people like Jonny Lang and Kenny Wayne Shepherd showed that someone my age was listening to this stuff as well and making a living from it.

Who else were you influence by at that time?

Well I was in Brum (Birmingham) and used to go to rock clubs all the time whenever I could really, especially the old Robin at the weekends.
And I saw a lot of rock bands and some blues touring artists like John Hammond and The Paladins who had an album out called 'Million Mile Club' which I really liked. They were a rockabilly band really but that album was bluesier. And then of course there was also the home grown heroes like The Hoax who I thought were brilliant.

Was there anyone on the local Brummy music scene that was an influence?

Yes lots of people, but particularly Ian Parker who was a great help and inspiration. He was a big influence in terms of singing lessons and my guitar playing and there was Aynsley Lister of course, but there were different people for different areas. I listened to a lot of different music at the time.

You presumably started playing guitar when you were young? Did you have a problem finding people your own age to play with?

Yes very much so but I started very young as I realised it was what I wanted to do.

Was there any resistance to you being taken seriously as a young girl guitarist at the time?

Oh sure but I knew I could play.

You were discovered at 16 or so by Dave Stewart and later worked with Bill Wyman, what did you learn from them?

Lots from both of them, but Dave became a big musical influence for me and a guiding hand generally when I was 15 or 16. He said things like you are good at blues guitar but you should try and sing too. That led me to having the confidence to write songs too.
Dave really made me realise my early potential, he'd always be suggesting more things to try and explore. He would say you have the ability to do this, what else would you like to try next.
He also showed me that great blues players can write good songs too, people like Bonnie Rait, RL Burnside and several artists on the Fat Possum label etc. He also gave me some great studio experience which was invaluable. He had his own studio in Crouch End called The Church and I was living in London at the time and used to go there whenever I could. I used to bump into the Davey Brothers from The Hoax down there too.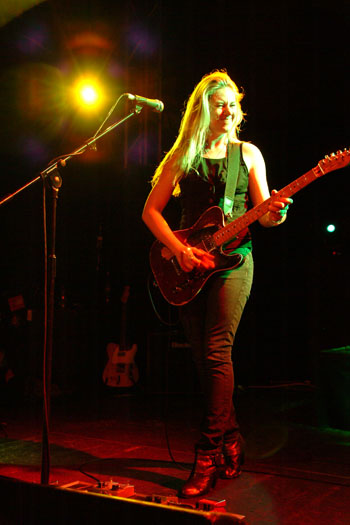 So do you feel at home in the studio?

Not really it's a strange situation really, you can do something like 200 gigs a year and then suddenly for a 10 day stretch you are suddenly in the studio and in a completely different environment. But Dave did teach me to approach everything more professionally so I can deal that situation now.

Both 'White Sugar' and 'Diamonds in the Dirt' are full of strong songs as well as great playing. Do you find song writing easy?

I don't really get to write as much as I should, as in between the gigs and touring there's lots of flights and travelling.
Actually I've just gone down to Texas to focus on my writing for a while and try and work on some songs.
Generally speaking, I think about what I have to do and then spend a week or so panicking about it - not really being very productive at all - then I'd have some red wine and some more red wine and then maybe finally get down to it (laughs). It's a bit of a busman's holiday really.

Do you approach songs in a standard format like with riffs, grooves etc or do different things inspire you?

I'm usually pretty set in my ways when it comes to writing. The music comes first with the melody etc, then the lyrics. But with 'Lord Have Mercy' for example, it was different as I had a riff and a poem so I simply stuck the rest on top.

Was there a lot of pre planning to the album in terms of setting yourself goals to achieve?

Well there was a big difference really between 'White Sugar' and 'Diamond in the Dirt', because with 'White Sugar' I'd spent ten years working up to my first proper record.
By contrast, 'Diamonds In The Dirt' was something very quick. It only took something like 10 days to write the songs, record, mix and master them.
It was also the dreaded second album syndrome. I also wanted to make 'Diamonds' different from 'White Sugar'. I certainly wanted to make a better album to start with. But it was a different album in terms of how it came about, as it wasn't until we nearly finished 'Diamonds' that I really appreciated what it was going to be like.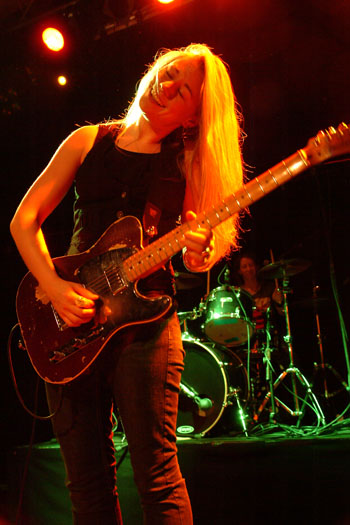 It was very organic then?

Yes it was. It was more of an album based around what a two year old tour band sounded like rather than trying to establishing myself with the first album.

You worked Jim Gaines on both albums and he recorded you in Tennessee. Did some of that environment rub off into your music?

I guess it did yes, especially on 'White Sugar'. Apart from the recording we tacked on a bit of vacation in the Deep South - me and label boss Thomas Ruf - and soaked it all up. Since then I've lived in Detroit for about 2 years so I know more about things now.

What did Jim Gaines bring to the recording?

The great thing about Jim is the relationship you have with him as a person. He never panics, he helps me focus on the job at hand, he contributes to the arrangements, picks the musicians for the project and really just does everything to try and get the best performance from the artist.
Above all I trust him with my music and because he's honest enough to tell you if it's a good take or not. He was the first person to try and straighten out my West Country accent on the vocals for example.

You also seem to have gelled with the rhythm section of drummer Steve Potts and bassist Dave Smith?

Very much so, Dave and Steve have played with everyone from Jonny Lang, Al Green and Luther Allison and they know what's required.
Very often they'd listen to a song once and literally after it had been played back to them they'd nailed it. So a lot of the stuff we did was live in that way with a few guitar overdubs.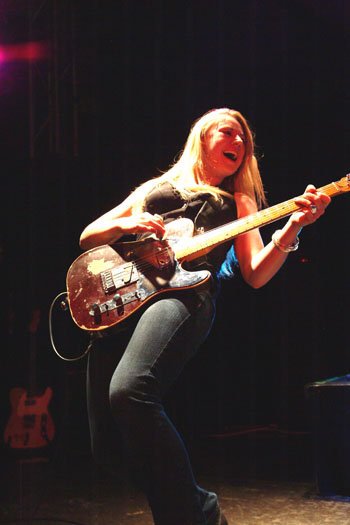 'Same As It Never Was', 'Jump That Train' are particularly impressive and 'Can't Keep Living Like This' is a standout track. Did you have any favourite songs at the time of recording the album?

Well I liked 'Jump That Train' because I had a riff and the rest of the song came together very quickly. In fact we needed one extra track at the time and it fitted perfectly.
I also like 'Can't Keep Living Like This' because of the lyrics and I hope it shows how I've developed as a lyricist. Then there's the title track and 'Lord Have Mercy' which I also liked a lot.

Did some of the songs change from their original form after you started working on them?

Some were exactly the same but 'Can't Keep Living Like This' was totally different. Originally I played it much slower and it had more of a Steve Winwood style vocal on it. .

'Let It Burn' reminds of some of some those Texas bands like the Arc Angels and Storyville and a bit of Kenny Wayne Shepherd.

I love them all but the song actually came from the title as I'd always wanted to write a song with that title and with a Texas feel.

You've moved to Detroit now, has that give you any new musical horizons?

Yes in many ways. For one thing I've been hanging out with PAUL (Paul Andrew Ulysses Lamb) who doubles as my bass player when we tour the US. And he has lived a colourful life and you certainly get to know about Detroit that way (laughs).
There's lots of interesting places to see and characters to meet. But it's also opened my eyes to a lot of different music from rock, blues and country to a huge diversity of styles. I guess if nothing else the current adverse economic situation over there has pushed people into whatever works for them musically.

You toured with Candy Kayne and The Blues Caravan with Oli Brown and Virgil & The Accelerators. How was that?

Well firstly it was great hitting the road with other people like that and leaning about touring as a group of people.
It was also great opportunity to hang out with other musicians as you don't often get to do that, other than bumping into someone at festivals etc.
It was very different from what I was used to and we seemed to be in Germany for a long time. But it was good and there were plenty of shows.
But sometimes you only played for something like 30minutes and then you had to think about what you were going to do at the end when we all played together. So it was very different from my own gigs.

You are stepping up to bigger venues on your forthcoming 10 day UK tour; do you have to change your shows at all to match the bigger venues?

There's not much different really as I do what I do and just try and concentrate on putting on the best possible show I can.

The British Blues Awards nominated you for 'Best New Debut Artist', yet you've been playing for quite some years. Did that feel the award was a vindication of what you are trying to do?

Yes in a way it was. But its funny as in the States they nominated me for the Sean Costello Award for Rising Young Blues Artist, and I've been doing this for ten years and sometimes you wonder just how long I can be considered for that category before my star starts to descend (laughs). But it's great to get any recognition, it's what we're all working towards I guess.

Finally, you also recently toured with both Black Country Communion and on the Glenn Hughes tour as well. Was that a rewarding experience?

They were both fantastic. BCC were awesome, the shows were great and we were very well received. And I've been a fan of Glenn's for along time since Trapeze; he's an awesome vocalist and an example to us all.


Interview © November 2011 Pete Feenstra
Photography by Noel Buckley
---
Joanne Shaw Taylor tours in the UK in November
Tue 15th Nov
Pavilion Arts Centre, Buxton
Wed 16th Nov
O2 Academy Islington, London
Thu 17th Nov
The Tunnels, Bristol
Fri 18th Nov
Exeter Phoenix, Exeter
Sat 19th Nov
Princess Pavilion, Falmouth
Tue 22nd Nov
The Robin 2, Wolverhampton
Wed 23rd Nov
O2 ABC Glasgow (ABC1 & ABC2), Glasgow
Thu 24th Nov
Citadel Arts Centre, St Helens
Fri 25th Nov
Lawrence Batley Theatre, Huddersfield
Sat 26th Nov
Fibbers, York
---