JOANNE SHAW TAYLOR Diamonds In The Dirt Ruf1164 (2010)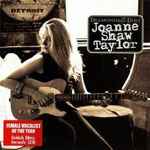 'Diamonds in the Dirt' is the complete package from blues rock guitarist Joanne Shaw Taylor. JST made a big impression with last year's 'White Sugar' which tapped her potential sufficiently well enough to suggest that she could still improve on that fine effort, and 'Diamonds in the Dirt' doesn't disappoint, as it delivers on all fronts.
It's a superbly produced work that showcases her abilities in the best way possible. 'DITD' sounds like a real band playing superbly arranged well written material in a blues genre. Above 'Diamonds' effectively traces her relocation to the States, but unlike so many contemporary American blues albums these ten tracks are full of vitality, burning licks and smouldering grooves.
There's an autobiographical feel to her lyrics, bolstered by trade mark muscular solos, and a husky voice, but there are also some catchy hooks, colourful rhythm patters and a handful of songs that could conceivable find their way on to what's left of contemporary radio.
'Cant Keep Living Like This' is an acoustic/electric crossover opener. It's a slow burning intense barn buster of a song that fades all too quickly into the ether. But it makes a sufficient impact to work as a statement of the self confidence and inherent quality of an excellent album.
JST has also apparently worked on her vocals and the material is subtly arranged to suit her world weary voice and this is especially so on the outstanding title track.
The album is the perfect showcase for all her abilities, especially her burning solos, as on the outro of 'Can't Keep On Living Like This' and on the quiet/loud dynamics and Texas feel and searing chorus of 'Dead And Gone'. It's a style she revisits later on the tough stomp 'Let it Burn', which works its way to a searing chorus in an impressive updated version of the Arc Angels.
Jim Gaines' production looms large on much of the album, making good use of a potent rhythm track and sharp dynamics.
This is even more evident on the beautiful rhythmic tonal colouration of 'Same As It Never Was' over which Joanne impressively phrases in her own inimitable way. There's a lovely lilting feel to the rhythm track and some smoking vocals, along with a radio friendly hook which is topped by a restrained lead line. There's also an exaggerated stop-time break that gives the cut an extra dynamic, before Joanne's note clusters and expressive solo concludes the piece. It's quite simply a great track.
The harder edged rocking blues of 'Jump That Train' places the emphasis on her guitar tone and another insistent rhythm track that gives the number its drive. The closing solo is full of power, poise and all the elegance you might expect of an artist at the height of her powers. It's also the perfect meeting of band and producer exploring top draw rocking blues.
Only the somewhat over busy and almost cluttered arrangement of 'Who Do You Love' fails to hit the mark, but even then Joanne's instinctive solo is able to elevate the track above the merely ponderous.
The title track restores the balance of subtlety, texture, feel and groove. It's an ambitious song that again relies on a clever rhythm track and Joanne's smoky vibrato. Much like the album as a whole, it's a step up from her previous recorded output.
'Diamonds in the Dirt' sounds as if it's the result of meticulous pre-planning and a de facto conceptualisation of a new direction. And it is that approach that pushes it towards potential radio output.
This is a mature crossover blues album that will surely appeal to a wider audience, but there's still room for some fiery solos and real intense playing as on 'World On Fire'. Crammed full of good songs, meaningful lyrics, great playing and an intuitive production, all ten tracks are bound together by an inherent flow that gives the album its coherence.
Joanne finishes on the meditative 'The World and its Ways', which is just about her most accomplished outing so far and a fine example of the quality of an album that any of her contemporaries will do well to emulate.
*****
Review by Pete Feenstra
---
| | |
| --- | --- |
| | Print this page in printer-friendly format |
| | Tell a friend about this page |