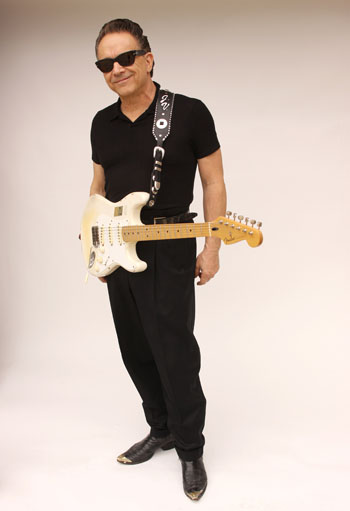 Guitar heroes don't come much humbler than Jimmy Vaughan. A true Texan guitar legend who started the groundbreaking Fabulous Thunderbirds and taught his brother Stevie Ray Vaughan how to play has now become a double Grammy award winning recording artist.
Yet at the heart of the adulation and respect is a man who is just happy to play the music he loves.
Pete Feenstra talks to Jimmy about his new album 'Blues Ballads & Favorites' on Proper Records and the historical moments in his stellar career.


How did you get hooked up with Proper Records? They seem to be the perfect label for you, a roots friendly label as well as distribution company?

Yeah you are right they really are the perfect home for me. The label owner Malcolm and his partners came over to see me in Austin. We had lunch and talked about the music and how they wanted me to make a 'proper' record.
They know their music and so do I, so that was a good start. And I was interested because I'm a real fan of what they do. They believe in the music and I thought, well if they didn't believe in it they would be busy recording hip hop or something else. So it's a great situation for me.

Was the new album something you had in mind for a long time, or was it inspired by the success of 'On The Jimmy Reed Highway'?

Well there wasn't really a great big plan as such. I just like to play and everything sort of hooked up with everything else. In this case the Jimmy Reed album got me a lot of exposure again. But I think actually it was a friend mine who said 'if I was your manager I would get you to record the old blues classics' And I thought that's not such a bad idea and that's really how it all got started.

How did you find the material for the new CD. Was it a case of just recording the songs you already play, or was it songs you always wanted to play someday?

Some of the stuff I already had in mind. Some of the songs I thought would be fun to play, some of it I was already playing and some of it came from other people's ideas. But when you love music from a particular era you don't have to search very hard.

It was said about the 'Jimmy Reed' album that you transport the listener back in time to the mid-1950s, is that also true of this album?

Well I've said that too, but for me it's really about being able to play the music that I like, just my favourite stuff from that era. But I also like music from the 40's and early 60's too. And if I can play this stuff live and then get the opportunity to record it then I'm a happy man. It's what I really want to do.

Do you think there was a danger that some of the classic R&B by Don & Dewy, Roy Milton etc has been overlooked?

I didn't specifically think about it in that way. But having re-listened to some of the material and recorded it, as well as now playing it live again, I did think that if I'm helping focus people back to this music then it's a good thing, yes.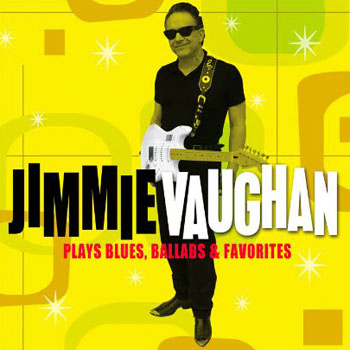 Was having Lou Ann Barton on board crucial to making the album work?
There are a couple of great duets with Lou Ann Barton especially on Jimmy Reed's 'Come Love'?
Yes it really was. For one thing she's been on all of my records and of course she was in the original Fabulous Thunderbirds as well. I had her in mind for some of the songs we were going to do, plus I thought she should tour with us.

I guess it was the same with Greg Picollo and the horn arrangements?

Oh yeah, same thing. He arranges the horns and really understands the music from that era. He used to be into the same music with Roomful of Blues. He was also there on both Do You Get The Blues? and 'On The Jimmy Reed Highway', so it made sense that he was going to be part of this project.

I guess given the nature of some of the songs, you had to think carefully about the arrangements, particularly given the mixture of rock and roll and gospel. I'm thinking about songs like Teddy Taylor's 'I Miss You So' which he originally sang as a falsetto?

Yes that song in particular took some thinking about. I love some of the stuff that Teddy did but for this I was looking for a 'boy/girl' duet thing and it works so well with Lou Ann.
I also always wanted to record a song with a phone ringing on it (laughs); you know Pee Wee Crayton's done it, Bobby Bland's done it and now me.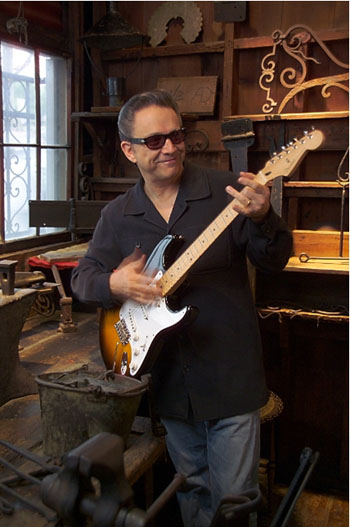 I also wonder about songs like 'Wheel of Fortune' which LAB sings brilliantly, how did you conceive of a song like that being presented in a contemporary setting?
Actually it was Eric Clapton who came up with that idea. We were playing somewhere in Ohio I think and after the show he came up to me and said Lou Ann Barton should record that song with you, she's perfect for Wheel of Fortune' and he was right! It is still sounds great all these years later.

Do you realise how great it is to see you with a full band like this after looking at the small liner notes on hundreds of CD's coming out of Austin?

More and more so as people come up to you. You know we just play. We're old timers doing our stuff. I've played years with people like my drummer George Raines. You just keep going and if people still come out to see you that's great. It's the same with what you said earlier about the interest in Europe. When we first set out it was a natural thing of playing the music you love. The fact that people in Europe share your passion and love your playing is great.

Your own song 'Coming & Goin' nicely brings the project full circle. Did you consider adding a few more of your own songs?

Well I'm always doing my own songs and still writing new stuff of course. Maybe that particular song fitted in well, but as the project developed I got into the 50's era, so maybe they'll come out another time.

Do you see yourself as a conduit in connecting the blues of the past with the present?

Well I can understand why some people can see me as some kind of musical throwback and I'm not hiding the connections between then and now. But it's more a case of playing what I like rather than just going out there and presenting nostalgia.

You got a Grammy for both 'Do You Get The Blues? in 2001, and 2007's 'On The Jimmy Reed Highway', did those awards vindicate your life long commitment to the blues?

You know it's always nice to be mentioned in that way. It's great to win awards and to be recognised for what you do but for me it is simply the fact that I am able to play that keeps me going. As long as I can still have fun playing guitar, that's all that matters because it's what I do.

Looking back on the Fabulous Thunderbirds can you see the irony in the fact that you didn't enjoy commercial success until after you'd recorded your best stuff?
I don't know about irony but we had self belief and the gigs were still doing OK so we kept going.

What was the biggest reason for picking up the guitar again after Stevie Ray's passing?

Well in one way I never stopped playing at all. But I didn't really wish to play in public again for a while. I didn't really want all those people coming up to me telling me how sorry they were.
It took me a while to realise those things and to share their experience. It was just that I didn't want to hear it at the time. That was my way of dealing with things I guess.
It was Eric Clapton who brought me back to public playing at his Albert Hall shows. He showed me that I still had a real need to play.

Finally, back in'69 you opened for Jimi Hendrix. Was that a meeting of musical minds or were you miles apart?
You know I was a kid and he was Jimi Hendrix a musical giant. It's one of those things in your life you don't forget but we were miles apart in terms of music.
I really didn't know what to say and do at the time, but I was just happy to be on the same bill as him.
---
Interview © June 2010 Pete Feenstra