JIMMIE VAUGHAN Plays Blues Ballads & Favourites Proper PRPCD062 (2010)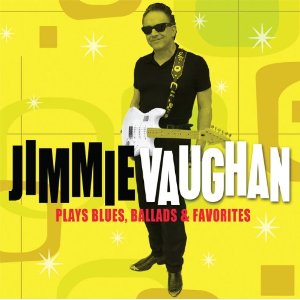 Jimmie Vaughan 'Plays Blues Ballads & Favourites' does what it says on the tin with varying results, varying from the reverential and well considered to the spirited and the down right inspirational. Blues after all is how you feel them and Jimmy digs deep into the genre to give us his best.
While Rock music has in recent years discovered its history and remarketed itself under the 'Heritage Rock' label, American blues is being rediscovered by its practitioners as a historical form of cultural expression. Certainly in the hands of Jimmie Vaughan and his cohorts the genre is given a splendid reappraisal with the broadest of brush strokes. But if there's a reservation about an intuitively played and subtly produced compilation of 50's blues, it is simply that the there's a tendency to be too deferential.
Perhaps given the well researched and wide ranging material featuring the likes of Jimmy Reed, Don & Dewey, Charlie Rich, Roy Milton, Little Richard and even Willie Nelson, Jimmie Vaughan and his accomplished Austin crew saw no need to embellish originals. The problem is blues needs to stay alive and be repositioned to the next generation much like the Thunderbirds did back in the 80's. And while this album is never short of being enjoyable and engaging, it doesn't always offer enough to break out of the current circle of devotees.
As it is, Jimmie kicks into a relaxed opening shuffle on Billy'The Kid' Emerson's1957 Vee-Jay cut 'The Pleasure's All Mine' and follows it with a duet with Lou Ann Barton on Jimmy Reed's 'Come Love' on which he does his best Walter Horton harp playing impression. The band stretch out on Jimmie's own 'Coming & Goin', an updated jump inspired swing blues on which he adds some unhurried clean sounding guitar and lovely phrasing with a deep tone.
The jump style is reprised on Johnny Ace's 'How Can You Be So Mean' on which Jimmie sticks rigorously to the original adding a cutting edge solo with the tightest of strings. There's a similar feel to the Billy Eckstine jump blues '(She's Got The) Blues For Sale' on which Jimmie adds a brace of stinging solos and the coolest vocal as both Greg Picollo on tenor and Kas Kasenoff on baritone fill out the spaces.
'Wheel of Fortune' is the old Cardinals song which was popularised for mainstream audiences by Kay Starr and used on the US TV game show. It a fine showcase for the Lou Ann Barton who adds her own expansive arrangement while Jimmy tucks in behind with a clipped solo.
Greg Piccolo and Kas Kasenoff's add more impressive sax work on another duet as Jimmie and Lou Ann impress on Charlie Rich's 'Lonely Weekends', even though they eschew the original gospel tinged 'call and response' arrangement. On Ted Taylor's 'I Miss You' the duet narrowly fail to work up the same brio as the original, and understandably struggle to replace Taylor's inimitable falsetto, though it might have been an opportunity for Jimmie to play a little more guitar. Nonetheless, it's a veritable gem that without its inclusion on this album might have been overlooked.
On Roy Milton's slow shuffle 'RM Blues', Jimmie busies himself with big toned note flurries and he is joined on second guitar by Derek O'Brien as the band lean into the groove on a smoking outing. Ephraim Owens recreates the muted trumpet solo of the original but Jimmie chooses to use Bill Willis on B3 Hammond rather than piano.
On Guitar Junior's 'Roll Roll Roll' Jimmie slips into a killer opening guitar phrase and another deep toned solo either side of some infectious sax led choogling with Greg Picollo to the fore. This is the kind of understated number on which the band sounds as if it could explode at any time. In fact they content themselves with letting Jimmie go round one more time with another exquisite trembling solo full of expression, consummate feel and good taste before he swiftly raps it up.
Lou Ann returns for a cover of Little Richards 1957 gospel tinged 'Send Me Some Lovin' which shows she's still got a great vocal range. But in truth it plods a little in comparison with the understated power of Little Richard's original, although the juxtaposition of sax and guitar just about adds enough light and shade to the arrangement.
One of the great things about this record is the wide scope of the material including Doug Sahm's soulful Ballad 'Why Why Why', though perhaps it's not such a surprise as Jimmie recently appeared on the timely 'Keep Your Soul', tribute album to the late Sir Douglas Quintet and Texas Tornados mainstay.
The album nicely concludes with a change of vocalist as the B3 playing Bill Willis covers Willy Nelson's moving 'Funny How Time Slips Away' which provides the perfect finished to a well thought out album.
This latest Jimmie Vaughan album is nothing but the blues. This is living history, lovingly evoked by Jimmie and his contemporaries with just enough spark to act as a potential conduit for the future.
****
Review by Pete Feenstra