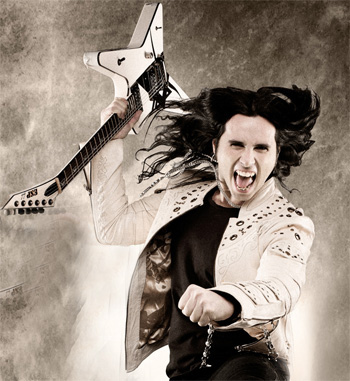 Greek guitarist Gus G is taking the circuitous route in promoting his band Firewind and the power metal genre in the States.
He's gradually built the profile of his own Greek melodic metal band before boosting his own profile as the guitarist who has breathed fresh life into the 'prince of darkness' Ozzy Osbourne.
And aside from winning the prestigious 'Best Shedder Award' for 2011, he's expanding Firewind's own brand of power metal to a global market, including The States where too often the concept is regarded as a quaint European cousin of heavy metal.

Freshly armed with the considerable clout of Firewind's 7th album 'Few Against Many' Gus is on a mission to break Firewind across as many territories as possible, from Europe and The USA to Japan and China, while South America might have to wait a little longer.
Gus G talks to Pete Feenstra about the gradual rise of Firewind, working with Ozzy Osbourne and the struggle for power metal's recognition in the States.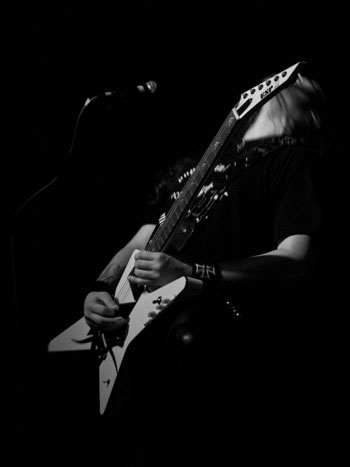 You studied at the Berklee College of Music in the USA. Did going through that process change your musical direction at all?

No not at all really as I only spent a few weeks there, I realised that I'd already done a lot of what was being offered.
It's a great school of course but I had already done a lot of the basic training when I got there, so it seemed like a lot of money to pay for what I already knew. Then again it did give me the focus and goal to go to America at the time.

Was it a good place to network?

There weren't too may great players around at the time, but thinking about it there were a few 'sick' players and I did get my first major demo done with some players from there

Did you always feel you had to leave Greece to further your career?

Yeah I suppose so, but it was more a case of me not being connected up. It was me not knowing the right people back then, especially as Greece wasn't really the Mecca for Heavy Metal.
So I had to look elsewhere. Of course over the years the scene has grown over there, but for me at the time I needed to do something. I mean in terms of becoming a band signed to an international record label, that wasn't going to happen back there. I had ambition and drive and it was the natural thing to do.

Are rock shows in Greece adversely affected by the economic climate?

It's a strange situation because people have been affected by the problems, but as happens elsewhere, when you are a bit down music is often the best way to help you get out of that and I think people go that extra bit to see what they really like.
Last time I was there I noticed Opeth were doing really well, but generally I think if both the promoters and bands take just a little less, it can still be good, and people will still come out on the weekend to have a good time, maybe even more so given the circumstances.

What originally drew you to Heavy Metal and Hard Rock?

Well originally I heard 'Frampton Comes Alive' which was my starting point. Of course it's not metal but it drew me into rock, but then a friend of mine gave me a cassette of Black Sabbath's 'Master of Reality' and that was a turning point for me, it's the sort of music I wanted to play.

You originally played in several bands before committing yourself, to Firewind and then the Ozzy opportunity came along. Did you have to rethink your Firewind future at that point?

I always thought I would have a future with Firewind, but I also thought that if I took off with Ozzy then Firewind was something that I could always come back to.
Of course I also had great support form my band mates which made it all possible. I really wanted to simply keep my options open, and here we are.

Firewind went through a lot of band members in the early years, was it difficult to bring people on board who shared your musical vision?

It was really more due to me trying to keep my options open at the time. I was playing in a lot of bands at the time like Mystic Pophecy, Nightrage and Dream Evil and I was just looking for as many gigs a possible. But as the tour offers increased I realised I couldn't do too much.
And by 2005 I was a member of Arch Enemy who started to do really well and I reached a point where I had to make a decision to commit with them or go my own way.

Was signing to Century Media Records a way to get your music distributed in America?
I just wanted to get the records to as many places as possible really and to achieve that with better distribution, more press etc.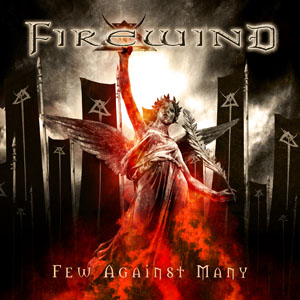 The new album 'Few Against Many' is very song focused with rich narratives that match the band's high energy playing ability. Are lyrics important parts of your music?
Vocals are always very important for me. I think that the music is only half of it, you need a strong melody, but it's the vocal line and maybe a catchy chorus that can really lift up the music.

How did the audition with Ozzy come about? Did it come out of the blue?

Yeah right out of the blue. I got an email from his management asking me to audition for the band. So it was a case of jumping on a plane to LA and not really having any sleep for three days just because I was so excited.
But it went incredibly well and I think there was some chemistry between us which was important. It was the same with the band as a whole.

Did he ever say why he wanted you specifically?

Not really. I think he's the kind of guy who always knows what he wants. He works incredibly hard and is very focused and it was the same for the audition etc, I think he just wanted me to be myself. I think he just goes for things that he feels are right and it turned out to be one of those moments.

You initially started playing solos on the 'Scream' album but later you did most of the guitar work on Ozzy's album, presumably that made you an integral member of the band?

It was an interesting and exciting time for me. I joined at the very last moment and so walked in on a song that had mostly been done. But I found the guitar parts a little edited - maybe mechanical.
The producer Kevin Churko had done the guitar parts up to that point, so when they asked me to redo them I realised I just had to try and make them as natural as possible and put as much of the real vibe we experienced into it as possible.
Playing with Ozzy you do some Sabbath covers, must be great for you being a Tony Iommi fan?
Actually we did do quite few Sabbath songs on the last tour and yeah Tony Iommi was one of my heroes so I really enjoyed doing that.

How do you keep focused on your Firewind persona when you spend a couple of years with Ozzy?

Oh yeah man, obviously I was focused on Ozzy and the band, but I had days off and I would continue to work on my own band.

Did working with him boost Firewind's profile?

I'd have to say it has yes. I'd been playing to more people, getting more press and I had become better known so people would maybe realise I was the guy from Firewind.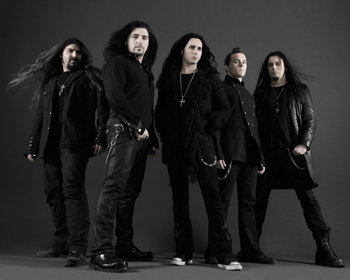 Why do you think Power Metal has never really caught on in the States?

I think we've helped to get a foothold for power metal in the US, but it's a different scene over there.
I think in the US they very much see it as a European thing. Over there they see us as being a little part of the prog metal scene, but really we are a metal band and we've had our base over there for quite some time.
I think generally in the US they see power metal as old school and maybe a little dated.
It's all a bit confusing at times, I mean Judas Priest are still big in the US, but they are a Metal band right? But it's all a bit different in the States so we just try and do what we do. It's hard for us to present ourselves differently especially after you've cut after 7 albums.
So a lot of a band's success is really due to the marketing?

Yeah I think it is. We can all play of course, but the way you sell a band in a particular territory has a big role in how well you do. So yeah it's how you sell yourself, plus of course for me there's also the fact that we get a chance to widen our crowd because of the Ozzy thing.

Was 'Days of Defiance' the album on which you finally established your own style?

That was very much the idea yeah to get people to know about us and what we do. But before that we it was also to important to have a stable line-up and we got that on 'Allegiance'.
But after we finally got people to know about us with 'Days of Defiance' we wanted to move forward and not repeat ourselves and that was the whole goal of the new album.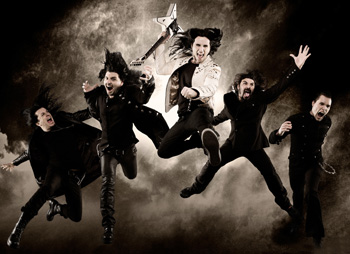 'Few Against Many' is an album that constantly balances heavy rock with melodies and big vocals. It seems like a constant tension?

Yeah, there's a lot of energy there and we wanted a big record, but it's still got our core elements.

The catchy 'Wall Of Sound' has got an incredibly aggressive drum sound from Johan Nunas, as has the album throughout. How was that put together?

Well the aggressive drum sound was very much an important part of what we are doing. It grabs you from the beginning as well as the guitar tones.
We recorded the album in Greece and Sweden and then we took the recording to different guys - Jason Suecof and Eyal Levi in Florida - to mix it and add a modern touch. The aim was for a big bombastic metal sound and Johan's big drums are very much a part of that.

Was it an obvious choice of single?

Yeah I think so. It was the opening track and is an up tempo piece with high energy and it seemed like the obvious single.

'Losing My Mind' opens with what sounds like a vocoder with echoes of Peter Frampton's 'Frampton Comes Alive!' It's a mix of prog and metal, and is a very busy and epic track that again explores the tension between metal and the melodic?

Yeah (laughs) it's a voxbox. There's always got to be room for a melody in Firewind songs. There are some heavy riffs in there too but nothing too brutal.

Was the wild solo shred on there conceived as being part of the original song?

I had the demo of the song and then I worked on the solos and sent the track to our keyboard player Bob Katsionis. He worked on the lead keyboard parts and then I constructed my guitar part round his part and then we had the crazy duo thing together and finally I added a shred in the end of it.
It's a very epic kind of song that keeps building and it's the kind of thing we've never done before.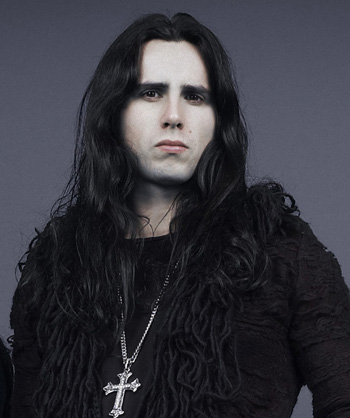 The title track has shades of Motorhead style and some frenetic guitar lines and a big mid number guitar break...

Yeah I like all those elements in that song from the melody to the mood changes and the way it builds up.

'The Undying Fire' is an optimistic song with a big hook, intense shredding & the vocals which like 'No More Heroes' reminds me of Eric Norlander and Lana Lane - do you know them at all?

I don't really know them but again the vocals on that track are immense.

'Another Dimension' is a very dense Metal piece with brutal drums, incredible shredding and big harmony vocals...

I think it's another example of the way the vocals open up the song. Apollo recorded about 20 vocal parts for that song to get the harmonies right.

'Glorious' is one of my favourite tracks on the album and has a memorable ascending vocal hook and big guitar break.

That's was one of Apollo's (Apollo Papathanasio) songs which I think sounds a bit more like our older stuff. We all worked on it and he had arranged the demo and I did the guitar parts. It's both melodic and heavy, but generally less of a heavy song.

'Edge Of A Dream' is a surprising piano/violin duet. Was it also a deliberate attempt to include a ballad to add light and shade to the album?

That was a really different song for the band, a different kind of piano led ballad and different from what we have done before. The cello's really lifts it up. The track is like an intermission between the intense heavy stuff.
We sent the demo to the management of the Finnish band Apocalyptica (they are classically trained cellists) and they came back to us saying they would love to do it. It's another example of doing something new on this album.

'Long Gone Tomorrow' is hard rock arrangement with big backing vocals on the chorus and also features an eastern flavoured psychedelic guitar break and a contrasting shred, how did you originally conceive that song?

The idea was to have a backward guitar solo, to try and get a bit of a Hendrixy thing going and as you say, be a bit psychedelic maybe. It ended up being my favourite solo on the record.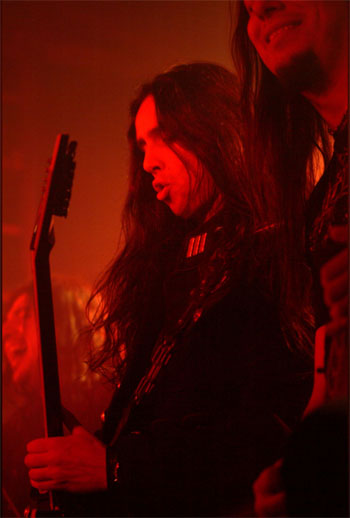 Photo: Noel Buckley/GRTR!
'No Heroes, No Sinners' goes back to the big wall of sound, staccato drums and a sudden change to a melodic ballad...

I think it works really well and is a great ending to the record, a nice meeting of atmospheric contrasts, good verses, a big chorus, heavy rock, it's very cool

Why do you think Firewind have proved to be so popular in Japan?

I've really no idea, but I do know it all really started for me when I first went there. I guess the Japanese metal heads have always liked bands with big guitar figure in them, a bit like Ritchie Blackmore 'Made in Japan'.

'Few Against Many' really does seem to be the integral sum of its parts, from the vocals to the instrumental interplay and the big wall of sound etc.?

It's been step by step process, but the new record is the result of being together for a few years and I think it reflects how we've matured as a band. That includes everything from playing as a band to the lyrics about feelings and the human condition in general.

Did your appearance at last summer's Sonisphere festival open the band to new people?

Yes I think so, if it goes well festivals put you out there to many more people, and we're also doing the Download festival this year so hopefully we'll hit more people still.

I think you are going to China too as part of a World tour? Rock really has become an international language?

Yeah, it's our first over there so we are really looking forward to that

Finally you won the 'Best Shredder' award at the Metal Hammer Golden Gods 2011. Did you have to be with a high profile act like Ozzie to get such attention?

I think that's true and if that brought Firewind to more people's attention then that's great.

Interview April 2012 © Pete Feenstra & GRTR!
'Few Against Many' is released by Century Media on 21 May.
---
FIREWIND Summer Tour Dates 2012:
08.-10.06. Donington Park (UK) - Download Festival / www.downloadfestival.co.uk
12.-15.07. Vizovice (Czech Republic) - Masters Of Rock Festival / www.mastersofrock.cz
28.07. Rotterdam (The Netherlands) - Roadgrill Festival / www.roadgrill.nl
16.-18.08. Dinkelsbühl (Germany) - Summer Breeze Open Air / www.summer-breeze.de
24.08. Beijing (China) - Star Live
25.08. Shanghai (China) - Mao Livehouse
26.08. Taipei (Taiwan) - Hwa Sha Auditorium
FIREWIND & LEAVES EYES Few Against Many European Tour 2012:
25.09. Paris (France) - Divan du Monde
26.09. Colmar (France) - Le Grillen
27.09. Bochum (Germany) - Matrix
28.09. Hamburg (Germany) - Knust
30.09. Berlin (Germany) - SO36
02.10. Aschaffenburg (Germany) - Colos Saal
03.10. Ingolstadt (Germany) - Eventhalle
04.10. Cologne (Germany) - Underground
05.10. Zwolle (The Netherlands) - Hedon
06.10. Vosselaar (Belgium) - Biebob
---
Interview (January 2011)
---