FIREWIND Few Against Many Century Media (2012)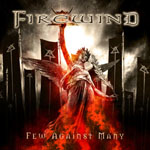 Power Metal is safe, well and prospering in the hands of Ozzy Osbourne guitarist Gus G and his Greek outfit Firewind. The genre is given the once over by a band determined to achieve success on their terms with a heavy duty meeting of metal and melodic prog rock. The album is crammed full of intense riffs, incendiary shredding, booming choruses and a full range of lead and backing vocals over a layered wall of sound that gives the band real presence.
From the hi-octane lead in single 'Wall of Sound' with its pounding staccato double bass drums, high register vocals, sizzling shredding and big hook, the emphasis is wholly on a big production record. If Firewind are attempting to restate their signature sound after Gus's lengthy sojourn with Ozzy then they do a reasonable job.
And while they sometimes drag you over the coals with fractured, jagged guitar lines and unrelenting pounding drums before delivering a melodic resolution, it's an intense musical journey that eloquently delivers a melange of speedy licks, uplifting vocals and de rigueur rock intensity.
The title track is the perfect example of their dichotomous style as it juxtaposes dense vocal lines with sudden burst of instrumental virtuosity. Its a bruising elemental example of the band at full tilt with the powerful production, glossy mix and pristine mastering contributing to the big wall of sound that glues together the dazzling solos and melodic progressions.
Above all there's an intensity here that suggests that if 'Few Against Many' doesn't help provide a significant step towards the band making it, then Firewind sure won't go down without a fight.
Gus might not wish to hear that there are shades of Ozzy - if not Axl Rose - on the vocals of the melodic 'Losing My Mind', but whatever the influences it works superbly well with vocalist Apollo Papathanasio's extended phrasing leading Gus and keyboard player Bob Katsionis into some stunning devilry.
And if 'Losing My Mind' is catchy then somewhere deep in the band's DNA there's a commercial vein fighting to get out as evidenced by the bombastically chanted chorus of the lead single 'Wall of Sound' and the melodic/heavy duality of the aptly titled 'Glorious'. The latter really does deliver the band's essential power metal credentials with the best hook of the album.
'Few Against Many' is Firewind's heaviest record, a deliberate attempt perhaps to come with a big sound to contextualise the on going balance between the undeniable melodies and the band's essential metal core. And it's all driven on by the unbelievable stick work of Johan Nunez who evokes Rush's Neil Peart with a similar thunderous bottom end.
'Few Against Many' explores a broad palette of sounds and impresses with its breathtaking playing, soaring vocals and impossible shreds. The songs appear to be almost interrelated in terms of their pacing and shifting moods.
'The Undying Fire' for example, is a mix of speed metal, lighting shreds and an epic chorus full of grandeur; 'fate is in our hands we need to carry on, the undying fire takes you higher'. It's a song with an undoubted Teutonic appeal and Gus lets rip to tease out a neat contrast between his whirling solos and the startling choral accompaniment, before an instrumental coda takes us into the fade.
There is room for further light and shade via the beautifully conceived ballad 'Edge Of A Dream' which features the classically trained Finish cellists Apocalyptica. The continuing search for different textures and feel is also evident on the psychedelic backwards guitar of 'Long Gone Tomorrow' which comes with a Zeppelin inspired riff and the kind of backing vocals patented by the early Uriah Heep, before Gus adds a defining second solo.
And if the tempo changes on 'Destiny' don't quite work, and the song's majestic opening melodic keyboard led motif is ultimately swamped by an unrelenting propulsive push, it's the kind of near miss that is balanced out by the greater whole.
Significantly 'Few Against Many' finishes on the atmospheric loud/quiet divide of 'No Heroes, No Sinners' and Gus adds a final shred as part of a coherent ending to a complex but hugely enjoyable album, which you can mark down as arguably their best.
****
Review by Pete Feenstra
---