Graham Oliver was an original member of Saxon, who were a leading light in the New Wave of British Heavy Metal (NWOBHM). He played on the classic Saxon albums, leaving in the early 90's. First off he formed Son of a Bitch which then became Oliver/Dawson Saxon.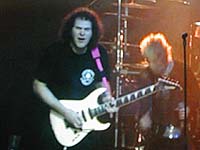 First off, congratulations on winning the right to use the Saxon name.
Yeah right, me and Steve (Dawson – original Saxon bass player) have had the name all these years and it's just one of those funny things. We could never be arsed to do anything about it, we think live and let live. You get broad shoulders and just let it bounce off. We have had so much propaganda, it's just unstoppable.
The Internet will have fuelled the rumours as well over the two bands.
It has yeah, anything you can think of has been levelled at us. All me and Steve want to do is play music, nothing more, nothing less. We have got a right to play music we wrote. One of the reasons Saxon got success through punk and adversity, we just got our heads down and carried on. That's what stuff we are made of and that's what people should realise that's what kind of metal we are made of. It was all about openness and accountability.
I'd got nothing then so the first gig I got after that was an open air concert about six weeks later and Aidan (O/D Saxon guitarist) came and played for me. Me son played drums and I got a friend of mine to sing and play bass. He knew all the songs and he plays for the Gonads, the journalist Gary Bushell's band from his punk days. He puts it together now and then for gigs. It was really good , we played and really enjoyed it. Aidan said hewould love to do it all the time and we gave Steve Dawson and Pete Gill a ring. We got Thunderhead, the American vocalist living in Germany. But you can't really have a northern working class band like Saxon with an American singer. He were contracted to Thunderhead stuff in Japan with other record companies and it were really an album project, so we called it Son of a Bitch. We did a few gigs – Isle of Man, couple of bike festivals.
Thunderhead went back to the US and we needed a new vocalist. Wardi had just come back from the US where he had been on a retainer for Slash's band. He goes way back to '84 with Slash and they are good buddies. When they played London last year Wardi was the only one Slash allowed in the dressing room. Wardi knew all the songs as he was at all the early Saxon gigs. Every vocalist has gone on to do things outside their bands, be it Bruce Dickinson, Dave Lee Roth or Rob Halford. I can just reel them off – they have all been their own band. A band like us will always sound the same.
Geezer Butler and Tony Iommi always sound the same, they have a certain sound or like the Van Halen brothers. You know their style instantly. We aren't capable of being anything else than who we are and what we are. We sound classic Saxon because we are. Most of 'Wheels of Steel' was written before Biff joined the band as it was our live set. All these were songs we were doing before Biff and Paul came along. They were in a band called Coast who were very a funky band. We feel very qualified and this trademark thing is good for us.
We have had other things to deal with and we feel very sorry for other members of the band. For example we played in Germany in Hanover. Motorhead were on Friday night and we were on Saturday night with Rose Tattoo. We got to the airport at six in the morning and we get a call saying 'Stop, stop – the festival has gone bankrupt. Motorhead only played to 800 people last night and had to pay x amount of thousands of dollars.' We turned round and went home. The promoter phoned back and said it was a complete hoax call. Then I find out that this manager is also the manager of Rose Tattoo, who went onto headline instead that night. That kind of stuff is real shit. The music business could well do without that sort of thing.
This is the sort of thing we have had to take on. We got such a hammering when the album came out. Biff went into every magazine and the Internet, saying they are a bunch of t***ers and I don't want to do those old songs again. Then what does he do but go and re-record the early songs – virtually our entire live set. He keeps doin' these things. He went in my local paper and he knew that would get to me and hurt me. He said the most we would do would be club tour of working men's clubs in south Yorkshire. But we ended up doing Brazil, Sweden and Russia. With all this people think he must have a massive chip on his shoulder. All he lives for is to rubbish them lot and that's a pretty sad existence if you ask me.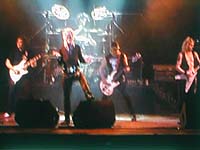 Fans will make their minds up anyway.
Course they do. When we did that Ronnie James Dio tour recently it were fantastic. We had fans coming up to John Ward after saying 'I wanted to hate you mate but the band were great and you played great'. We are just doing it to have a real good time. The guy who helped produce the DVD said he didn't know what to expect as he had heard all these things about us. But he said we were a real band and were having fun as it should be. We are a band and all from the same area, all having a good time and enjoying playing the music.
That's why we call it Oliver/Dawson Saxon to tell people who we are. The only real Saxon would be the one with all the original members in it. What you have got is two different things in my opinion.
Have you got anything special planned for next year's 25th anniversary?
We have a tour planned with Girlschool and Tygers of Pan Tang – a 25th anniversary of the NWOBHM. Few shows in France and a few festivals booked so far.
You have a new DVD out?
We have no big record backing. We have Angel Air here in the UK with a good guy Peter. It has all our experience in it and I've really enjoyed this one. It has a good vibe.
Angel Air released your 'End of an Era' album as well?
Yeah, I was just talking to him one day and I said I would love to do something on my own. I recorded at a local youth club and they has just has the latest Pro Tools stuff installed but didn't know how to use it. I suggested my guitar tech who has worked with Mike Tramp from White Lion. He set it all up and we recorded it from there.
We did a few shows in Rome with the drummer Rick Lee from Ten Years After. I had 700 people in under my own name. It made me feel good that I could pull so many people in under my name.
The new album has a working title of 'Hell Is Not For Angels'. It's in the true Saxon tradition of storytelling about the Hell's Angels code of silence and the recent trial in Scarborough. One of the Hell's Angels could have cleared his name but he kept his code of silence. The lawyer, Steve Smith, managed to get him off and wrote a book about it. There's some fantastic sings on this album. Really powerful and some classic rock sounds.
Which songs do you like performing best live?
I like 'Dallas' a good put together song. Even Randy Rhoads like the song for the composition and solos. Sometimes a lot of notes says nothing. Less notes means more sometimes. I like doing 'Rocking Again', 'Heavy Metal Thunder' and others. We want fans to chose songs for the set list on the website. Different countries want different songs. South America were mad for 'Ride Like The Wind'. Nowhere else really does and Nigel Durham who drummed on the original hates doing that one (laughs).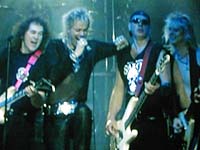 What have been your musical influences?
When I first started Iommi and Jimi Hendrix. I wanted to play a SG like Iommi. We toured with Black Sabbath in '81 with Dio singing.
Are there any bands you'd like to tour with?
I would love to do a tour with AC/DC, Manowar and Def Leppard. We had Ozzy supporting us when he started out. Motley Crue met us in their earlier days.
They were backstage with us when Ozzy came in for a bit of moral support just after Randy Rhoads was killed. He was unconsolable really.
We have seen a massive musical from the 70's with Heavy Metal Kids and the Clash. When we first went to America it was all Molly Hatchet type bands, then glam like Cinderella and Motley Crue, then Steve Vai.
Going back to an earlier point, I saw Deep Purple recently and you coould tell the band was really enjoying it. Is there anything you want to achieve with Oliver/Dawson Saxon or do you just want to go out and have a good time?
We just want to really enjoy and be a band. Early Saxon was a band, we all chipped in. The whole teamwork made it great. We had an image and a singer looking like David Lee Roth with bleeched blond hair. The management were trying to make us into something we weren't. It went against us – Iron Maiden stuck to their guns and overtook us. It's not a compromise everyone has a say, that's why it's so good now. It's just teamwork on every front. It just happens.
We had a top 10 album in Germany with 'Solid Ball of Rock'. That was when we had just got back with Nigel Glocker. That was teamwork again.
Do you ever see yourself and Steve getting back together with Biff?
Me and Steve haven't got a problem. But you've got a guy who is running everything with everyone else on wages. If you get the original band back together you have all things being equal and have too much too loose. It would be a great time to do an album – if Kiss, Black Sabbath, Deep Purple can do it why not us? Only time will tell I guess.
Message for your fans…
The people who came and saw us on the Dio tour really made us feel welcome. It's hard to be the euphoria in words. It seems as though fans are rocking again. I said keep turning out to live gigs, champion your bands. That's the reason we wrote 'Denim and Leather'. Wherever you go in the world heavy rock fans are all the same. Rock has longevity. People say jazz has but you wouldn't get 50,000 people at Donnington to see George Melly would you? I would like to thank the fans for the last twenty-five years. We will just keep going. It's nice when people like yourselves give us the platform to talk to the fans.
I would like to say to the German fans that we would love to play there. The only reason we are being stopped from playing there is that we must be taking money from someone else. It should be about the music not the money.
Some great kids out there in Germany and we are just dying to play for them. One of the nicest things was the Dio tour in Portsmouth when Ronnie invited us on for 'Rainbow in the Dark'. The only other guitarist he has invited on stage before was Rudolf Schenker from the Scorpions on an American tour last year. I was really glad to share a stage with him in 2002. For me it just gets better and better with the fans. I just wish we could thank each of them individually. Totally a fantastic experience.
---
Interview © 2002 Jason Ritchie
Annabel
© 2002 Graham Oliver & Angel Air Records. All rights reserved.
Photos from the Angel Air DVD, 'Rock Has Landed It's Alive' (NJPDVD603)
---