OLIVER/DAWSON SAXON 'It's Alive' (Angel Air SJPCD130) 2003

Now if there is one band at the moment that splits fans' opinions it is Saxon. There is the Biff Byford/Paul Quinn led Saxon, who recently played a European tour and then there is this version. Formed by original Saxon members Graham Oliver and Steve Dawson, along with ex-Saxon drummer Nigel Johnson, guitarist Haydn Conway (ex-Saracen) and vocalist John Ward (ex-Shy/Slash's Snakepit). They have released a live album previously, 'Re://Landed' plus a live DVD at the end of last year. The booklet also includes an informative and potted history of Saxon by 'Record Collector' scribe Joe Geesin.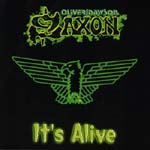 The material here is taken from a Bradford Rio gig in Dec 2001. There are plenty of Saxon classics on offer from opener 'Power and the Glory', the epic 'Dallas 1pm' and 'Motorcycle Man'. I can even stomach John Ward's vocals (he ruined a Shy album a few years back) but the star of the show has to be the two guitarists - some excellent soloing on offer, especially on 'Wheels of Steel/Devil Rides Out'. The newer song 'One More For The Road' is very heavy, with a WASP like feel. There are also some Son of a Bitch (the band formed after Oliver left Saxon) tracks as well, best of these is 'Bitch of a Place to Be'.
Not a bad album at all, slightly poor sound at times but it is live! The other thing I notice is the lack of crowd noise, especially on 'Rock 'N' Roll Gypsy' - surely not a studio cut? Put aside preconceptions and give it a listen - old school classic metal.
Website
***
Review by Jason Ritchie


£12.99
747(Strangers In The Night)
© 2003 Oliver/Dawson Saxon/Angel Air Records. All rights reserved.
Interview © 2003 Rock Ahead. All rights reserved.