Dave Stewart came to the public's attention with his successful liaison with Annie Lennox: first in The Tourists and then Eurythmics who defined the synth-driven sound of the eighties and sold 50 million albums.
After Eurythmics, Dave released several solo albums and became involved in various projects from production to soundtrack work.
Now, in Platinum Weird, he has turned the clock back to 1974 when his former vocalist 'Erin Grace' disppeared . With musical partner, Kara DioGuardi (the top American songwriter who has penned hits for Kylie and Kelly Clarkson amongst others) he has used the spirit of his formative years to fashion both a story and a new sound.
The album 'Make Believe' features excellent songwriting and a superb vocal performance from Kara. A second album will appear in early 2007.
Dave Stewart has produced the current album from Mudbone 'Fresh Mud' and is hosting a new show for HBO to be aired in November where he interviews fellow musicians and discusses their work.
He spoke to us from LA shortly before promotional work in London and Paris.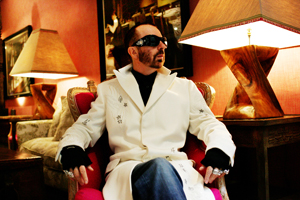 Photo © Alex Lake
What's the reason for the Platinum Weird 'history'?
What I've done really is take a piece of history and 95 per cent is true.
It's also looking at the way music is marketed these days, I wanted to slow everything down and bring people into a creative mythology which had lots of elements of truth in it. It's also about connecting with a powerful, but melancholy female spirit which I created with Erin.
It's about people getting drawn into this history and story, mythology, atmosphere, rather than the hard sell.
It won't do any harm in promoting the band even if only part of the story is true?
Well, I think we've already proved that. For an unknown band we're all over the web.


At the end of the day Kara and I write songs and we can stand in a room with just an acoustic guitar as easily as in a big arena. How do you break through everything that's happening and let people know that?
Do you think though, Dave, that these days with the Internet it's difficult to keep the lid on a manufactured storyline as far as promotional campaigns go?
I don't mind that: we're bombarded with a million and one things like movies, commercials, radio all at once, at the end of the day you can't cope with it. You go on the web and you are awash in the labyrinth of information. We started dropping little seeds a year ago and slowly built a little story.
At the end of the day Kara and I write songs and we can stand in a room with just an acoustic guitar as easily as in a big arena. How do you break through everything that's happening and let people know that?
In 2 or 3 years time it will become part of pop culture like the stories about Led Zeppelin and Bob Dylan. If you talk to Robert Plant and Dylan, certain 'stories' didn't happen at all.
I know myself with my own Dylan story (Legend has it Dylan looked Dave Stewart up when he was in London and called at the wrong house) - it's been turned into so many different stories.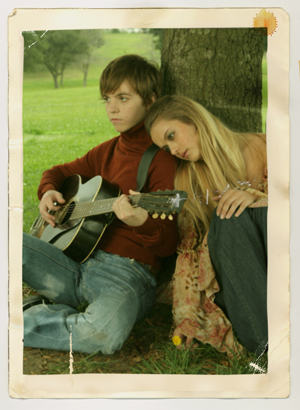 Publicity shot for Platinum Weird, Dave and Erin Grace
Would you agree that the Platinum Weird album is some of your best work outside of the Eurythmics?
Absolutely. It's funny how it happens twice in your life. Kara and I have got this amazing songwriting friendship and relationship. It sounds like Platinum Weird whether we play in a room or a large hall.
Imagine someone coming along to be with me in a duo and it's a girl. The whole thing of Annie Lennox comparison is daunting for her. Everyone's going to be comparing to Annie.
But the thing is, it's so different musically and the fact that the 'story' has diverted people. It's pretty amazing but there hasn't been an interview where they've said 'So Kara, what's it like standing in Annie's shoes?' I think we've sidetracked them a bit.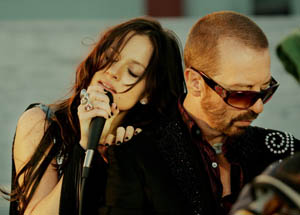 What are the future plans for Platinum Weird. Is this going to become a regular thing now?
Yeah, Yeah. We are a committed duo and whatever happens (with CD sales and the industry being up and down) we love playing together. We're playing the Roxy in Sunset Strip because it is a classic club whose heyday was in the seventies, and we've got a great band here.
We're then playing live on French TV and then in February when the second album comes out we're going to play in the UK.


The funny thing is when Kara and I write together we can't remember afterwards how we did it, and that was the same thing with Annie and I.
How did the songs for the 'Make Believe' album come about?
They were all written together so quickly. We would write two songs in an afternoon and be finished at 6 and then go out and have a driink and then come back and fix the lyrics. We didn't have a day when we said 'we don't know how to write these things'. We never talked about what subject to write about, and that's the way I like it best. I don't like the blank piece of paper, it has to just come like you've switched on a tap.
You work out what it's about, half way through.
'Will You Be Around' is about me meeting Kara and Kara getting excited about what we are doing but then saying 'I hope it doesn't go away'. I was helping her realise lyrical and musical dreams. She'd always wanted to write and sing for herself.
The melody and lyrics all happened together. It's like two footballers who play intuitively. As soon as one starts running the other knows what to do and they score loads of goals.
The funny thing is when Kara and I write together we can't remember afterwards how we did it, and that was the same thing with Annie and I.
The whole album took about three weeks, writing and recording.
Do you think you need a musical partner to provide inspiration?
Yes, I like that. When I do stuff on my own it becomes too quirky. I can be very esoteric. I then straighten it up and it sounds like normal pop. It's more a balance when I'm working with someone.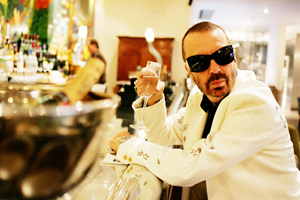 Photo © Alex Lake
Tell us a bit about your early career?
I started off playing folk music and then my first band was like early Crosby Stills and Nash. It was about the time that America had a hit with 'A Horse With No Name' (1971).
I was very influenced by Crosby Stills Nash, and Neil Young, playing acoustic guitar and singing. I was also interested in the English folk artists who had become bands like John Martyn and Fairport Convention.
When you first started buying records, did you start buying folk albums?
Well, the first albums I got were from my cousin in Memphis, he was in the American Air Force - rather strange with his Sunderland accent(laughs) - but he'd just send us these blues albums - like Howlin' Wolf. We'd get this box from the States with these albums with great sleeves. I really got into it and started to learn the guitar. I bought Dylan's early albums and then of course The Beatles and the psychedelic thing.
The Tourists were caught in the crossfire. We were really influenced by Arthur Brown's Love, and The Byrds, all that jangly rhythm guitar, melodic but weird lyrics. With Love the songs were often quite upbeat and poppy, but the lyrics were strange.
At the same time punk came crashing in and we were like - hang on - we better play all our songs faster.
The Eurythmics were quite different again, in the eighties?
Well, on purpose, I wrote a manifesto for the band after Annie and I split up (personally), we tried to get rid of guitars after Sex Pistols and The Clash. I thought there was no point playing in a band with electric guitars because it had been done and the board had been swept clean.
I thought OK, I had listened to these bands like Can and Holger Czukay. I had these early synthesisers and I had the idea that if Annie sang soulfully on top there would be this weird juxtaposition and we'd have a new platform.
What sort of things are you listening to now?
I like the latest Dylan album and the Arctic Monkeys which my son gave to me. I also like hardcore electronic music and classical.
I always dreamed about being in an American band, being able to play guitar, and with Kara this has happened.
You can tick that box now?
I thought, hey, I knew I would (laughs).
Platinum Weird's CD 'Make Believe' is released on 30 October 2006.
---
Interview © October 2006 David Randall
Album review
Artist website
---
| | |
| --- | --- |
| | Print this page in printer-friendly format |
| | Tell a friend about this page |