PLATINUM WEIRD Make Believe
Weapons of Mass Entertainment/Universal (2006)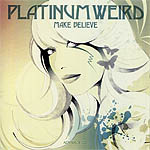 It's all smoke and mirrors. And that's not dry ice and mirror balls. Bollocks? Absolutely not. Platinum Weird is a musical collaboration formed in 2004 between Dave Stewart and Kara DioGuardi. Dave needs no introduction, but for the uninitiated, Kara is currently a 'hottie' - one of America's top writers, having penned songs for Santana, Chrsitina Agullera, Pink, Kelly Clarkson and many others.
The PR behind this release would have you believe that having got together in 2004, Dave and Kara discovered a connection that led Dave to unearthing these unreleased 1974 recordings that he'd laid down with Kara's mentor Erin Grace in the band Platinum Weird for Elton John's Rocket label. Erin went AWOL before the album release and the project was shelved - until now.
The truth is that when they got together in 2004 to write for Pussycat Dolls, Dave and Kara found that what was flowing was classic 1970's soft rock of the sort purveyed so successfully by Fleetwood Mac at the time of Rumours. And so Platinum Weird was born (or reborn).
Whether deliberate or not, the album has a distinctly 1970's feel to it - even down to the production. It opens with the stunning Will You Be Around, which doubles as the first single off the album. It's gentle acoustics, Erin/Kara's husky Stevie Nicks like vocals and a driving beat. It could have come straight from The Mac Rumours sessions.
Lonely Eyes is another beaut - a sweeping ballad with a lovely chorus and hook. And there's enough murk in the mix to keep you guessing. Happiness soothes - Erin's vocals swooping and lifting you high in an almost All About Eve Way.
The bass that opens Make Believe could dislodge your fillings, and once again Erin's vocals dominate a wonderful rhythm. This time they take on a Hazel O'Connor approach, while Picture Perfect could be laying down the template for a future Annie Lennox ballad, Dave joining in with an almost Lou Reed drawl and some lovely guitar work.
I Believe In It is a template for later Eurythmic rockers, but delivered raw enough to keep up the pretence. Love Can Kill The Blues is the longest running track at just over 5 minutes - delicate piano, floating vocals, before bursting in the final straight into a swirling mass of guitars and wailing. And there's that taunting mellotron thrown into the mix for good measure.
I Pray is another big ballad, with wonderful vocals and David Gilmour style guitars, while on Piccadilly Lane Dave takes lead vocal duties on a number that has a wonderful 1960's vibe and some lovely harmonising from Erin, I mean Kara. Goodbye My Love rounds the album off in style with a lovely torch song.
There's also a spoof mockumentary, a series of bogus websites and related falsified memorabilia. And if you believe the hype, this release precedes Dave and Kara's 'real' album - that will be titled Platinum Weird - in early 2007. But take my advice, don't wait 'til then - get out and buy this now.
****½
Review by Pete Whalley