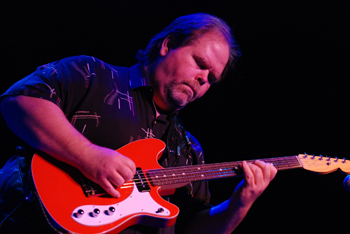 In a classic musical example of poacher turned gamekeeper, Buddy Whittington is the latest Bluesbreakers guitarist to make his name with John Mayall before stepping out with his own band.
Buddy's ascent from being a local hero as a respected member of the Texas club outfit band The Sidemen to international recognition with John Mayall's Bluesbreakers and his well received 2007 self titled debut CD was a leap of faith that has started to repay dividends.

He followed up his impressive solo debut with an interim ' live in the studio' CD called ' A Bag Full of Blues', which featured his British tour band.
But it is with his best yet ' Six String Svengali' solo album that Buddy has developed as a confident song writer and an expressive singer. It also reconfirms his classy guitar playing, the very reason John Mayall hired him for 15 years.
Pete Feenstra caught up with Buddy just before his Bedford Blues Festival date in support of his brand new Manhaton records release.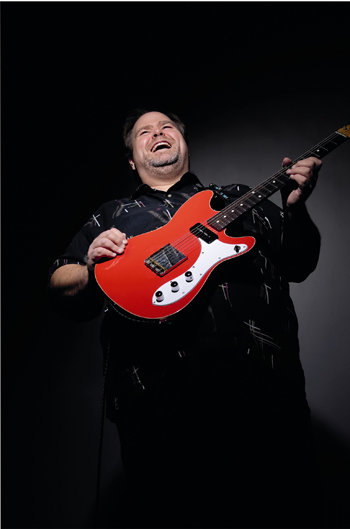 It's been a while since your debut album in 2007 and the new ' Six String Svengali'. Was it the case of finding the time to record it or waiting for the right deal?

Well I really had to try and find the time to do what was necessary. What with working so much and having to find that space to sit down and write some songs that were good enough.
On top of that I also had to go home and spend time with my family, so when you put all that together there's not a lot of time left to work on something new. We did put out a kind of intermediary album with Roger Cotton and my tour band called ' Bag Full of Blues'. But that was really for the people who come and support the band, it was really a bonus for the fans.
For the new album I got together with the same guys I used on my debut album and I guess we worked from mid February until the middle of the first week of April, though there was at least a week when we didn't do anything as we had to work round our individual schedules and Mike who was producing was either working in his studio or on the road, and so was I.

You've got the same rhythm section as on your debut CD, with Wayne Six on bass and Mike Gage (producer) on drums. Does that mean you had to make adjustments to the songs, some of which presumably you have been playing live with your Brit tour band?

Well there's not too much of a change involved as the guys in my Brit band band, Roger Cotton, Pete Stroud and Darby Todd can change things on the fly, they just go along with things and they have the ability to just make it happen.
There's a song on the new album for example, called ' Fender Champ' which goes from swing and unison playing to slide and some nights if I didn't have my slide with me Roger would cover that part on keyboards , so they are a great band to work with and a lot of the stuff we play is intuitive.

Does that approach extend to the recording in the studio at all?

I suppose so, I mean on ' Six String Svengali' we did use multi tracks but I dropped the solos in after, but we still record the basic rhythms track - or as I call it ' the bare bones'- as a trio and my main impetus in all this is to see if the songs stand up or not. I write the songs first and maybe leave a space for the solo, rather than the other way round.

You had a lengthy gap between your debut recording with Ray Sharpe's Texas Boogie Blues back in 1980 and Mayall's 1995 ' Spinning Coin', any reason for that?

Well I wasn't the most in demand session player at the time but I did do a lot of stuff with other people's projects that you may not know about. Its one of those things that when you're busy working you take the opportunities that come along and mostly that was time spent gigging.

The strength of ' Six String Svengali' lies in its strong song narratives and the broad musical variety. Unlike so many other guitar based albums, this CD perfectly reflects who you are? Do you think that is the case?

Yes most of my songs are about life experiences. Not all the songs are particularly about me but I did grow up at a certain time and in a certain place (Texas) and that's what I feel happiest writing about. And I'd rather try and write a good song about something like that than merely putting something down as a vehicle for a guitar part.

Songs like the opening track ' Back When The Beano Was Boss' and ' Fender Champ' seem to reflect that approach?

Yeah, I was around John Mayall for 15 years as well as growing up with influences like Eric Clapton, Jimmy Page, Peter Green, Johnny Winter and Billy Gibbons.
And I thought I'd write a song about how the British Blues invasion and artists like that opened the door for blues and the original guys. I mean a lot of kids near me didn't even know Freddy King was from East Texas for example. I did 'cos I saw him. So yeah songs like that tell a story about what happened at the time.
As a matter of fact I took my kids to see ZZ Top when they were making that ' Live From Texas' DVD. I'd seen Billy Gibbons myself when I was 16 in 1972.
Now I know my kids might not be hip to what they are about, but I think they thought it was pretty cool. It was my way of trying to show them how I felt when I saw ZZ Top at their age.

On the track ' Texas Trios' you name check Buddy Holly, Johnny Winter, ZZ Top etc. Were you always aware of a significant Texas music heritage or did you have to come to Europe to realise how much that music is revered?

Well it was really a case of a lot of different music being around in Texas at the time and I was busy absorbing it all. Y'know I was only 3 or so when Buddy Holly died, but he was always on TV.
Then my parents - and my sister in particular - were responsible for me hearing a wide variety of stuff, everything from Country music TV shows to blues and western swing.
I always loved guitar led stuff and all sorts of music in general. There was also a vibrant local music scene too with people like Bugs Henderson and Johnny Nitzinger who had a local hit with ' Louisiana Cockfight'. So there was a lot going on all around me.

Photo: Andrew Lock/GRTR!
So were there were enough clubs to keep the bands working locally?

Well a lot of the local bands would travel to work in Dallas, Houston and Fort Worth. It also gave them the opportunity to play and experience places where you could do your own thing, maybe drink late into the night, and be a little weird if you wanted to, which wasn't a thing you could regularly do in Texas back then.
Strangely enough Texas was the one place where you could still drink and drive along those long straight roads, not that I'm condoning that.

Going back to the album there's plenty of variety and different styles, but all the songs have that unmistakeable Buddy Whittington stamp?

I hope so; I was really just trying to write some strong song structures with some meaning that reflects who I am.

' For Crystal Beach' is a mellow instrumental and is noticeably different from the rest of the album, how did that evolve?

Well I've always tried to do one instrumental when I record. We did ' Greenwood' on the first album as a tribute to Peter Green and I heard from a friend that he was very complementary about that, which is great for me. But ' For Crystal Beach' is an idea I had for sometime.
It was recorded in A flat and I thought about calling it ' A Flat Tyre'. It's about a place I'd go to regularly with members of my family in between tour dates with John Mayall. It's on the Bolivar Peninsula in Southern Texas and was one of the places that got flattened by a hurricane. But they are rebuilding the area now, and it's the sort of place where the people don't give up easily, not least to something like a hurricane.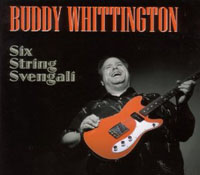 ' My World Revolves Around You' is a showcase for your guitar playing, was that the particular idea?

That came about while I was thinking of a 70's A&M radio piece, you know maybe something a little commercial in a 45 single type of deal.
I originally wrote it for my wife and had an idea of a funky feel and horns and whatever, but I ended up liking the simple trio version as it was, though we did expand the bridge a little with effects. I'm usually a straight down the line kind of guy but we experimented a little on that.

You close with the very poignant and moving ' While We're Here', which sounds like your most personal song. Can you tell us more about that?

It's about the fact that we've lost so many good friends lately and for that matter great musicians. And I've also got another friend who is in a hospice right now.
A lot were way too young, in the middle of their prime and the song is really about the fact that we all too infrequently catch up with friends. We always say ' see you soon' but we don't see them often enough, and when we finally do get round to it, its often too late.

You've said in the past that you have been influenced by many different aspects of music and particularly country, is that where your story telling angle comes from?

Could well be, though I tend to talk too much anyway (laughs). But the country influence came from the local TV country shows I saw as kid, things like ' Cowtown Jamboree'. My main interest in that show would be to see if the guitarist was playing a Strat or a Tele and if it was through a Super Reverb or Fender Twin

You've also mentioned Western Swing as an influence. Did that give you a feel for tone and dynamics?

That was more my parents who were into bands like Bob Wills & The Texas Playboys, I could never play like some of those swing guys but I tried to develop my own take on it, you know using the twin harmony lines.
And years later I heard the basis of it in a new context via Andy Powell and Laurie Wisefield in Wishbone Ash and Dicky Betts and Duane Allman in The Allman Brothers who both took it in different directions. It was the same idea of using harmony lines – but a bit like idea of string band trying to play jazz with horns (laughs).

You spent 15 years with John Mayall who called you 'probably the greatest Bluesbreaker of them all', did that give you a big confidence boost?

I never heard John actually say that, though it would be nice if he did of course. The great thing about being in his band was that he gave everyone plenty of room.
That was especially so on his 70th birthday gig, when everyone wanted to play and he insisted on using his own band. And I'm eternally grateful to him for having played with people like Clapton and Mick Taylor – he's a great player - and of course Chris Barber.
I mean it was because of Chris Barber that most of this blues scene in the UK happened in the first place. He brought lots of people over. I think John still has a contract of when the Bluesbreakers played with John Lee Hooker and got paid £90.

You've been playing since you were about 8, but did being in John Mayall's band give you the learning curve to allow you to step out as a band leader?

Yes I guess so. We were in a comfort zone in that band. I mean all I ever had to worry about was getting to the gig and having a clean shirt, whereas as a band leader you are worrying about everything from the hotels and travel arrangement to everything else.
So I guess I learned how to assert myself a little and to take the 'executive" decisions and how to get along with everyone.
I think I've got the idea, though we've had to settle for things like a splitter bus rather than a tour bus and take a view on some of the hotels.
There's a lot been said about how hard John was to work for, but I think that must have been a long time ago, as his strength when I was in the band was simply to give everyone enough rope...

You are also known for your signature tone and a laid back approach to playing, but also as a player who keeps plenty in reserve when required?

Well I like to try and make each solo a conversation. I've heard a lot of young metal players lately especially as my drummer Darby is in his 30's and plays me a lot of stuff.
And technically speaking they are stunning, but my view is maybe they could take a little bit of a break and stretch the energy a little bit further. I guess that's where the variety of my musical influences plays its part as I love well constructed songs with enough room for a solo and a good chorus.

Going back to your influences, you mentioned Peter Green. How did you get to hear him?

Well that came about through Dicky Ferguson another dear friend who sadly died - someone else I was thinking about in that song ' While We're Here'.
I was maybe 13 or 14 and he had a few years on me. His real interest at the time was in my friend's sister, but anyway he heard Peter Green and told me ' man you've got to get hip to Peter Green's Fleetwood Mac'.
So I started listening to stuff like ' Stop Messin' Round', ' Oh Well' and Green Manalishi' etc. But the thing is that I love the way osmosis works in music, because back in the pre SRV days of Texas I was listening to ' Just Got Back From Baby's' from ZZ Top's ' First Album' and it sounded just like Peter Green. So there was I listening to Billy Gibbons being influenced by Peter Green thousand of miles away on a different continent.

Thanks Buddy I really think ' Six String Svengali' is an excellent album and hope it does well for you.

Well thanks Pete. Given the current economic crisis we're just happy to still be able to go out there and play and have a great time for a while.


---
'Six String Svengali' is released via Manhaton Records
Interview © August 2011 Pete Feenstra
---