BUDDY WHITTINGTON Six String Svengali Hatman 2028 (2011)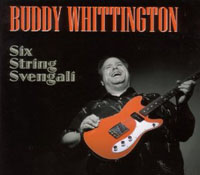 Apart from being heralded as 'probably the greatest Bluesbreaker of them all' by his former employer John Mayall, Texas guitarist Buddy Whittington is a 'player's player'. 'Six String Svengalis's plays to his versatile strengths being an album full of contrasting solos and variable tones with engaging narratives shot through with wry humour and gentle reflection
Buddy opens impressively with the tough riffing, 60's Blues Breaker's era 'Back When The Beano Was Boss', on which he laments the passing of an era; 'There's been nothing like it before or since, it's all quite sterile in the present tense, those days of the band are sadly long gone, Mike Vernon's in Spain and Gus Dudgeon's gone on'. The song also goes on to summarise the enduring significance of that era; 'John (Mayall) and the band still playing your town, 46 year on still knocking miles down'.
And it is the way in which Buddy explores an enduring musical heritage through the highs, lows and humour of his own career that gives 'Six String Svengali' its own raison d'etre
Buddy laid back approach focuses on his guitar playing which is as effortless as it is mesmerising. He's a player of consummate taste with an exploratory tone and understated power as evidenced by the opening track and the brusque 'Texas Trios', a song on which he references some Lone Star State guitar heroes from Buddy Holly and Johnny Winter to Double Trouble and ZZ Top etc.
Songs like 'Fender Champ' - on which he tells us he's 'working on becoming a fender champ' - and the provincial rock & roll dream of the country tinged 'Six String Romance' have an autobiographical feel that mark him out as an astute story teller. The sudden guitar drop-in on 'Romance' is also a bristling reminder of his playing ability. Surprisingly perhaps, there's a light ironical touch at play on 'The Put On Song', as Buddy outlines the vacillations of his chosen profession while playing some exquisite lines over a lumbering funk rhythm track.
For the most part 'Six String Svengali' strikes a subtle balance between the hot picking of the humorous Viagra charged 'I Had To Go See Alice', the heavier tone of 'Texas Trios' and the unlikely Bossa flavoured cool of the instrumental 'For Crystal Beach'. His sharply contrasting solos are best encapsulated on the tightly wrapped funk of 'My World Revolves Around You' on which he startlingly shifts from big twang to searing slide.
Buddy is an expressive singer whose vocals range from the passable to the emotive. He moves from the spoken word delivery on the Little Feat influenced funk of 'Deadwood And Wire' to some heartfelt phrasing on the contemplative ballad 'While We're Here', as each different vocal inflection offers a new way to convey meaning.
The latter song squares the circle of a surprisingly personal blues journey; that starts in the 60's and gently nudges the life of a working guitarist before finishing on a reflective note. 'Six String Svengali' is the Texas string bender's most succinct album so far and the latest step in a fast growing solo career.
****
Review by Pete Feenstra
---
| | |
| --- | --- |
| | Print this page in printer-friendly format |
| | |