LULEY Tomorrow's Today AOR Heaven (2012)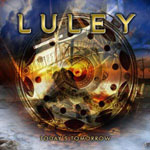 Former Tokyo and Craaft singer Klaus Luley has made a welcome return after many years in the wilderness. The German also plays all guitar and keyboards and the album has a typically clear production from his fellow German Michael Voss (Mad Max/Casanova), who has the midas touch when it comes to European sounding melodic hard rock.
Opener 'Can't Live Without You' builds in a stately fashion around a hypnotic keyboard melody that seems to have been taken from Genesis' 'That's All'. After a couple of false starts - 'Mountain of Love', quite apart from its double entendre, has too much Air Supply-esque schmaltz and on 'Slippin Away' his accent is rather off putting.
The album picks up with 'Living In The Night', a ballad that you can imagine having been a hit in the hands of the Scorpions, and a remake of the autobiographical Tokyo from his former band.
The rest of the album is solid, melodic Teutonic rock picking up where Craaft left off. My reservation is that, despite the quality of choruses like 'Still Got a Long Way To Go', the tempo of each is too similar and one song rather runs into another. Nevertheless, they have the stamp of quality and it is good to have this blast from the past back in the saddle and sounding so fresh.
***½
Review by Andy Nathan
---