TWISTED SISTER Still Hungry Armoury Records (2011)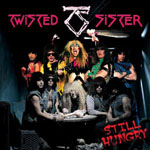 The Twisted Sister re-issue series continues with this, the band's 2004 re-re-recording of their 1984 album 'Still Hungry'. Their reasoning was the original version didn't have enough musical clout and the production was too light. The re-recordings stay pretty true to the originals and Dee Snider's vocals have always kept their power down the years.
Highlights include 'We're Not Gonna Take It', 'S.M.F.' and 'I Wanna Rock'. The ballad 'The Prize' sounded pretty lame back on the original release and hasn't improved with age. There are also two bonus songs recorded back in 1984 that never made the original release. 'Never Say Never' is another fists-in-the-air anthem whilst 'Blastin' Fast & Loud' perhaps was better off staying in the vaults.
Then we have four new songs (well they were new back in 2004) and they are a mixed bag. 'Plastic Money' and 'Come Back' are typical Twisted Sister anthems - plenty of guitar solos and those Dee Snider vocals screaming out at you.
'Rock 'N' Roll Saviors' is not so good though and sounds as though it was knocked out in a hour or so. Last song on the labum is 'Heroes Are Hard To Find' a co-write with Bernie Torme (who teamed-up with Dee Snider in the excellent Desperado).
The original still pips this version as whatever you think of the production back then the band had the hunger/we don't care if you like us and it showed in the songs. Still as a fan it is nice to have both versions and this mid-priced re-issue has seven bonus songs.
****
Review by Jason Ritchie
---
| | |
| --- | --- |
| | Print this page in printer-friendly format |
| | Tell a friend about this page |
***** Out of this world | **** Pretty damn fine |
*** OK, approach with caution unless you are a fan |
** Instant bargain bin fodder | * Ugly. Just ugly
get ready to rock is a division of hotdigitsnewmedia group