TWISTED SISTER Reissues Armoury Records (2011)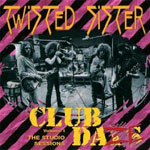 By the time Twisted Sister signed to Secret Records for their 1982 debut Under The Blade, the band were already veterans or the New York and Long Island club scene.
The Club Daze CD, reissued here at mid-price, features 13 tracks showcasing the band in embryonic form. All studio tracks, they open with the 'Come Back', mixing metal with both glam and rock'n'roll. 'Rock'n'Roll Saviors' stands out, as does the lead guitar work on 'High Steppin''.
Some of the twin lead duelling is almost Southern, but keeps more than enough attitude for that TS Stamp.
It's good to hear the early version of 'Leader Of The Pack', a great cover that just lacks that something of the finished version few years later.
Some great tracks and great performances, they are solid and tight, but you can tell the band were still in development. The package is very well annotated (by guitarist Jay Jay), a quality piece of Twister Sister history. ***
1983's You Can't Stop Rock'n'Roll has also already had the reissue treatment, but this release makes a classic album available again. The music is classic Twisted Sister, raw yet polished, a perfect blend of rock'n'roll and glam, with honesty and energy. 'The Kids Are Back' opens with aplomb, and 'Like A Knife In The Back' has a metronomic pounding thump that will get your head nodding.
For many teenagers, this album was the sound of 1983, the soundtrack to their youth, because it offered enough rebellious attitude with power, energy, glam edged rock'n'roll and, talent and melody that kids could latch on to. 'I Am (I'm Me)' typifies this, and was a minor hit single here in the UK; a classic track with a rabble rousing chorus that Slade would have been proud of. The guitar harmonies and solos may be simple but they are perfectly executed and catch the mood perfectly.
This album comes with 3 bonus tracks, but sadly no sleevenotes. ****½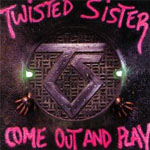 Come Out And Play was TS's fourth album, originally released in 1985 and remastered in 1999, and this reissue makes this criminally underrated album available again. This brings back so many great memories, I was 15 when this album came out and it still sounds fresh and enjoyable throughout.
While it doesn't have the stand out tracks like 'Stay Hungry' and 'I Am I'm Me', this was there most solid and certainly most consistent to date.
The opening title track sets the pace with aplomb, opening with atmosphere and sleazy tones, before the avalanche of metal begins; fast heavy drums, classic glam metal riff, and vocals with immense power and range. Then there's the cover of 'Leader Of The Pack' (I remember them playing this on Saturday Night Live), a different take, cheesy it may have been but it works, Dee Snider playing the perfect gang leader. A definite thumbs up here. 'I Believe In Rock'n'Roll' is another wonderful track, the fade in perfect, every riff spot on, while 'The Fire Still Burns' is as close as TS got to Priest like heaviness, the drumming thunderous, the twin guitars blistering.
Every track on this album is a classic, but if I had to choose a standout it would be 'Be Chrool To Your Scuel', which not only features a vocal duet with Alice Cooper but some thumping piano from Billy Joel, a guitar solo from Brian Setzer, and saxophone, horns and backing vocals too boot.
Sadly the combination of a return to their metal roots and the commercial pop leanings was considered disastrous at the time, but it works. Trust me it works. ****½
Love Is For Suckers is, however, another story. Originally meant to be a Dee Snider solo album, but the label insisted it be released as Twisted Sister. Couple that with the debacle from the previous tour, it was downhill from here and it would be the last TS album. Drummer AJ Pero left and was replaced by Joe Franco, and while there are many good tracks here, there is a more generic TS glam metal feel throughout with nothing really standing out. The vocals and guitar on the title track are excellent. Overall a lack of identity. An enjoyable listen, but far from classic. ***½
You can't stop rock'n'roll, and on this evidence you certainly wouldn't want to.
Review by Joe Geesin
---
| | |
| --- | --- |
| | Print this page in printer-friendly format |
| | Tell a friend about this page |