Just witnessed your best live gig?.. send us a review!
TOYAH, O2 Islington Academy, London
5 November 2011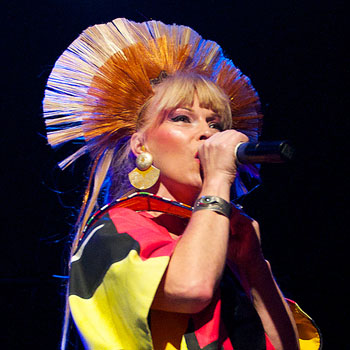 The first time I saw Toyah was on 31st January 1980 at St Andrew's Hall in Norwich when she was promoting the imminent release of her first album 'Sheep Farming in Barnet' (a 6 song EP of the same name had been released some five months earlier).
Tonight, on her 'Sheep Farming to Anthems: Classics Revisited Live' tour, it would be interesting to see which version of the diminutive Brummie would turn up... Toyah the singer or Toyah the actress and TV personality?

Arriving just as the third and final support act took to the stage (thanks to heavy traffic making it's way to various firework displays in Esher, New Malden, Wandsworth, Battersea and elsewhere on my route in to London),
Toyah was in the foyer chatting to fans, posing for photos and helping sell her T shirts and CDs... cool, calm and collected just minutes before taking to the stage herself, every bit the consummate professional. Yet it was obvious this was no act. She was loving the rapport with her fans, and they were loving her back in spades.

Kicking off with 'Good Morning Universe' from the Four More From Toyah 'single' of 1981 it was obvious that she was in fine voice and good spirits.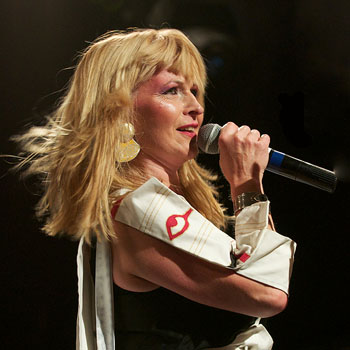 What followed was a helter-skelter journey through most of her early musical career with several costume changes. 'War Boys, Bird in Flight' (a song Toyah admitted had taken her over 30 years to get used to playing but which she now loved) and the anthemic 'Thunder in the Mountains' were well received before her first cover of the evening (and first costume change) 'Echo Beach' from her 1987 album Desire.

The next song, 'Latex Messiah' from her 2007 album 'The Court of the Crimson Queen' (she's married to former King Crimson guitarist Robert Fripp, so I'm sure no one complained too loudly about that title!) will shortly be featured in a film due for release any day now (but which film, we were left guessing).
And then it was back to the Anthems; 'Jungles of Jupiter' and, probably her best known song, 'It's a Mystery', delivered with all the verve and vivacity as when it first emerged 30 years ago and sounding just as fresh today.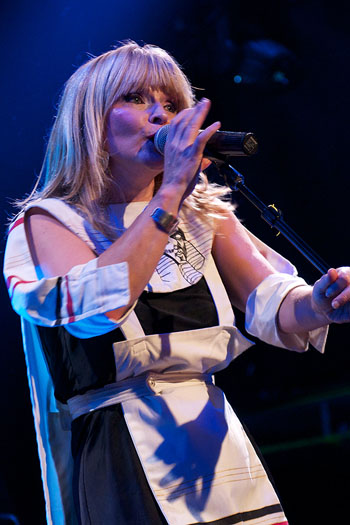 Next we were treated to a clutch of 'Sheep Farming in Barnet' songs; 'Neon Womb', 'Race Through Space', and the magnificent 'Danced' before a final return to Anthems with 'We Are,' the glorious 'Demolition Men' and the exuberant 'I Want to be Free'.

A brief respite off stage and calls for 'more' from the audience and Toyah and her band were back again, starting off with the second cover of the evening, 'These Boots Were Made for Walking' from 'The Humans' (Toyah's other band) 2011 release 'Sugar Rush', the indispensable 'Ieya' (the only song from 'The Blue Meaning' to make the set list, but then what Toyah gig would now be complete without it?) and the final 'anthem' of the night, 'Obsolete'.
Still the crowd wanted more, but sadly with a 10.00pm curfew at the venue, that's all that could be squeezed in.

While Toyah herself had whirled like a dervish on stage, and showed that her vocal capacities were as good, if not better, than ever, praise must also be given to Chris Wong on guitar, Tim Rose on bass, Andy Doble on keyboards and Shan Chana on drums for being such a tight unit.

Set List: Good Morning Universe, War Boys, Bird in Flight, Thunder in the Mountains, Echo Beach, Latex Messiah, Jungles of Jupiter, It's a Mystery, Neon Womb, Race Through Space, Danced, We Are, Demolition Men, I Want to be Free, Theese Boots Were Made for Walking, Ieya and Obsolete


Review and photos by Bob Singleton
Gig review (03.11.11 - Leamington)
---