STEVE MORSE BAND Outstanding In Their Field 2-CD earMUSIC (2011) Special Deluxe Edition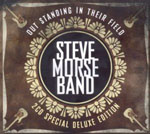 A new lease of life for this 2009 album now packaged with a 1990 German gig.
The Deep Purple guitarist and one-time Dixie Dreg, displays the full range of his styles on the solo album. In the main this will appeal to guitar lovers and those who want to investigate further after enjoying his work with Deep Purple.
It's all very nicely done if not exactly breaking sweat with some attractive tunes including the standout 'Unnamed Sources' which reminds me of the sort of thing John Jorgensen did in The Hellecasters. Ditto 'Name Dropping'.
The pre-Purple live German gig may draw in more fans, as it's previously unreleased on CD but to my ears there's a lot of musicianship on display but only flashes of the riffery that hooks the listener in, and lots of fusion widdle.
Much of the material comes from fan favourite 'The Introduction' (1984) and 'High Tension Wires' (1989) which yields 'Country Colours', 'Highland Wedding' and 'Tumeni Notes'.
There are also a couple of tracks from then next album 'Southern Steel' ('Sleaze Factor' and 'Point Counterpoint'). He also dips into his Dixie Dreg material too, notably 1978's 'What If' for 'Night Meets Light' and 'Ice Cakes' and 'Unsung Heroes' (1981) for 'Rock n Roll Park' . But there's nothing off 1985's solo album 'Stand Up' and his Dregs tour-de-force and stage favourite 'Take It Off The Top' is sadly missing (you'd know the tune if you heard it).
Whereas a gig in 2000, or 2010, would embrace Morse's rockier side with Purple, 1990 has too much Dregs baggage for these ears.
Morse is probably a little too diverse for his own good - embracing jazz fusion, blues and country flavours as much as rock - a really accomplished player though, and guitar music lovers will find a lot to interest them here. Collectors should note the live gig has been available for several years on DVD.
****
Review by David Randall
Original album review
---
| | |
| --- | --- |
| | Print this page in printer-friendly format |
| | Tell a friend about this page |