STEVE MORSE BAND Out Standing In Their Field earMusic (2009)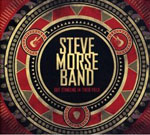 Despite a heavy schedule with Deep Purple (with whom he has been for 15 years now), guitar legend Steve Morse has still found time for another solo album.
This instrumental 10 song set features Morse, bassist Dave Larue and drummer Van Romalne. In places it is a little experimental but is largely solid hard rock with some occasional jazz fusion tendencies; imagine Dixie Dreggs but a little heavier. The opening track 'Name Dropping' is a hard number with a solid riff and plenty of noodly guitar work. 'Brink Of The Edge' kicks off heavy and slightly disjointedly but then smoothes, and some layered acoustic rhythm guitar from Morse adds to the sound well.
A stand it is 'Here And Now And Then' which solos effortlessly and produces a decent flowing melody.
'John Deere Letter' is the first real break in style, which is more uptempo country with some fast hillbilly picking. Itís a lot better than it sounds, as itís given Morseís own rock guitar virtuoso touch.
It is a good album, with some great songs and mix of ideas. Some do flow a lot better than others, a couple do come over as a little disjointed, but thankfully not too jazzy. Too many of the songs fail to finish, they just fade out.
A far cry from Deep Purple, but essential for guitar fans.
***½
Review by Joe Geesin
---