Just witnessed your best live gig?.. send us a review!
NEW YORK DOLLS
London Old Vic Tunnels 30/31 March 2011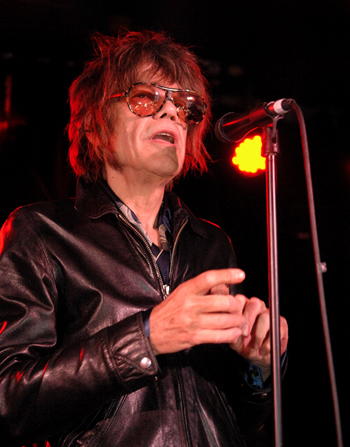 So, what exactly is so great about the New York Dolls? That's what all the doubters and naysayers keep asking me. I mean, how can I still be so enthusiastic about repeatedly watching a band with only two original members left alive, whose glory days are surely behind them?
After all, reformations go against every rule laid down in the live fast, die young, shag Swedish, Camden Cool-O-Meter.
Just as well, then, that these shows again took place south of the river, in decidedly unhip (but far more enjoyable) Southwark - for they not only answered all the above questions defiantly and conclusively, but in a way which defied every doubter.
What I don't understand is the suddenness of this backlash. The claws were, it seems, already out for new album 'Dancing Backward In High Heels' (their third since reforming in 2004) before it even hit the blogsphere, let alone the shops - why, because it doesn't sound like another 12 retreads of 'Trash' or 'Personality Crisis', thereby causing you to re-evaluate your narrow definition of rock n roll? Actually, I'm being sarcastic, but if that is genuinely what you believe, then you're missing the point. Badly.
This is not a nostalgia act, no matter how tempting it must be to rest on those laurels. Nor is it a post-modern post-ironic take on cock rock like some I could name, although the band will be hitting US stages in the company of Crue and Poison (both of whom should be fucking HONOURED) later this year.
Yes, it's still a rock n roll band. But anyone who understands rock and roll knows the vast expanse of influences that make up that music, and how at best they're an expression of inner beauty rather than outer artifice. And no, they're not going to prog out or deliver their rock opera - not just yet, at any rate.
But there is room for experimentation, redefinition and development, and that's what the Dolls 2011 are about.
The clue's in the lyrics to the excellent 'Streetcake', delivered halfway through the set and already familiar to many, wherein Johansen namechecks a principal influence, Mitch Ryder.
For didn't the one-time Detroit Wheel deviate, after three albums from his original R'n'B blueprint, go on to record concept suites, Procol Harum covers and introspective, political material? Sure he did, and in doing so he became all the more fascinating for it.
Ergo the Dolls, whilst still purveyors of high-octane, greasy rock n roll onstage, have carte blanche to step into the outer limits.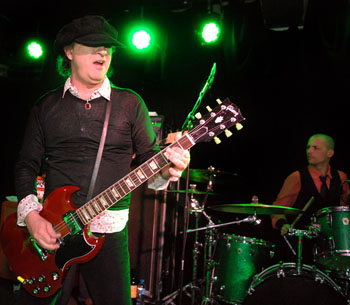 It's a shame Steve Conte and Sami Yaffa, both of whom contributed largely to the co-writing of 'One Day It Will Please Us' and 'Cause I Sez So', couldn't commit to this journey, reinforcing the belief that today's Dolls are more of a 'collective' - ie Johansen, Sylvain, Brian Delaney and whoever happens to be available - but the lineup in front of us, featuring Louis XIV bassist Jason Hill (also producer of the new record) and the legendary Earl Slick (Frank Infante played on the album) are, in all honesty, better equipped to take these new sonic plunges.
Old favourites 'Pills' 'Who Are The Mystery Girls' 'Jet Boy' and 'Private World', the last-named now regularly extended to take in numerous blues quotes but without, thankfully, ever degenerating into the tedious jam-rock purveyed by the likes of Widespread Panic, don't necessarily sound different, in fact if anything they're closer to the originals than their recent incarnations - but they're also fresher, sharper and leaner than they've sounded at any point since those legendary reunion gigs round the corner with Arthur in '03.
Similarly, the material from that first reunion album - here represented by the ebullient 'Dance Like A Monkey' now seems almost as classic as that which preceded it, and is greeted with almost equal fervour.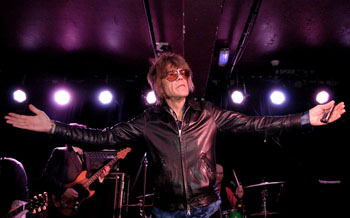 Zoom (Click large image to cancel)
Where the band differ most noticeably is in their onstage approach. The Jaggering, strutting Johansen of old has given way to a hypnotic, almost magicianly figure, still feather-haired, denim-tressed and leather-clad but now the apothecary rather than the dealer, fixing his audience with steely concentration in between bouts of unashamed euphoria at the fact that finally, everything seems to be working out like he planned, and inciting chants of 'EXISTENTIALISM NOW!' from a bemused assembly.
The crowd seems divided between fans on the second night and Tarquins on the first: never before has the anti-fashion rant that precedes the walloping 'I'm So Fabulous' seemed so relevant, and it's these proclamations, displaying an intellect (even if slightly misplaced) so far ahead of your average rock frontman, that make you realise he will NEVER be an average rock frontman, in the same way that the multi-faceted, all-singing-all-dancing Sylvain Sylvain is no average guitarist.
His rhythm and second lead playing (when you can hear it - Wednesday's the first ever gig in the venue, so there are bound to be gremlins) still falls within that area best described as 'organised chaos', but now, he's also supplying harmony vocals, doo-wop backing, percussion, and most significantly of all, keyboards.
A return, then, to his first love, which led him to contribute piano to their classic 1973 debut, only now, we have a vintage Vox Continental, stage left, adding an entire new dimensions hitherto undreamed to the setup, and it both looks and sounds perfectly natural.
It also reminds you that while Davy Jo may be the frontman and lyricist, Syl is in many ways the auteur, the architect, and the interior designer of the band's vision, and nowhere is that more evident than on 'Fool For You Baby' 'Talk To Me Baby' and Kids Like You', all bearing the cheeky-faced Egyptian Jew's stamp of authenticity upon them.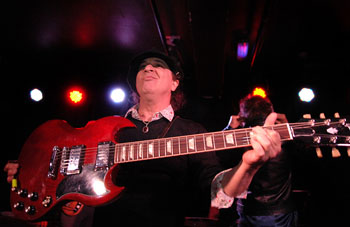 Because of sound problems, Wednesday, while excellent, never quite kicks into full throttle until a short while before the end, but Thursday was one of the most complete rock shows I had ever witnessed - from beginning to end, it sped along on a whirlwind of creativity and sheer thrust most younger bands wouldn't even come close to.
Even if still bookended by 'Looking For A Kiss' and 'Personality Crisis' yet again, this is till the hottest ticket in town - and while Johansen may be unduly concerned as to whether there's a healthy state of existentialism in London, or 'what we think of that German Pope', he can rest assured that as long as he and Sylvain are breathing, writing and recording, then the future of rock and roll is in safe hands.
Like I said, this is not a nostalgia act, or a limited, straight-down-the-line sleazy rawk'n'rawl band. This is a beautiful entity with a fantastic past and an even more enterprising, unclassifiable future. Only a fool would decide not to take part in it.

Review by Darius Drewe Shimon
Photos by Steve Goudie