NEW YORK DOLLS Dancing Backward In High Heels Blast CD002 (2011)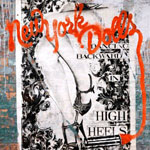 You either buy into the New York Dolls persona and their place in rock history or you don't. Whatever your view, 'Dancing Backward in High Heels' goes a long way to reaffirming their reputation as significant musical icons. Like retro cartoon characters come to life, New York Dolls are back to redefine their place in history and claim a slice of the here and now.
Their 1974 album may have been prophetically titled 'Too Much Too Soon', but like other influential artists they found themselves a band out of time, with their role as protopunk cultural emissaries only belatedly apparent after their initial demise. And like Marvin Gaye before them, (who rediscovered his muse in Belgium), The Dolls had to go abroad to recharge their creative batteries courtesy of Newcastle's Blast label. Of course the North East has its own rich musical traditions, but for a band so wholly caught up in the same musical and social milieu of the Velvet Underground, Iggy Pop and even the MC5, the thought of this seminal New York outfit rekindling the flame in the Geordie heartland seems unlikely.
So how wrong can you be? In musical terms NYD seem to be part of an upswing in the cyclical 'what goes round comes round' phenomena. Or to put it more bluntly, if you stick around long enough, you will come back into fashion. But then that was never quite the case with the Dolls who split in 1976, before Johansen took up his alter ego of Buster Pointdexter before embracing acting.
The 2006 comeback album 'One Day It Will Please Us To Remember Even This' was well received and the following 'Cos I Sez So' had real promise, but 'Walking Backward' is the kind of album that should successfully resurrect them to their rightful place in rock's highest echelons.
The change of environment really does seems to have worked for the band, who holed themselves up in a studio for three weeks - either side of a small club mini residency - with little more than some promising titles, hooks in progress and fleeting melodies.
Johansen apparently penned his stream of consciousness lyrics as the project took shape and his unique style works gloriously on the baritone rasp of 'Streetcake'. More generally the on going Sylvain/Johansen collaboration appears to have rekindled the band's spark as 'Dancing Backward' is a compelling mix of raw, rootsy, garage rock with gutsy songs topped by Sylvain's harmony vocals and 60's style bv's.
The inclusion of former Blondie guitarist Frank Infante gives the band both more subtlety and variety and allows Sylvain to stretch out, while drummer Brian Delaney shapes things up in the same manner he did on 'Cos I Sez So'. And it is the overall organic feel to the 12 tracks that makes 'Dancing Backward in High Heels' a proper album rather than a handful of inspired songs with fillers.
Much like his bass playing, Jason Hill's production is unobtrusive and intuitive rather than demonstrative. He nicely colours the musical palette while allowing the creative juices to flow. As a result the album turns out to be a triumph of the sum of its parts, with The Dolls dipping into a network of local musicians, ranging from backing singers to a string quartet and a honking sax player.
And if as Sylvain suggests, the band are 'doomed to write songs' and 'worry about who's going to get it later', then they have put themselves on the line in the unforgiving Newcastle environment and come up trumps.
There's a glorious sense of irony about a band who lyrically explore the depths of existential angst, but who are all too aware of who they are both culturally and historically. 'Dancing Backward in High Heels' is an album that exquisitely straddles the past and present. There's an overriding sense of familiarity to much of the material and yet most of the songs are new. Of course being The Dolls they offer a trademark glance over their shoulder on the Shangri Las sounding, doo-wop inflected version of Patti Labelle's 'I Sold My Heart To The Junkman', while 'Talk To Me Baby' has an infectious rhythm, lovely girly bv's and a committed vocal performance from Johansen.
David is also totally in the moment on the opening rap of the tongue in cheek 'I'm So Fabulous' which includes a Roxy Music style sax blast while 'Fool For You Baby' features another strong vocal performance by David, but gains its raison d'etre from his scat singing over Sylvain's delightful chimed bv's. Sylvain further extends his backing vocal prowess to include 60's influenced 'oooh's and aaah's over a weeny sounding farfisa, a tinkling tambourine and a brief military drum march from Brian. It's lovingly crafted piece of work and one of the best ever Dolls tracks.
The following stripped down' Kids Like Us' is equally good as DJ emotes over a shuffle drum, organ and some exquisite slide from Frank. David adds a languid whistle for good measure over some judicious synth lines. If the Dolls made their name as larger than life characters, they confirm their new found maturity with this song. The ebb and flow of the album is highlighted by the following jungle drums and 50's style hop of 'Round And Round She Goes'.
Then there's the acoustic wash and deft string arrangement of 'You Don't Have To Cry' with its Billy J Kramer style intro and Simon & Garfunkel melody over which Johansen adds his smoky vocals
The colourful tones and the rich vocal mosaic which lie at the heart of this album glue everything together as the rhythms flow thick and fast on 'Baby Tell Me What You're On', the tub thumping 'Funky But Chic'- which has distant echoes of the Johansen / Poindexter soca hit 'Hot Hot Hot' - and the closing 'End of the Summer' with its ooh's and aah's pastiche.
'Dancing Backward in High Heels' is a great album, with strong songs, gutsy performances and a polished but vibrant production that puts it levels above the band's garage roots. Back in the early 70's The New York Dolls may been perceived in the UK as a transgender pale imitation of The Stones, but 40 years later they are in the ascendancy, producing some of their best ever work. The Dolls it seems are no longer out of time but rather a band grasping the moment.
*****
Review by Pete Feenstra
---
| | |
| --- | --- |
| | Print this page in printer-friendly format |
| | |