Just witnessed your best live gig?.. send us a review!
GIRLS WITH GUITARS/Blues Caravan 2011
Boom Boom Club, Sutton 6 May 2011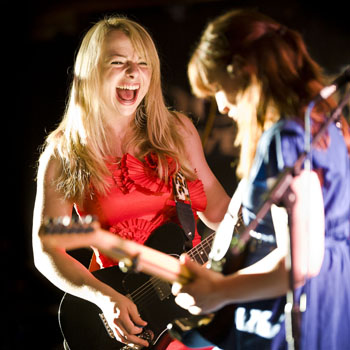 Girls With Guitars/Blues Caravan 2011 is a conceptually updated version of the old touring blues review. And as this Boom Boom Club show demonstrated GWG are imbued with such a musical breadth and unbounded vitality that they transform the blues template into a fun filled exciting show with a welcome sense of modernity.

In some respects the band's moniker does them a disservice as this is a very confident road tested outfit with real ability and set of songs with durable substance.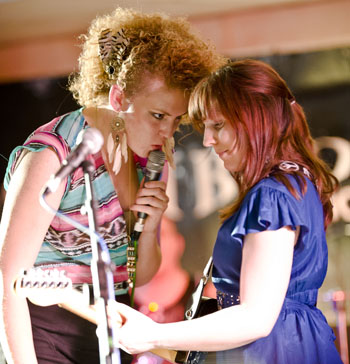 Cassie Taylor on bass/keys and vocals, Dani Wilde on guitar and vocals and Samantha Fish on guitar and vocals all come from contrasting musical backgrounds, but any potential musical tensions were rigidly subsumed by a vibrant collective energy that was firmly anchored by the French powerhouse drummer Denis Paladin.
And with over a 100 shows on this tour alone, they've morphed into a great band with all the subtle nuances, dynamic intricacies and shifts in pace and structure to go with a jammed out flair that contributes to the organic development of an impressive set list.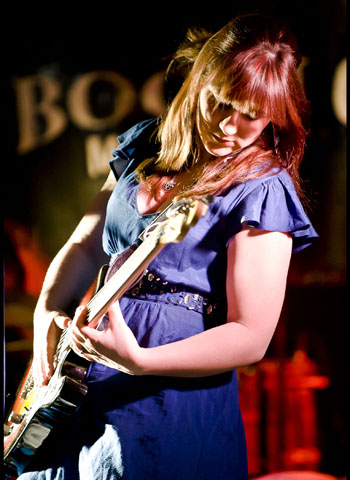 One of the great things about this 2 set show was the way the band interacted with the audience as the different personalities endeared themselves to the crowd with some lively repartee. Who could help but be drawn in by Dani Wilde's soulful voice which conjures up both deep emotion and a real feel for the blues.
Then there was Samantha's more trebly vocal range which unerringly mirrored her shrill Telecaster notes to provide another dimension to the band. On top of that there was the brooding almost sullen presence of Cassie Taylor whose sultry vocal style proved to be an extension of some deeply ironic stage announcements.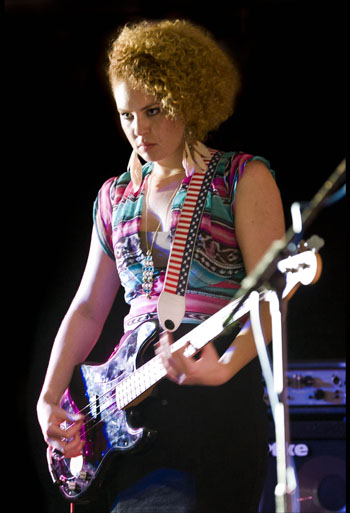 The three front line player's coalesced seamlessly as they traded licks, leaned into some smouldering grooves and rocked out by turns to bring their own take on contemporary blues.
I'd venture that the majority of the crowd had never seen the band before and they weren't disappointed. The first set was topped and tailed by a brusque version of the Jagger/Richard penned 'Bitch' and a Cassie lead vocal on the reshaped FM radio staple 'Jet Airliner'.
The show snaked its way through a mix of the current album and solo highlights in both quartet and trio format leading to an unexpected tongue in cheek version of 'Highway to Hell' which rocked!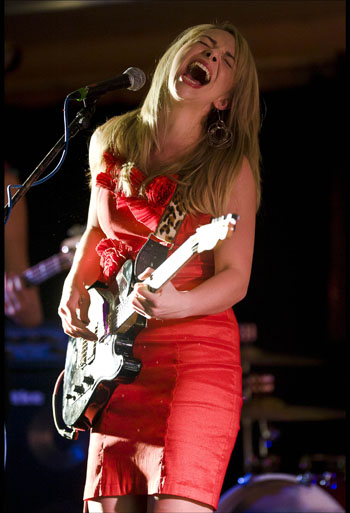 Any doubters in the crowd were simply blown away by a band that sized up the crowd and jabbed them a few times with a sparkling solo or two.
They bided their time before unleashing their best shots in a second set that saw Sam deliver some stinging lines on the muscular mid-tempo blues 'Down In The Swamp' and the more animated 'Wait A Minute Baby', on which Denis provided crisp percussion.

Dani added a humorous intro to her own 'Red Blooded Woman' and referenced Motown on the equally impressive self penned 'Mr Loving Man' with both Cassie and Sam providing potent bv's.
This left Cassie to deliver a knockout punch with the sultry 'Satisfy My Soul' as her sensual vocals subtly rose above Dani's growling wah wah guitar work. Cassie also provided one of funniest intros of the night on the mesmerising 'Wasting Time' with Sam adding another deftly nuanced solo.
Blues Caravan 2011/Girls With Guitars exceeded all expectations and proved to be a worthy triumph of the sum of its very talented parts.

Review by Pete Feenstra
Photos by Adrian Gee
---
Interview 6 May 2011
---