SAMANTHA FISH, CASSIE TAYLOR, DANI WILDE
Girls With Guitars Ruf 1166 (2011)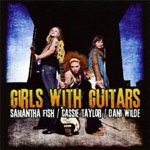 The concept of The Blues Caravan as a musical celebration has come along way since Buddy Rich's groundbreaking state sponsored tour of the Far East tour in the early 60's.
'Girls with Guitars' - Blues Caravan 2011 - over comes a clichéd title to deliver an album full of strong songs and musical versatility that offers a fresh take on the blues.
And while there's an attempt to broaden the potential audience by topping and tailing the cd with two 70's rock covers, the 12 tracks and three stellar performers artfully embrace contemporary rock, blues, soul, down-home blues and hints of gospel in a refreshing new project.
Mike Zito does a good job in gluing together three disparate performers with contrastingly individual styles. He melds together a sense of the linear (it flows) and the organic (they sound like a band) in an album ultimately fulfils its potential.
Dani Wilde anchors the project with an expressive voice that is grounded in gospel but reaches for more, with a versatility that is usually reserved for a more experienced singer.
Sam Fish on the other hand is more of a raw blues shouter, a style that works well with her trebly telecaster tone, while Cassie Taylor has the most arresting voice of the three, phrasing with a warm sensual timbre to subtly offset her rock solid bass playing.
The ensemble also splits into different trios and features a solo spot on Dani's down-home, Memphis Minnie style 'Reason To Stay'. There's room for just one co written track by the three on 'Get Back'. It's full of Cassie's rumbling bass, three vocals, Mike Zito's slashed chords and some fulsome bv's. The track ends as a vehicle for Zito's dynamic guitar break as the producer almost over eggs the cake.
There's a real sense of continuity and a collective will that drives the project forward as evidenced by the interchangeable bv's and solid playing on an album that starts as a slow burner and gains its momentum from contrasting yet compatible strands of the same continuum. The 12 songs smoulder with intent - if not intensity - and ultimately delight with their subtle twists and turns.
In sum 'Girls With Guitars' in a celebration of contemporary blues that never becomes mired in a restrictive musical format. There's a nicely balanced feel to the album and only a slight over reliance on mid-tempo material stops it from being truly combustible.
Cassie gives us an early inkling of her rich vocal style on 'Satisfy My Soul' while Dani fully explores her range with some great phrasing on an updating of the soul genre on 'Mr. Lovin Man'.
Sam leads Cassie and drummer Jamie Little into her best vocal performance on 'Come On Home', while Cassie sparkles on 'Leaving Chicago' which is the best track of the session and features Sam on sumptuous slide. But it takes the rockier arrangement of Cassie's trio led 'Move On' to hit a real groove and offer a subtle contrast between Cassie husky voice and Sam's shrill tone. Not to be outdone Dani pens another great song 'Are You Ready' on which the gospel feel of her delivery acts as a perfect foil to what's gone before.
'Girls With Guitars', is an album full of original songs, excellent playing and a good time vibe that is worthy of original concept of The Blues Caravan.
****
Review by Pete Feenstra
---
| | |
| --- | --- |
| | Print this page in printer-friendly format |
| | |