GARY MOORE Live At Montreux 2010 Eagle EAGCD434 (2011)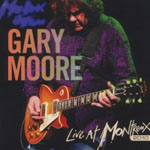 If 2010 was a year when the rock world paid tribute to the passing of an icon, Ronnie James Dio, 2011 will be remembered for the loss of no lesser a rock mortal: Gary Moore. The fact that Moore's passing was abrupt and seemingly inexplicable makes this 2010 album - his last live recording - particularly poignant. Exactly seven months later he was gone.
Just as intriguing is the inclusion of several new songs. If 'Days Of Heroes', 'Where Are You Now?' and 'Oh Wild One' hark back to Moore's earlier work on 'Wild Frontier' they offer a tantalising glimpse of a future studio album that - sadly - never would be.
A few weeks later Moore would make his last UK band appearance at the first High Voltage festival and - as with the Montreux set - many fans were thankful that he was back in more rock-orientated mode - albeit Celtic tinged - with songs like 'Over The Hills And Far Away', 'Blood Of Emeralds' and 'Out In The Fields'. As if to emphasise the rekindling of old flames, Moore is joined by keyboard player Neil Carter who featured on his classic late-80s albums. Completing the line-up is Primal Scream's Darrin Mooney (drums) and one-time Tull bassist Jonathan Noyce.
If at times the new Celtic stuff is like Big Country on steroids there are some moving moments too as Moore reprises 'Empty Pages' (with its Beck-esque intro) and 'Parisienne Walkways'. Perhaps surprisingly 'Walking By Myself' is the only legacy from the 1990s when he made a series of acclaimed blues albums. However, if listeners need more of this they will be well served by previous Montreux releases (see below for review link).
The DVD/Bluray version of this gig includes the song 'Thunder Rising' (not on the CD due to time limitations) and four previously unreleased bonus tracks from Montreux in 1997.
This is an achingly poignant tribute to one of the true guitar greats who never gave less than 100 per cent and - miserably - a life cut far too short.
****
Review by David Randall
---
| | |
| --- | --- |
| | Print this page in printer-friendly format |
| | |