GARY MOORE Essential Montreux Eagle Records (2009)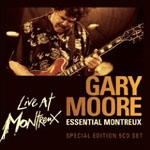 "Over 6 Hours of Classic Tracks" reads the sticker. Over 6 hours of unalloyed fret melt and occasional gurning - and that's just the listener. You certainly have to be a fan of Gazza's post-1980s work, as this 5 CD set spans the years 1990-2001 following the blueprint laid down by his classic 'Still Got The Blues' album, released in 1990.
This set complements the earlier DVD release (reviewed here) and showcases work from his key 1990s output, Disc 1 in 1990 (Still Got The Blues augmented by two non-originals and 'The Messiah Will Come Again' from 1989's 'After The War'), Disc 2, 1995 (mopping up additional tracks from 'Still Got the Blues', four tracks from 1992's 'After Hours' and five tracks from his Peter Green tribute 'Blues For Greeny'), Disc 3, 1997 (Six tracks from then new album 'Dark Days In Paradise'), Disc 4, 1999(A mix of the three "blues" albums and a cover of Hendrix's 'Fire') and Disc 5, 2001 (Six tracks from 2001's 'Back To The Blues').
Of all the discs, the 1997 recording presents perhaps the best in terms of a career overview. Moore had just released 'Dark Days In Paradise' which broke the blues continuum and the gig rallies with three tracks from his eighties heyday: 'Out In the Fields', 'Over The Hills And Far Away' and the ubiquitous 'Parisienne Walkways'.
However, 1999's gig is perhaps the most disappointing with a backward look at the early 1990s blues albums and a portent of Moore's late decade dip with the album 'A Different Beat'.
Arguably, the DVD version of this collection is more interesting, especially for guitar aficionados, as in truth many of these tracks received a live outing previously on 'Blues Alive' in 1993 or as bonuses on CD singles. Some will bemoan the exclusion of such classics as 'The Loner' and 'Empty Rooms'.
So, for completists perhaps, and a must-have summary of the Montreux gigs and this era of Moore's music. In 2009 he's still got the blues so it's all still relevant too.
****
Review by David Randall
---
| | |
| --- | --- |
| | Print this page in printer-friendly format |
| | Tell a friend about this page |