Gazza's still got the blues ...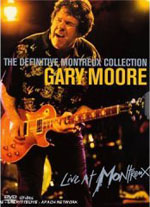 At the turn of the 1980s there was something of a blues-rock revival going on, one that offered up new kids on the block like Robert Cray, Jeff Healey and Walter Trout, and old stagers like John Lee Hooker and Buddy Guy getting a new lease of life..
Gary Moore slipped in on this boom with one seminal album 'Still Got The Blues' in 1990 and a few spin-offs demonstrating his chameleon-like ability to adapt to the changing musical vogue.
Does anyone play these blues albums? They show that Moore is a disciplined, emotional player with a real talent for song construction, but very little of his nineties output breaks new ground even though – as evidenced here – he does break genuine sweat in live performance. Which is far more than Clapton in similar circumstances.
More recently Gazza appears to be back to singing the blues, so this Montreux compilation - which was filmed between 1990 and 2001 - is still very relevant. But in truth it is overkill for all but the Gazza die-hard who must own everything of their hero.
There are five sets spread over two discs, and thankfully - and surprisingly - with little duplication of material. If you're looking for any of Gary Moore's classic seventies and eighties output, you won't find it here, which is a great shame for those non die-hards or non-blues aficionados who still admire his earlier solo output. Only the somewhat incongruous 'Out In The Fields', from the less bluesy 1997 set, and the inevitable 'Parisienne Walkways' hark back to former glories.
But the title of the penultimate track from the 2001 set really says it all: 'Enough of the Blues'. After this four-hour marathon, you will have.
***½
Review by David Randall