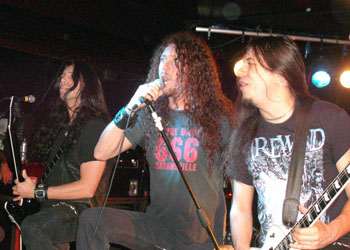 Zoom (Click large image to cancel)
With weather warnings being issued for the central belt of Scotland as the last gasps of Hurricane Katia were poised to hit the UK, it was with trepidation that we set out for The Cathouse. We had a date with another powerful wind blowing all the way from Greece as Gus G and Firewind were in town. Did they blow up a storm ? more of that in a bit …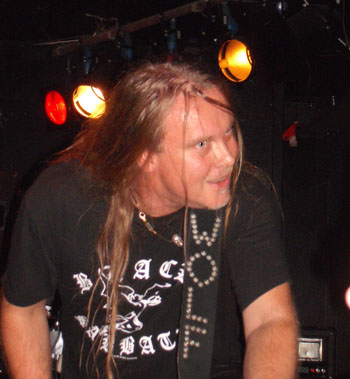 Starting off proceedings were Wolf with a bit of Swedish metal to warm up the night. The four piece were in excellent form playing their brand of metal/thrash with passion. They had a large support in the crowd - plenty of T-shirts on show and logos painted on leather jackets - who were very vocal from the off.
The set comprised older numbers like 'Hail Caesar' and 'Speed On' and tracks from their latest album 'Legions Of Bastards', but all tracks were greeted like old friends.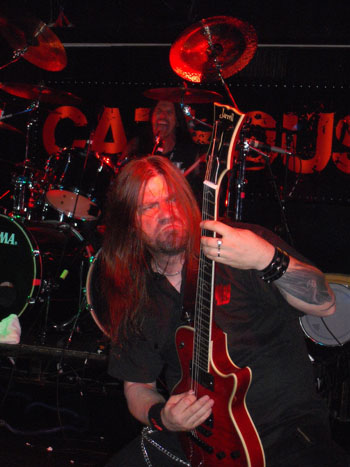 Midway through the set the band celebrated guitarist Simon's birthday with a chorus of Happy Birthday and a bottle of malt whisky. He claimed to be 25, if so he must have had a hard paper round as a lad !
A great set and a band I will check out again in the future.

One thing that did blight Wolf's set was overly loud sound. I like a loud gig and have on occasion been deaf for a couple of days after (Dio Disciple's, take a bow) but the sound was so loud it lost clarity and became painful.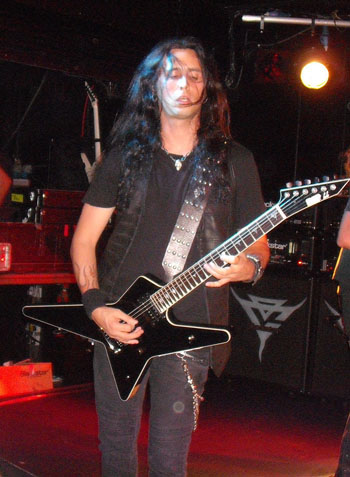 Unfortunately, things only got worse when Firewind hit the stage. Wolf had suffered, but with their more riff driven sound they had managed to battle the problems and their melodies had cut through.
Firewind on the other had with their more technical delivery and Gus G's incredible fret work were fighting a battle that ultimately they couldn't win. Had I been fully conversant with Firewind's back catalogue I may have been able to follow the melodies but all I got was a wall of sound.

The band though were giving their all and had the sound engineer remembered to pack his ears I am sure it would have been a damn fine gig.
Opening with 'The Ark Of Lies' the band, including vocalist Mats Leven (ex Therion and Yngwie Malmsteen), were on good form.
Mats was standing in for regular frontman Apollo Papathanosio who has had to sit out the European tour due to family issues and with only two weeks notice (no rehearsals!) did a wonderful job.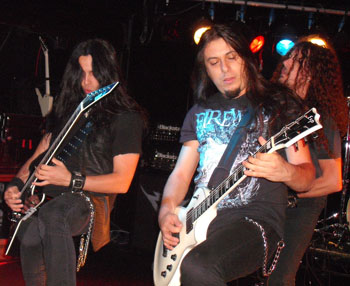 The focus, as always, was on Gus G's six string dexterity and he played up a storm, you can see why he is sharing the stage with Ozzy at the moment. The rest of the band are no slouches either especially Gus's right hand man Bob Katsionis on rhythm guitar and keyboards who provided the meat of the sound to allow Gus to show his talents.
The set included tracks from the bands latest 'Days Of Defiance' along with old favourites, which went down well with the diehard fans.

I would love to see Firewind again in another setting and with a different sound engineer on board, because seeing them live should have been a pleasurable experience, not a painful one.

Now, is that a hurricane outside or is it just the ringing in my ears..?


Review and photos by David Wilson
Gus G/Firewind interview (Sonisphere)
---