Just witnessed your best live gig?.. send us a review!

SONISPHERE, Knebworth, 8-10 July 2011

The world's greatest touring rock festival?

Normally a good place to start would be the beginning of an event, However with something like Sonisphere the beginning started months ago. The hype, the announcements and the anticipation for what - on paper - could be one of the greatest line ups in years if not ever.

Day 1: Friday July 8
For the first time in the UK the Big 4 would go head to head, Slipknot would return albeit with a tinge of sadness, Motorhead would deliver a masterclass in Rock 'n' Roll and some of the new breed would take up there rightful places as festival headliners!

Well did it all fall in place and work out as planned? Well from these eyes and ears, damn right it did, from arrival on Thursday night you could feel the excitement in the air, the early arrivals out numbered most other festivals full turnout and with people arriving constantly Knebworth would be ready and waiting for the Big 4.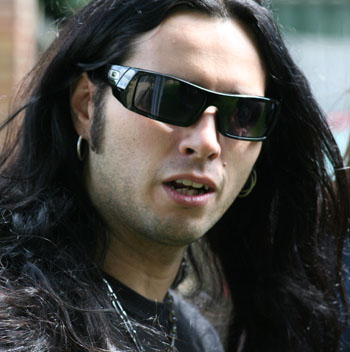 Friday arrived and 3pm it all kicked off, early doors went to Firewind. Even before Gus G landed one of the hottest jobs in metal Firewind would not have failed to deliver, their fanbase is ever growing and their wonderful mix of riffs and melodies never fails.
Sure new fans have joined the Firewind Faithful, and sure Gus playing with Ozzy will have helped. It's great that Gus has remained focused on Firewind.

Most of Friday was taken up with interviews and snapping pics. But as per usual the Jager stage was packed with some great talent.
The Defiled, Slam Cartel and Witchsorrow stood out and that's not to say the other bands did not impress.
You either get Hayseed Dixie or you don't and really if you don't, then try harder. Bluegrass acoustic rock may sound like a blend that should not work but work it does.
Speaking to John (vocals) he still finds it all amazing and even took the time to thank Metallica, Slayer, Megadeth and Anthrax for being the support acts! The Bohemia Stage would provide some of the weekends surprises.
Friday 3.15pm Diamond Head - much talked about in the past by Metallica as an influence and on today's performance it was easy to see why. Brian Tatler and co came to Knebworth and delivered a classic set that could not fail to have old and new fans smiling. A worthy opener for the "Big 4".
That brings us to the start of today's headline slots.
Over the years I have witnessed Anthrax many times both sides of the pond. On the money? Yes. A set full of classics? Yes. In fact bloody fantastic and "I Am The Law" was never more relevant.
You don't need me to write down set lists for these bands - you know them, simple as that - but what is important here is how they delivered the sets and so far Anthrax get my vote.
Next up Megadeth, you see here's a band that are without doubt awesome but sometimes live they can labour a little (imho) so I was a little underwhelmed at first and by the looks on the faces around me I was not alone.
However as Dave and crew got into the stride of things the tide changed and with classics like "Bullets" flying around Sonisphere it became apparent that the Big 4 were half way delivering on the hype.
---
There's something about Slayer that makes your blood run faster and your heart beat a little harder.
---
So you like it heavy, welcome Slayer. Earlier I was lucky enough to interview Dave with Nigel from Phoenix Radio. High speed drums, soaring riffs and of course classic after classic.
There's something about Slayer that makes your blood run faster and your heart beat a little harder. One thing that soon became apparent was the fact that so far the four acts with a collective age of well over 1000 years could still kick ass harder, longer, and better than most half their age and we are still waiting for the behemoth that is Metallica.
Now with all the usual Metallica pomp we stood waiting for the opening sounds of the intro music; it starts, the crowd get whipped up into a frenzy, and then it starts.
In the years of seeing Metallica the choice of opening tracks signified a defiant "fuck you" to all the young pretenders, 'Hit The Lights' erupted over Knebworth and was followed by complete classics all the way. Pyros lit up the sky, clear vocals, awesome sound and of course one of the loudest pit crowds I have heard.
So The Big 4, hype or reality, by God a reality. Sure there may have been a few little gripes but that's live music for you, now then where's the bar. Day One great stuff... mmm, Saturday not so convinced. We'll see.

Day 2: Saturday July 9
Good morning Sonisphere!
This may well be the day of shocks, this maybe the day old farts like me stay around the bar a bit longer than we should. Ah but wait the crowds are up, the rain is in the clouds, but the buzz remains.
I have to be honest this morning was taken up by interviews and such like but at 3pm I ran to the Jager stage, camera in tow, for the final Panic Cell gig ever.
One of the finest bands to come out the UK in years. As the band took to the stage it was obvious this was going to be emotional for them. And once the size of the crowd had hit Luke it became apparent this was to be a great set. One of the highlights of Saturday and well deserved boys, you'll be missed.
Now then: here's the first revelation for you. Not normally my thing at all but duty bound I headed off to see Sum 41 and, damn it, I found them on great form with a crowd most bands could only dream of. Converted? Maybe. Actually.
I continued my quest and headed off to see Kerrang! Radio sweeties You Me At Six and again found them to be a great live band, Can this really be happening?
Another interview and then off to the Bohemia for Ginger Wildheart. Ginger had put together a group of mates at late notice for this, could you tell? Nope not at all, a classic laden set had the tent bouncing and singing from the off. Bloody great stuff.
---
...with a diverse Sonisphere crowd Biffy took to the stage running and in all fairness grabbed it by the balls and shook it like a dirty old rag.

---
The headliners Biffy Clyro may not have been everyone's choice and the sceptics out there I am sure wanted to see a car crash.
But this is where I have to step in. I have to say I was one of those who really did not get it, being sandwiched in between the Big 4 and Slipknot, lambs to the slaughter?
Wrong again. With a diverse Sonisphere crowd Biffy took to the stage running and in all fairness grabbed it by the balls and shook it like a dirty old rag.
Heavy enough? For sure. Loud enough? Damn right. In fact what I saw of them impressed and the crowd loved it.
I did have to leave early as my mate's band where about to hit the stage. Off back to the Bohemia stage for Paradise Lost. This was without doubt going to be a lesson in musicianship, OK you could say I am biased as my mate is the drummer but in reality there is no point blowing smoke up people's asses, so I won't.
I have seen the band on numerous evenings and each time they deliver and tonight no change the simple fact they are one our best bands. Period.
Now at the same time as PL played I had to run off again Our October Featured Artist Saint Jude were on the Jager stage.
Honesty is the best policy, so I will admit to not knowing a great deal about them prior to this weekend. And what a surprise I was in for: it's great when you discover a new band especially when swamped with new bands on the smaller stages.
Classic sounding and fronted by Lynne Jackaman the band delivered classic sounding rock that most defiantly has its roots firmly in the Zeppelin, and blues rock camp.
As a colleague wrote, Lynne reminds of Joplin with a hint of Tina Turner all rolled into one. I have to say you really need to check this band out again: a surprise weekend highlight.
So Saturday, a washout or a success? Success without a doubt some great surprises. Anyone seen Mark Taylor? Where? Oh Ok to the bar it is then.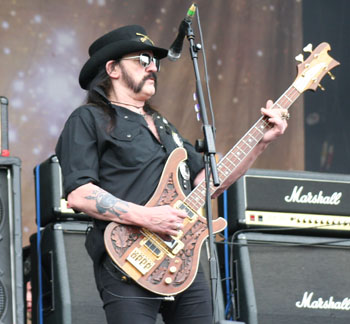 Day 3: Sunday July 10

Sunday morning arrived and to be honest this was the day I was looking forward to the most. I really wanted to see virtually every act today, so I had to decide early on and make a game plan.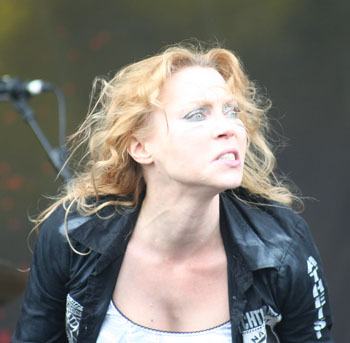 First stop of the day, Arch Enemy, after arriving straight in from Sweden the band had not slept. And bloody hell did they rip Soni a new hole. From the moment they started to the end of the set, total control and sheer power was the order of the day. A wonderful set from one of the best live acts around.
Now, at 2pm, one of the saddest and most surreal things took place. A two minute silence for Slipknot's Paul Gray. A roadie appeared with Paul's stage clothing and placed in center stage, at this point I was stage side waiting to enter the photo pit, to my right was a gathering of men and women, Slipknot and other bands had gathered to witness the silence.
Now imagine, for one second, thousands of people, fairground rides, food vendors, bars and all the other parts of the festival, now imagine this at 2pm the silence started and you could have heard a bloody pin drop - not a sound, goose bumps, hairs standing up, shivers down your spine. Sonisphere you where amazing!
To see the guys from Slipknot obviously upset was not a great thing but to witness such a great human out pouring of grief and contemplation was awesome and will never be forgotten as won't Paul. Sadly we later found out that Wurzel from Motorhead had also passed away over the weekend so Sunday was dedicated to both men.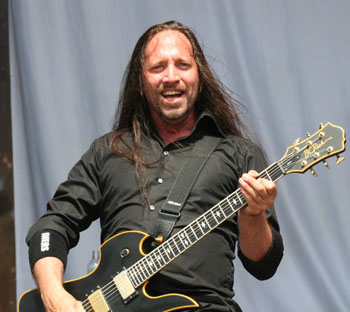 In Flames had the task of restarting things and they did a great job. As usual they ripped into the set taking no prisoners and gaining some new fans along the way. In Flames are an awesome live band whose power and musicianship never fails to deliver if you have not seen them then do your self a favour and do so.
On the Sunday, the shock for me was Limp Bizkit, bugger I really enjoyed it. Now there's nothing wrong with the band or their music it's just not normally my cup of tea, however today I totally enjoyed the set and even found myself singing along to tracks I had no idea I knew.
Opeth on CD awesome, sometimes live a little hard to take. But for me another great live set today that really showed the guys in full flight: tight, precise and powerful. Wonderful stuff indeed.
Slipknot are still one of the most awesome live bands on the planet and from the very second they hit the stage Cory and co kicked some serious Sonisphere ass.
The technical ability, friendship, and love this band have for their music shone through.
So Sonisphere 2011? The world's greatest touring rock festival? How was it?
Stunning, loud, live and for this middle aged rocker a bloody amazing weekend.
You know what makes Sonisphere so special? It's the people, the festival vibe, and the organisation. So many festivals are about the money, granted Sonisphere must make a bundle but as far as I could see everyone had a great time, from the bands to the crowd.
With chill out areas comedy and the fair it was a true festival experience, so if you have not been before...

See you next year.

Review and photos by by Sam Hill
---