Just witnessed your best live gig?.. send us a review!
ERJA LYYTINEN BAND
BBC Studio Three, Maida Vale, London
12 January 2011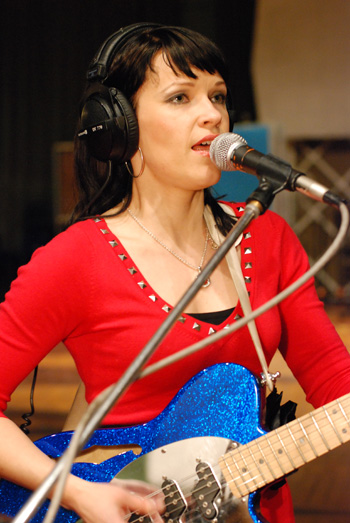 You could be forgiven for thinking that the natural effervescent personality of Finland's 'Queen of the slide guitar', Erja Lyytinen, and the precise, staid environment of the BBC's Maida Vale Studio 3, would at best be antithetical and at worst act as a constraint for this vivacious performer. But you'd be wrong.
For while Erja Lyytinen exudes energy, passion and drive, she also displayed a cutting edge intensity and artistic maturity to banished any doubts in to the four corners of the cavernous studio.
Together with her trusty Finnish road band, she briskly set up the gear at the far left hand side of the spacious oblong shaped room, finally settling into a kind of diagonal presence as producer Paul Long and his staff encouraged the band to make the most of the space.
And after half an hour or so of prep time in which mikes and headphones were tested, cables laid and levels suitably measured, it was time for the band to do their stuff.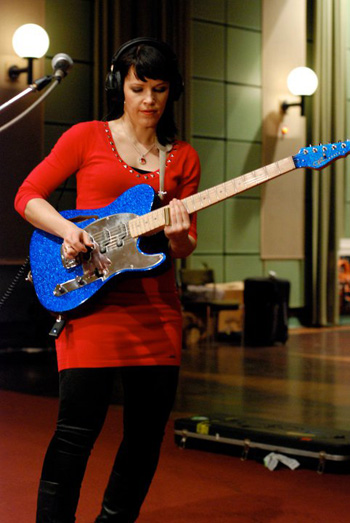 Erja slipped on one of her colourful guitars, before languidly effecting a near 360 degree pirouette to announce, 'hmm there was a reggae band in here last night'.
And as Erja had indicated in an interview earlier in the day, her recording career may have been routed in the blues but her musical boundaries and natural exuberance are not restricted by anyone genre.
Indeed at the pre-session sound check, the band launched into several loose limbed jams which in the space of 20 minutes took in a range of influences that all found their range via Erja's dazzling playing.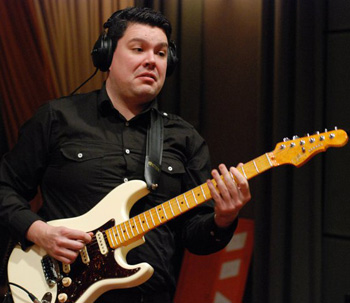 Erja's foil and musical MD of her band turns out to be the studious but quietly effective Davide Floreno who's crisp and at times steely notes were reminiscent of BB King and Hubert Sumlin. His clipped delicate notes at times fell perfectly either side of Erja's mighty slide improvisations.
And so after a riff driven stomp that could have lasted another 5 minutes and a heavy duty, low down and dirty shuffle on which the rhythm section of drummer Matti Vallius and bass player Miri Miettinen blew away the cobwebs, the band pronounced themselves ready for the task at hand.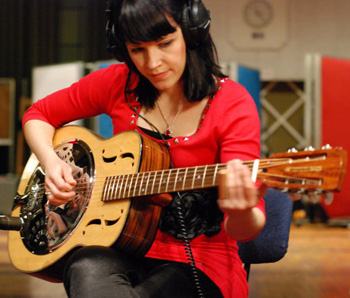 With Erja in a startling red outfit in sharp contrast to her black clad band, the session had an air of spontaneity.
So while the set list was already planned, each solo and guitar break took on its own unique feel as the band proceeded to test the studio's acoustics to the limit. It was not so much a case of heavy on the volume as Erja seeking to explore a wide range of tonal colours and sharp dynamics to cut through the dead room like fork lightning.
'Voracious Love' the title track of her new album, turned out to be a heavy duty wah wah riff driven pile driver, introduced by a deftly delivered feedback intro and with humorous and poignant lyrics at its core.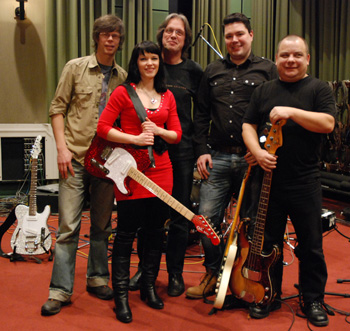 And as Erja explains; 'I really like writing stories and relationship songs, but they are not all necessarily about me'. The tough rendition of the song also showed she's unafraid of exploring a wave of warm sounds, and working a groove to its breaking point before the guitar takes over. Her guitar playing may be as her previous album title suggested in the 'Grip of the Blues' but she's not hemmed in by any one style.
On the fiery 'Don't Let A Good Woman Down' she launched into her dobro with real venom, which led to a second take as the meshy sound of Erja vigorously striking the strings carried over into the mix.
'Oil & Water' featured some dazzling slide laying and was a clear example of Erja's determination to be a crossover artist, with its poppy refrain offering enough to elevate a slide tour de force into commercial territory, complete with an outrageous stop-time mid point.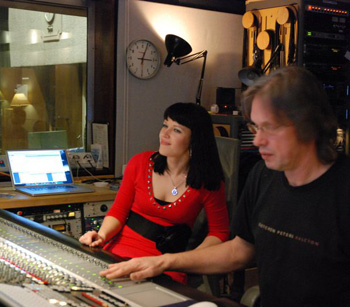 And so finally to some finger picking for good measure on Blind Willie Johnson's 'Soul of a Man'. And if she finished with a reworked traditional blues, you need look no further than the variety of the four song set to emphasize her broad sweep from blues through to rock and pop.
She led her band with raw passion but also offered subtle panache on the more delicate notes and again brusque understated power in her slide playing.
It's not hard to see why Erja is at the forefront of what one Euro publication called 'a young generation of European blues artists who have succeeded in bringing the traditional American blues to our time'.
And while that observation is certainly partly true enough, the session sparklingly showcased Erja's many talents as a meaningful lyricist, an exploratory guitar player whose intuitive interplay with her skilled musicians makes for some roller coaster, vibrant rocking blues music with real fizz.
After some 76 years the old Maida Vale studios has seen them come and go, from Hendrix, Zeppelin, Bowie and the Beatles to contemporary rock bluesers like Bonamassa, Trout and the Canadian roots rockers Arcade Fire.
Then there is always the BBC Symphony Orchestra, but even the unlikely aggregation of the classical and rock's aristocratic heavyweights (with perhaps the notable exception of the Fab 4) would be hard pushed to deliver this kind of vibrant set.

Erja Lyytinen's session is scheduled to be broadcast on BBC2's Paul Jones R&B Show on Monday 28 Feb 2011.
Review by Pete Feenstra
Photos and video by Alan Kimber
---
Interview with Erja Lyytinen, 12 January 2011
---
Erja Lyytinen - March Tour 2011
Mar 2 The Robin 2, Bilston, Wolverhampton
Mar 3 Fifestock Music Festival, Backstage at the Green
Kinross, Scotland
Mar 4 The Ferry The Ferry Glasgow, Scotland
Sun Mar 6 Boom Boom Club @ Sutton Utd FC, Sutton
Mon Mar 7 The Famous Monday Blues Club, Bullingdon Arms
Tue Mar 8 Scarborough Blues Club
Thur Mar 10 The Beaverwood Club, Chislehurst, Kent
Fri Mar 11 The Globe, Cardiff
Sat Mar 12 All Saints Arts Centre, London N20
---