ERJA LYYTINEN Voracious Love Ruf 1161 (2010)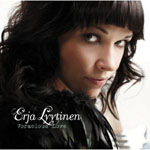 "The older you get, the more you start to understand who you are and what you want to say. But the way I view things is full of humour as well. After all music shouldn't be too serious either".
As the title track suggests 'Voracious Love' is a passionate album written, co- produced, driven and articulated by Erja Lyytinen, the mesmerising Finnish slide guitar player who is never content to rest in her comfort zone.
All 13 songs are infused with the nature of love and personal relationships in general. But what gives 'Voracious Love' its raison d'etre is the nature of Erja's stories, her raw emotional input and lyrical honesty. She covers everything from tough decisions on 'Can't Fall In Love', contentment on 'One Thing I Won't Change', commitment on 'Don't Let the Good Woman Down' and a love gone cold on the duet 'Bed Of Roses'.
'Everyday life no longer makes a difference,
Weary silence has become our daily guest,
Disappointments leading to indifference,
Remnants of love have been put to rest'
There's also the exploration of a complex lingering emotional grip on 'Bird' - co written with her producer Davide Floreno - and even a historical leap back in time on Blind Willie Johnson's 'Soul of Man' - a song that fits perfectly with her new material and features Erja on her old Supremo 1952.
"Instead of the three basic blues chords we added some major scale chord changes", explains Erja. There is also an impressive co write 'Crows At Your Door' with veteran blues song writer Jon Tiven (Buddy Guy Robert Cray etc).But rather than gather together 13 tracks in a one dimensions blues concept album, Erja has placed her lyrical meaning at the forefront of the songs to stand alongside lashing of her favoured slide guitar. She then cleverly uses her locker full of licks to express a variety of emotions.
Put simply, 'Voracious Love' breaks new ground as a blues guitar album that can satisfy fans on a number of different levels ranging from the meaning of the songs to Erja trademark sizzling solos and twinkle in the eye humorous lyrics.
'Voracious Love' effortlessly fulfils Erja's goals as a song writer. She's still queen of the slide guitar blues of course, but on this album she's set out her aims, focused on the songs and come out the other side as a mature recording artist. Listen and enjoy.
****
Review by Pete Feenstra
---
| | |
| --- | --- |
| | Print this page in printer-friendly format |
| | Tell a friend about this page |