WONDROUS STORIES 33 Artists That Shaped The Prog Rock Era Universal (2010)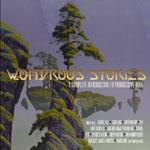 Let's be honest, any prog rock compilation is guided by the availability of tracks. Universal have better access than most, but we are never really going to achieve a totally representative sample of prog's golden age together with some more intriguing and obscure nuggets.
With its new Roger Dean cover, Wondrous Stories is very much rooted in the seventies and all the better for that in my opinion. But the compilation will almost certainly prompt nerdy pub talk and healthy debates about the merits of track selection.
Any prog compilation is going to be restricted also in track length if a fair sample is given and so this fact will also sway compilers.
Most of the main movers and shakers are represented here but there are some that are not strictly prog - Iron Butterfly's 'In A Gadda Da Vida' for example is a better example of the dawn of heavy rock not prog. Similarly Mountain were more of a heavy blues rock band.
And what is Golden Earring's 'Radar Love' doing here: they were never really prog. And whilst fellow-countrymen Focus 'Hocus Pocus' is amongst the more rockier of their output at least they could be termed prog in the wider sense.
So, the pub nerding has already started. A few years ago another 2-CD set was released Prog Rock which included similar artists and some duplication. Do we really need another? It's High Voltage in July...prog stage...(cough)...sales...(splutter)...(ed)
But, wait, we've only got the 2-CD version, and selected highlights at that, which is unfathomable given that prog reviewers are completists. The 4-CD box set may open up more possibilities, if only to those who have only recently discovered the genre and want to catch up.
***
Review by David Randall
---
| | |
| --- | --- |
| | Print this page in printer-friendly format |
| | Tell a friend about this page |