VARIOUS Prog Rock Gut Active GACD02 (2006)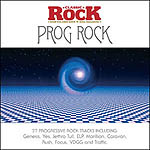 What? Another prog rock compilation? The occasion is the launch of a new series bearing the Classic Rock magazine monicker. Re-cycle a 'best of' the genre, add some liner notes written by a well-known genre hack, and package in attractive digi-pak. That in a nutshell is the formula.
The target audience must be those casual buyers who browse the racks in the main High Street stores, or maybe ageing rockers who for some reason (possibly senility) have misplaced their originals.
But there is another shrewd marketing ploy: it's Father's Day and, hey, this is going to be out in time! A great soundtrack to the celebratory barbecue and great to reminisce to whilst the sausages sizzle.
The mark of a good genre compilation is the selection of the more obscure pieces as well as the more expected. Sadly, this collection plays safe. The featured bands are familiar and to all but the casual buyer the tracks will be familiar, too. This also reminds us that the art of the compilation is frequently a balancing act between artistic licence, and label licensing issues.
The only 'obscurity' (in terms of band rather than track) is Twelfth Night and 'I Love Song', obscure perhaps because it belongs to prog rock's second decade. This, and IQ, are the only representatives from the eighties and beyond.
In truth a 2-CD populist compilation probably cannot fully reflect prog rock, where the traditional constraints of the three minute song failed to do justice to the overblown musicianship and flamboyant style frequently on offer, and where the word 'economy' was not in the musical vocabulary.
As a memory jogger, it's like switching the radio on and being back in the late eighties, a long-lost playlist for 'Fluff' Freeman's famed Saturday Rock Show on BBC Radio 1 or indeed anything on eighties Radio Caroline.
True prog rockers will argue over track selection and nitpickers will ask why - for example - the full-length version of Argent's 'Hold Your Head Up' isn't included (even Fluff Freeman played that). Why not Camel or Gentle Giant (both referenced in the liner note) or for that matter Pink Floyd or King Crimson? Others will note that the 'continental' prog invasion (Tangerine Dream for starters) of the early seventies is omitted, save perhaps for Focus who achieved commercial success with 'Sylvia'.
If it means others, not just Sad Dads with amnesia, investigate further some of the less mainstream bands included here - such as Van Der Graaf Generator, Greenslade and Colosseum - this latest 'Prog Rock' compilation will have served some purpose.
***½
Review by David Randall
COLOSSEUM Those About To Die
© 2006 Gut Active. All rights reserved.
Track listing:
CD1
Genesis- Carpet Crawlers - Jethro Tull - Sweet Dream - Van Der Graaf Generator - Killer - Focus - Syliva - Curved Air - Backstreet Luv - Steve Hackett - Firth Of Fifth - Manfred Mann - Solar Fire - Greenslade - Bedtime Manners Are Extra - Procol Harum - A Salty Dog - Rare Bird - Sympathy - Renaissance - Northern Lights - Family - Burlesque - Colosseum - Those About To Die - Marillion - Forgotten Sons
CD2
Yes - Yours Is No Disgrace - Emerson, Lake & Palmer - Lucky Man - The Nice - America - Barclay James Harvest - Child Of The Universe - Rush - The Spirit Of Radio - Blue Oyster Cult - (Don't Fear) The Reaper - Traffic - Hole In My Shoe - Spirit - Fresh Garbage - Argent - Hold Your Head Up - Atomic Rooster - Tomorrow Night - IQ - Erosion - Twelfth Night - Love Song - Caravan - For Richard