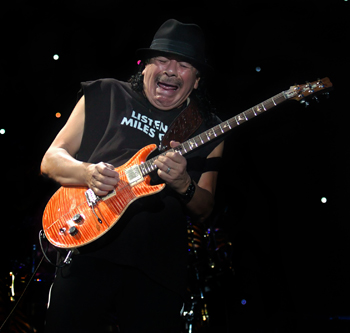 Photo: Steve Goudie
I have to admit I had low expectations for this gig. My love affair with Santana probably ended after Caravanserai (1972) and was only occasionally stimulated by subsequent releases. In truth, the first time I saw Santana live was when Earth Wind and Fire supported them on tour in 1975. Carlos and his crew were quite simply upstaged by funksters with a revolving drumkit.
Looking round the arena-sized crowd tonight, it is fair to say that the audience splits into those who grew up with Woodstock and Samba Pa Ti (not played tonight) and those who discovered Santana with the 'Supernatural' album in 1999.
In fact, after a marvellous intro of 'Everybody's Everything' and a tremendous 'Gypsy Queen' and 'Oye Como Va' this dichotomy was further emphasised as the crowd lapped up a Latin interlude starting with 'Maria Maria'.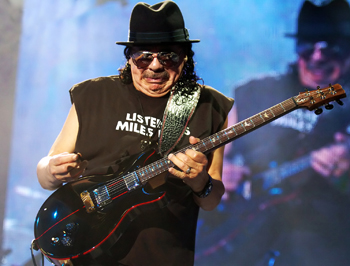 Photo: Steve Goudie
But, for me, it was the rockier material that had real impact. The Latin interlude out of the way, and also a nepotistic drum solo featuring Carlos' bride-to-be Cindy Blackman (who only came on stage for that f---g drum solo), we at last got down to some serious trawl of back catalogue.
The first Santana album I bought back in 1972, Santana III, nurtured the boy Neal Schon and those halcyon days were relived with Batuka dovetailing into 'No One To Depend On'. Both demonstrated perfectly the insistent, infectious rhythms topped with Santana's frenetic guitar interjections and the wonderful Hammond, this time played by David K Mathews. Glorious.
But the stroke of genius was the inclusion of a little-known jam-track - Marbles - that appeared on the Live album (with Buddy Miles) released in 1972. This may have been lost on those audience members reared on 'Smooth' but it was a deft touch and simply magnificent.

Photo: Steve Goudie
Santana has just released a covers album but we only got two tracks, a lively and slightly faster-paced-than-the-original 'Whole Lotta Love' and 'Sunshine Of Your Love'. Both came across well and were a brief diversion from the back catalogue trawl.
Among the other highlights tonight, 'She's Not There', the Zombies song that Santana made his own, and a heavy-sounding 'Incident At Neshabur' with more of that glorious Hammond.
There were of course a few minor niggles. Apart from fiance's drum solo, we had further drum overload as part of the inevitable 'Soul Sacrifice'. But Dennis Chambers' solo was too protracted to make any real impact. And the tour was advertised with 'special guests' but none were forthcoming, unless of course you include Cindy.
But this two-and-a-half hour show never really dragged, occasionally surprised, and frequently thrilled.
If there was ever a musician to rock us out of recession it would be Carlos Santana: essentially upbeat, positive, and - with winter looming - enough fire in the mix to help with fuel bills.

Review by David Randall
Photos by Steve Goudie
---