SANTANA Guitar Heaven Sony Music (2010)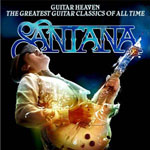 I have to confess that Santana III was one of the first albums I bought back in 1972 and it still stands up for its blend of raw rock guitar and Latin throb. Fast forward and, 40 years later, the mainman is still doing what he does best and surrounded again with an impressive coterie of vocal collaborators.
On this covers album - subtitled 'The Greatest Guitar Classics of All Time' - his guitar offering remains undiluted: the 'classic' songs have allowed Carlos to bring his own tasteful and unique take, whilst retaining the essence of what made them great rock songs in the first place.
Fusion is an apt description for his art and in recent years he has successfully embraced contemporary styles, kept up with trends, and not become a rock dinosaur. If this means there will be a body of his fans who long to hear the unsullied sound of his earlier albums, it also means that he is very acceptable to a much wider audience including those of the artists with whom he collaborates. Extending the brand, in marketing terms.
The Stones 'Can't Keep Me Knocking' (Scott Weiland on vocals) has a vibe befitting of Chickenfoot and with a typically lyrical and engaging guitar solo. Def Leppard's 'Photograph' sounds more like Foreigner (but actually quite good) with the voice of American Idol contender Chris Daughtry.
'While My Guitar Gently Weeps' gains from the impassioned vocals of India.Arie and 'Back In Black' becomes a rap track with the vocals of Nas. AC/DC die-hards will be mortally offended of course, but it ain't that bad.
Only 'Riders On The Storm' apes the Latin vibe of classic Santana but it does at least feature Ray Manzarek. Long-time collaborator Rob Thomas features on 'Sunshine Of Your Love' and there is a career boost for Joe Cocker and Jonny Lang elsewhere.
Cover albums need a purpose, they either have to bring a fresh take on the original or something else. Here, the use of different vocalists and a few interesting arrangements - and of course Santana's guitar - lift what would otherwise be a fairly perfunctory set of covers. This album is no substitute for another original album (the last one came out five years ago) and one hopes that Carlos avoids any complacency (and marketing men) as he heads for his 50th career anniversary.
***
Review by David Randall
---
| | |
| --- | --- |
| | Print this page in printer-friendly format |
| | Tell a friend about this page |