Just witnessed your best live gig?.. send us a review!
PHILIP SAYCE 100 Club, London 13 May 2010
Philip Sayce might be regarded as the latest guitar player from the conveyor belt of fretmelters with suitable battered axes, were it not for the outer worldly sounds that he manages to conjure from his trusty Strat.
Much like Joe Satriani, Philip deals in the ethereal, the startling and the unexpected and in between bursts of incredible technique he also touches on the emotive.
But for Philip there is no discernible distinction between the cerebral and the instinctive and once he launches into a solo everything else is on hold. Put simply, Philip Sayce lives to play as much as he plays to live.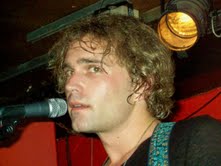 But if there's one reservation about this exceptional guitar mangler it is that much like the electric/acoustic wizard Monte Montgomery, he too readily subscribes to the theory of tone achievement through excess volume and to that end he cranked things up to the max.
The resulting avalanche of sound at time bordered on the uncomfortable and also made it difficult to decipher his vocals, but his guitar playing was so impressive that on balance he came out on top.

Fronting a powerhouse trio with the rock solid Joel Gottschalk on bass, PS filled every corner of the room with his flamboyant guitar playing born of big tones and scintillating runs.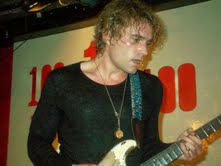 Philip is a very corporeal style of player who literally launches himself into some spiralling solos, working up relentless energy levels while darting across the stage and pausing only to occasionally tune his guitar and reflect on some of the quiet audiences on the tour so far.
With the briefest of intro's he quickly worked up a boxer's sweat and brutally assaulted his audience with an array of fluid solos, lightning riffs and volleys of notes.
He just about covered the whole rock spectrum from bone crunching, richly defined deep tones to shrill stratospheric runs that occasionally brought him fleetingly the edge of the stage to tease out every last drop of intensity from his solo.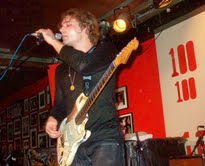 On the aptly titled 'Changes' from the new 'Innerevolution' CD, he cleverly expressed the 'fundamental changes' in his life through some edgy, incendiary playing punctuated by occasional eye contact with a person in the crowd. Like a bird of prey he glanced, pounced and took off in another direction with a searing solo.

Decibel levels aside, his guitar playing is not so much an Albert Collins style 'conversation with the blues' as an outpouring of raw gut emotion on cat gut strings (well maybe nylon!)
But Albert was in the building in spirit, as Philip made glorious use of sustain and dynamics to deliver his own unique style of piledriving rock-blues.
And as if to counter balance what had gone before, he showed a more delicate side of his playing on the well judged instrumental 'Alchemy' from Peace Machine'), teasing every nuance of tone modulation with the deftest of touch.
But for the most part the ghost of Hendrix and his contemporary disciple Robin Trower were never far from the surface. And while the ever present wall of sound made it just that bit more difficult for Philip's vocals to cut through on the catchy 'Bitter Monday', the song was just about rescued by a strong chorus.

But with his disciples at the front of the stage Philip was in his element applying broader tonal brush strokes and digging ever deeper for more intense layers of solos. And when he occasionally took a step back to once again make contact with his crowd, it was as if to make sure they all appreciated what had gone before.
I suspect some of them thought it was the second coming while others couldn't quite handle the volume wells. Either way cutting a swathe between the two camps, we had just witnessed an emotional outpouring on a Fender guitar that went along way to explaining the state of his battered axe.

Review by Pete Feenstra
Photos by Prakash Acharya