PHILIP SAYCE Innerevolution Provogue (2009)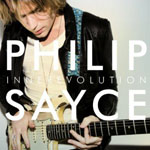 Philip Sayce's 'Innerevolution' is effectively a statement of intent along the lines of 'I've paid my dues now I'm ready for my solo career'. In fact this is Sayce's second album but his first with a full production and his own band behind him. The 11 tracks showcase Philip's fiery guitar style which applies a board brush stroke to the concept of rock/blues. Indeed there are elements of rock, blues, white boy soul, funk and hints of wah wah tinged psychedelia as Philip teases out a succession of warm sounding tone colours that flesh out a well crafted set of songs.
This is an album full of stylistic diversity ranging from rock to ballads and full of screaming solos and an integral wall of sound production with a rich sense of dynamics. Sayce may find his expression through his playing but on the evidence of this album he is fast honing his song writing skills in the company of the likes of the Grammy ward winning Richard Marx.
With a career that has included significant stints with Jeff Healey, Melissa Etheridge and Uncle Kracker he is a young man with true pedigree and the explosive talent to fulfil his ambitions.
The autobiographical 'Changes' with its Beatles guitar lines and Les Dudek style vocals is a guitar driven wah wah drenched opener which sets the standard for the rest of the album. And if 'Changes' mirrors the core concept of 'Innerevolution' then 'Scars' is a baring of the soul over another wah wah drenched slice of heavy duty funk before an irresistible guitar rush takes the song home. There's a sense of redressing the balance on the far more optimistic 'Daydream Tonight' and in between he revels on the radio friendly 'Bitter Monday' which suggests the virtuoso guitarist has an ear for a commercial song.
The album's production pays due regard to quiet/loud dynamic as on the big production 'Anymore', the rootsy tinged 'Tennessee Girl' and a tub thumping 'Are You Ready' which culminates in another monster solo.
But Philip saves his best for last with the explosive 'Little Miss America' which starts out with a Hendrix influenced soulful groove and an awesome tone. Philip adds a portentous yell and some luscious psychedelic tinged guitar mangling before a sledgehammer hook offers the perfect tension resolution. This track probably comes closest to what you imagine Sayce to be like in concert and it's a testament to his intuitive feel that he's able to conjure up such an exciting performance in a studio setting.
'Innerevolution' is an album that subtly combines expressive self assurance with raw power and passion. Philip Sayce may be evolving, developing and learning as a musician but there's an intensity, raw passion and impatience here that suggests he's ready to make his move and tear things up.
****
Review by Pete Feenstra
Pete Feenstra talks to Philip Sayce, 27.04.10
Camera: Prakash Acharya
---