THE MICHAEL SCHENKER GROUP The 30th Anniversary Concert Live In Tokyo Inakustik (2010)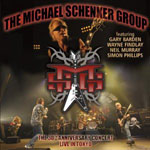 I had the privilege of seeing the Michael Schenker Group for several shows on their UK tour in December 2009. Weeks later they were in Japan and celebrating the 30th Anniversary with a show in Tokyo. This has been immortalised on these 2-CDs.
The setlist played fairly safe with almost a Greatest Hits, updated with a handful of more recent tracks (the excellent 'Dance Lady Gipsy' from his 'acoustic 'project with Gary Barden and 'I Want You', 'Ride On My Way' and 'A Night To Remember' from 2008's 'In The Midst Of Beauty'). If the setlist pretty much duplicated Live in Budokan in 1981, you can at least enjoy the vastly improved sound quality as you would expect from an Inakustik release. It really does the songs proud because they are essentially made to be played live.
But this gig does serve to demonstrate that Schenker's star shone very brightly in the early eighties but only for relatively few years. Listeners need to investigate also the darker corners of Schenker's career; notably the 1990s when he produced some patchy but occasionally brilliant work including some excellent acoustic albums.
Whilst not forgetting his UFO heritage (with the inevitable 'Rock Bottom' and 'Doctor Doctor') this release does shine a light on a commendable solo career, naturally weighted to those periods when Barden ducked the revolving door and sang vocals. Sometimes underrated as a vocalist he does well here along with Simon Phillips (who played on the first MSG album) and Neil Murray, providing solid rhythm support (although it was Chris' Glen and Slade on the UK leg) and Wayne Findlay on keyboards and second guitar.
For his part, with personal demons thrown asunder, Schenker gets down to some seriously good guitaring. Time may have slowed him slightly but nobody does riff-driven rawk quite as well with standouts including 'Lost Horizons' and 'On And On'. Rock doesn't get more classic than this.
****
Review by David Randall
Related>>Gig review
DVD review
David Randall chats to Michael Shenker, The Guitarists, Get Ready to ROCK! Radio, Sunday 10 October, 18:00
More information


---
| | |
| --- | --- |
| | Print this page in printer-friendly format |
| | Tell a friend about this page |