Just witnessed your best live gig?.. send us a review!
MICHAEL SCHENKER GROUP
02 Academy, Bristol 20 December 2009
Power Quest - in their new UK-based configuration - and Manchester based Fury UK successfully warmed up the Bristol crowd on a bitterly cold December night. The former cleverly played a tight and engaging set of their more riff-based repertoire whilst Fury UK's set was also well suited to a Schenker audience and their extensive gigging this year (most recently in Greece) really paid off in a very polished performance.

There is now a sense of "Will he? Won't he?" before a Michael Schenker gig: and we're not just talking about playing 'Doctor Doctor' either. Schenker has had his own personal demons for the best part of a decade but as he cranked into the opening number it appears any demons have been banished to the dark corners of the stage for this tour.

With a healthy 400 plus crowd, this set was essentially a best of, featuring two original members of the classic Michael Schenker Group. Long-time collaborator Gary Barden provided the authentic vocals and was on good form, whilst Chris Glen returns on bass. Add in American Wayne Findlay doubling on keys and second guitar and AC/DC-Asia veteran Chris Slade on drums this is a veritable rock powerhouse and just what is needed to give life to some old flames.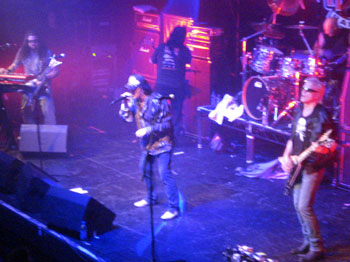 Schenker is an enigmatic character - he could be the Mickey Rourke of Rock Guitar - but a man of no words, letting Barden provide any inter-song banter and audience interaction. Guitar-wise it is easy to see why he has been so influential for others and - having witnessed the tour progress from opening night in Manchester - the Bristol gig reinforced his proud Scorpions-bitten heritage.

The crowd will have been well pleased with his trawl through some of the highlights of the Barden-Schenker partnership, not least 'Lost Horizons', the instrumental set-piece 'Into The Arena', 'Let Sleeping Dogs Lie' and the superb 'On And On'.

Any one who has investigated Schenker's post 1990 work will know that he diversified with a series of excellent acoustic-based albums as well as some heavier stuff into the millennium. The shame tonight was that his more recent stuff, (except for 'Night To Remember' from 2008's 'In The Midst Of Beauty' and the first encore - 'Dance Lady Gipsy' - from the recent Acoustic Project album), wasn't touched upon, and the set-list played safe with the greatest hits.

In fact, at times you might have thought that this gig was frozen in the early eighties - in Osaka, Japan to be precise - and the set-list pretty much duplicates those that appear on the 5-disc "Walk The Stage" box set released via EMI this year and covering the period, 1980-3.

But given Schenker's recent gig history the safe route was probably to be expected and, I suppose, to be welcomed as a timely celebration of a legendary artist.

With second encore 'Rock Bottom' cranking things up for the finale, Schenker returned to crank things up again with his signature tune with UFO. 'Doctor Doctor' somehow left a satisfying warm glow before the crowd discharged into a snowy and rather chilly Bristol night.

Review by David Randall
---
---